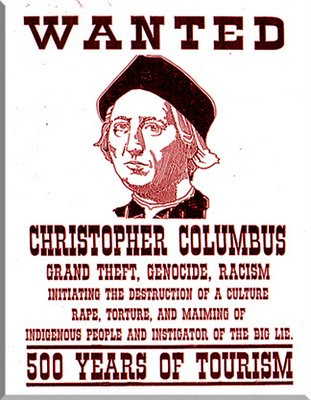 Today is technically Columbus Day in most of America, but Columbus was a really horrible person who didn't discover anything besides yet another way to enact genocide against native peoples!  This is why many cities have elected to celebrate Indigenous People's Day or Native American Day instead of or in addition to Columbus Day. Alaska, Hawaii, Oregon and South Dakota do not commemorate Columbus Day — South Dakota celebrates Native American Day instead and Hawaii celebrates "Discoverer's Day," in honor of the Polynesians who discovered Hawaii. Cities and towns who recognize Indigenous People's Day include Berkeley (CA), Sebastopol (CA), Minneapolis (MN), Seattle (WA), Grand Rapids (MN), Traverse City (MI), Akron (NY), St.Paul (MN), Portland (OR), Carrboro (NC), Newstead (NY), Albuquerque (NM) and Santa Cruz (CA).
So, in honor of Indigenous People's Day on this here queer spot of the world wide web, let's talk about some LGBTQ women, Two-Spirit and agender Native American, Aboriginal and First Nation people who are currently making their mark on our world.
Please tell us about other people we should be honoring today in the comments!
---
1. Beth Brant, Writer
Brant, who is of Scottish-Irish and Mohawk descent, was 40 years old when she was driving with her partner and received a message from a bald eagle that her destiny was to be a writer. She's since published many books of poems, stories and essays, been widely anthologized, received awards from the Michigan Council For the Arts, the Ontario Arts Council and the National Endowment for the Arts, and served as a lecturer at the University of British Columbia and the University of Toronto.
Editor's Note: We have learned since publishing this post that Beth Brant passed away in August 2015.
---
2. Shawnee aka She King, Musician
almost famous // website // rpm page
According to our former Music Editor Crystal, She King is "an Aboriginal artist from Toronto who writes stellar pop songs with big hooks, polished production and plenty of vocal power." In addition to working with youth and doing motivational speaking, she has been invited to tour with Roxette and Glass Tiger and even recorded a song for The Disney Channel.
---
3. Sydney Freeland, Filmmaker
Transgender Navajo filmmaker Sydney Freeland grew up on a reservation in Gallup, New Mexico, which was offensively dubbed "Drunktown" by a 20/20 segment on ABC news. That's where she got the name for her film, Drunktown's Finest, which premiered at Sundance and features a trans female lead character named Felixia. She hoped the film would shed light on authentic experiences she didn't see represented in mainstream cinema. Freeland has also worked in various capacities for The Food Network, Walt Disney, Comedy Central and National Geographic.
---
4. Heather Purser, Activist
Heather Purser, a Suquamish activist and seafood diver from Washington, advocated for her tribal council to accept same-sex marriages before the state or the country did — and she won. In August 2011, her tribe became the second to give same-sex couples on its reservation marriage rights. After the unanimous vote in favor of the measure, Purser told the AP, "I wanted to feel accepted by my tribe. I was expecting a fight to be ugly. But I was so shocked. I guess I was expecting the worst out of people. I was expecting the worst out of my people." Everybody voted in favor of the measure — there was no debate or dissent. In a 2015 interview, Purser told Indian Country Today that she definitely should've expected the best, recalling "It was very humbling, and I felt very honored. It was completely in flow with the values I've always observed with the Suquamish people."
---
5. Susan Allen, Politician and Attorney
Attorney Susan Allen, a Rosebud Sioux Tribe member, became the first openly lesbian Native American elected to a state legislature in 2012 when she won a special election for a seat representing District 61B in the Minnesota State House. She was then re-elected in the general election later that year and continues to serve district 61B, an area of south Central Minneapolis where almost half the children live in poverty, which she told Minnesota Public Radio "reminds me a lot of the places I grew up." Her law practice specializes in helping tribes draft tribal laws.
"[Native Americans] are such a small minority and yet we have this history with the state. When I go there and sit in that room, on the house floor, and all that history is there and I'm sitting there, in some ways it's just ironic… So it's really important for me to be there. Because it's like we are still here. We are still here. We still have a political existence. We have this place in the state and that needs to be recognized." – Susan Allen (via star-tribune)
---
6. Storme Webber, Writer, Poet & Interdisciplinary Artist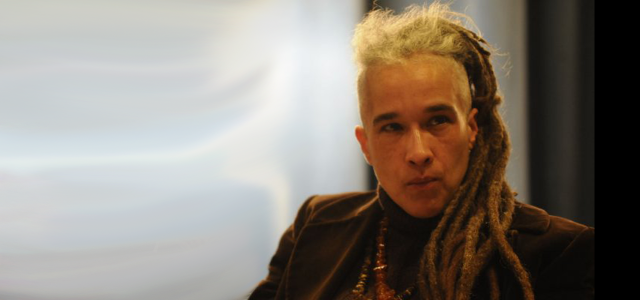 Webber, the child of a mixed-race Aleut lesbian who came out when Storme was 16 and a bisexual black/Choctaw Texan father, grew up in the '60s gay community and came out themselves at the age of 16. Webber is the founder and artistic director of Voices Rising, a series founded in 2007 to nurture and showcase LGBTQ people in arts and culture. She has published three collections of poetry including Blues Divine, appeared in numerous anthologies and has appeared in documentaries including Venus Boyz and Living Two Spirit. She is also an interdisciplinary artist, a performance poet who has appeared in international spoken word tours, and a teacher.
---
7. Jewelle Gomez, Activist and Author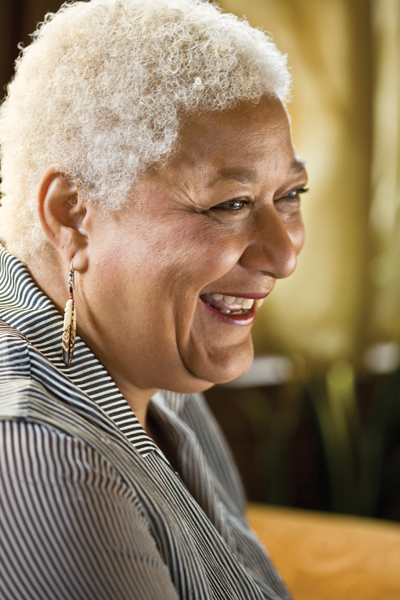 Jewelle Gomez is a Black and Native American novelist and the author of The Gilda Stories and seven other books, having worked in public television, theatre and philanthropy. Gomez was raised by her great-grandmother, Grace, who was born on a reservation in Iowa to an Ioway father and African-American mother and later married a Wampanoag descendent of Massasoit. She was on the founding board of GLAAD and early boards of the Astrea Lesbian Foundation and the Open Meadows Foundation. With her partner Diane Sabin, Gomez was among the litigants suing California for the right to marry, and she continues writing about gay rights and working as Director of Grants and Community Initiatives for the Horizons Foundation.
---
8. Chrystos, Poet & Activist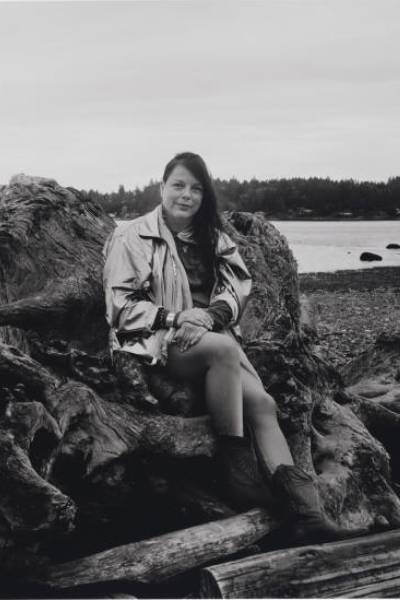 The Two-Spirit and lesbian-identified poet, artist and activist of Menominee ancestry has published many books of poems and also been featured in anthologies including This Bridge Called My Back. In her writing she aims to empower Native Americans to connect with their heritage and culture and to break down stereotypes and expose intersectional issues affecting her people. She won the Audre Lorde International Poetry Competition and received the Sappho Award of Distinction from the Astrea Lesbian Foundation for Justice.
They have our bundles split open in museums
our dresses & shirts at auctions
our languages on tape
our stories in locked rare book libraries
our dances on film
The only part of us they can't steal
is what we know.
-Chrystos
---
9. Qwo-Li Driskill, Writer and Educator
Queer two-spirit poet, educator, scholar and activist Qwo-Lit Driskill, who is of Cherokee, African, Irish, Lenape, Lumbee and Osage ancestries, is a professor at Oregon State University and the author of Walking With The Ghosts: Poems, among other poetry anthologies. Driskill is also an editor of Queer Indigenous Studies: Critical Interventions in Theory, Politics, and Literature and Sovereign Erotics: A Collection of Two-Spirit Literature. Hir poetry "confronts the legacy of land-theft, genocide, and forced removal of Cherokees from their homelands while simultaneously resisting ongoing attacks on both Indigenous and Gay/ Lesbian/ Bisexual /Transgender (GLBT) communities."
---
10. Donna M. Loring, Author, Broadcaster and Tribal Representative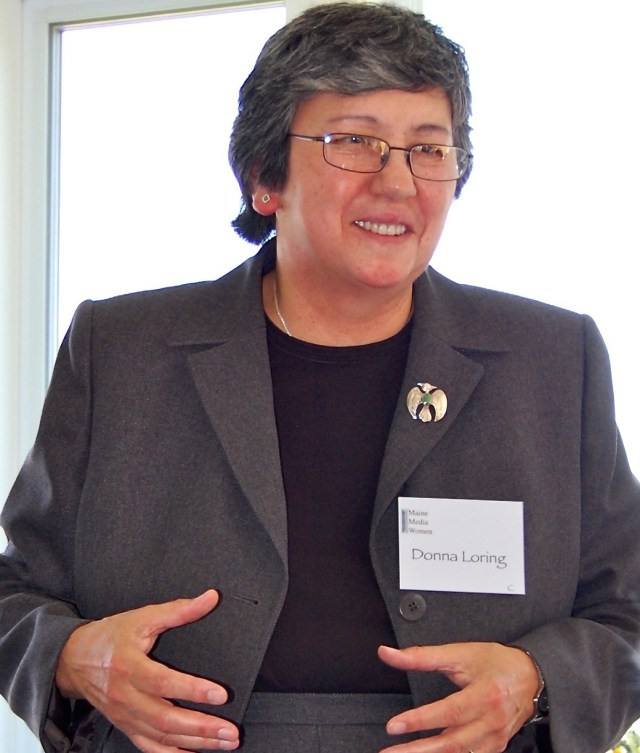 Loring, a member of the Penobscot nation, is the host of the public radio show "Wabanaki Windows" for Community Radio WERU 89.9 FM in Blue Hill, Maine. Loring served in Vietnam (receiving an honorary Colonel rank from former Governor Angus King in honor of her appointment as his advisor on Women Veterans Affairs) and later became the police chief for the Penobscot nation in 1984, making her the first female graduate of the Maine Criminal Justice Academy to become police chief. Loring is credited with giving the first "State of the Tribes" address in the Maine legislature in 2002 as well as writing and sponsoring of the "Act to Require Teaching Maine Native American History and Culture in Maine's School," a enormously significant law passed by State Legislature in 2001. In April 2008, it was Loring who put the "Joint Resolution in the Support of the United Nations Declaration on the Rights of Indigenous Peoples" before the legislature, a unanimously passed resolution that made Maine the first state to do so. She is also a playwright and a memoirist.
---
11. Angel Haze, Rapper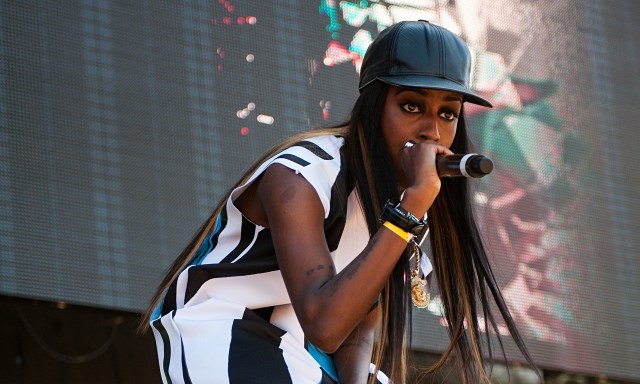 Detroit native Raykeea Angel Wilson grew up in Detroit, the child of an African-American father who died before Haze was born and a Cherokee mother, and identifies as agender and pansexual. They grew up in what Haze now refers to as a "cult" — the Greater Apostolic Faith, which their mother was introduced to by a boyfriend. At 15, after a pastor threatened Angel's mother, they moved to Brooklyn, at which point Angel was finally allowed to listen to secular music and got interested in becoming a rapper. Their first EP, Reservation, was released for free online in 2012, the same year that Haze took part in the BET Hip-Hop Award's Cipher, released a mix-tape Classick, was nominated for the BBC's Sound of 2013 Poll, and was featured on Dizzy Wright's smokeOut Conversations  Their album Dirty Gold  was released in 2013, and the internet album Back to the Woods came out in September 2015. Haze is a self-taught speaker of Tsalagi, the language of the Cherokee people. They recently told the Guardian that they feel like their Native American heritage "isn't important… until I see shit like Gwen Stefani's [appropriative "Looking Hot" video]. I didn't have a problem, but then you see white people in America discussing it and saying: Oh, the 'Indians' are mad about nothing. And they don't understand the significance of what she did, how she made us look."
---
12. Cris Derksen, Musician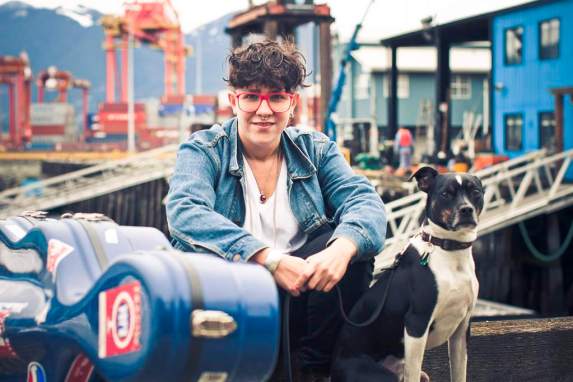 Derksen, as described on crisderksen.com, is "a rising star on the Canadian world / classical / folk / electronica scenes, award-winning Aboriginal cellist" known for "building layers of sound into captivating performances" with music that "braids the traditional and contemporary in multiple dimensions, weaving her traditional classical training and her aboriginal ancestry with new school electronics, creating genre defying music." Derksen has won a Canadian Aboriginal Music Award, composed for television and feature films, toured internationally and nationally, performed at music festivals all over the world, and has played with people like Kanye West, and Rae Spoon. She collaborated with contemporary powwow recording level Tribal Spirit for her most recent album, Orchestral Powwow, for which she composed chamber symphonic works around Powwow pieces found in Tribal Spirit's library.
---