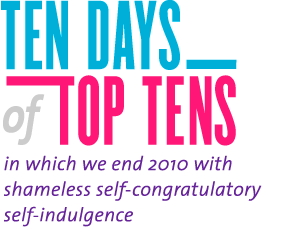 Welcome to "Ten Days of Top Tens," in which we say goodbye to 2010 by reviewing the year that was. Because we spent this year in front of our computers typing words for you, many of these top tens will be a tad self-indulgent. Resist the urge to recognize it as such.
We have a lot of ideas. Follow-through? Not so much. Thus today I present you with…
Top 10 Unpublish/ed/able WordPress Drafts!
This top ten is an excellent opportunity for me to "crack the whip" at our editorial team while simultaneously cracking the whip at my own weaknesses as a human/CEO and it is ALSO a teachable moment! Doesn't everyone want to know some of the BEHIND THE SCENES MAGIC that goes in to creating the Autostraddle website you know and love or have a love/hate relationship with or are only reading so you can find new reasons to hate it/me? OF COURSE YOU DO.
Every day/week, the WordPress dashboard looks something like this: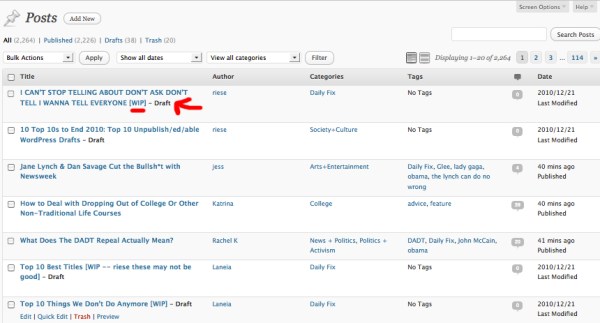 Already published posts are in there looking spiffy and done. Unpublished posts are labeled by wordpress as "drafts." We write notes to each other in the title box like [WIP] ("Work in Progress") or [DONE] or [NEEDS FEATURE GRAPHIC] or [READY FOR RIESE] or [TITLE SUCKS SORRY]. For a speedy assessment of our Draft Situation, one must click "DRAFTS" and then stare vacantly into the ether, wondering if we'll ever publish anything ever again.
Will anyone ever finish these drafts. Has Laneia edited this draft. Does Alex have pictures for this draft. Have you asked Taylor about her draft. Did Crystal send you the photos for the draft that Riese is editing and Alex still needs to format and is this fix that Rachel did good to go I would ask her but she's at work oh also is anyone ever going to finish that draft.
Sometimes drafts sit in the drafts folder forever, long past the possible date of their publication or the author's interest in completing the post. Sometimes drafts are not actual drafts, but spaces for Executive Editor Laneia to share her complicated feelings. Sometimes drafts remain in the drafts folder rather than the more appropriate "trash" folder for inexplicable reasons. Perhaps it's out of denial.
Perhaps the existence of these rotted drafts remind us that we are alive, and human.
+
Top 10 WordPress Drafts That Will Never See the Light of Day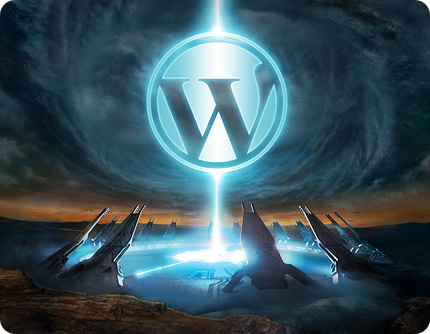 10. So You Wanna be a Food Historian
Author: Laneia
Last Modified: September 2, 2010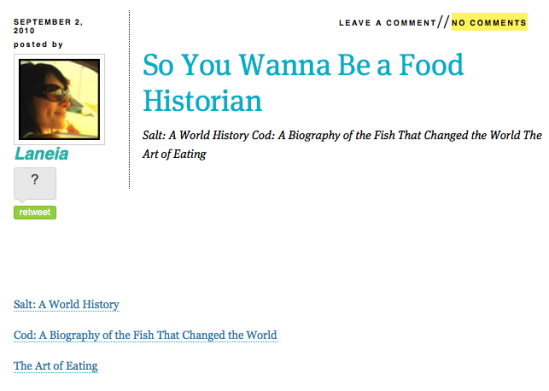 If you do wanna be a food historian I'm afraid you're going to have to figure this one out yourself.


9. Small Talk For Weirdos
Author: Sarah H.
Last Modified: September 9, 2010
I recall an editorial meeting in which Laneia maybe said something about Sarah not wanting to write this post anymore or it not working out somehow. I was sitting on the living room couch for this editorial meeting on Skype, maybe drinking some vodka. Definitely drinking some vodka, not wearing any pants, and the house was in some kind of chaos situation. I think I got mad at everybody and hung up or maybe that was the week before.
Anyhow, I bet all you weirdos are sitting there right now with your mouths open, waiting for Sarah H. to tell you how to small talk. Here's a snippet from the draft:
Talking to the Boss
Similar to: Poking straws into your eyes

8. Taylor & Kelsey's Winged Migration: Southwest Edition
Author: Taylor
Last Modified: November 11, 2010
After four triumphant segments — a huge accomplishment, really, as we rarely complete these 'series' posts — Kelsey and Taylor have decided that 'nobody cares' about their road trip. I tried to put the pressure on them when I was staying there but the inertia was unbeatable.
It is unlikely we'll ever know what happened with the psychos in Santa Fe.


7. Everyone is Fucking Stupid I Hate Everyone Because Everyone is Fucking STUPID
Author: Laneia
Last Modified: December 16, 2010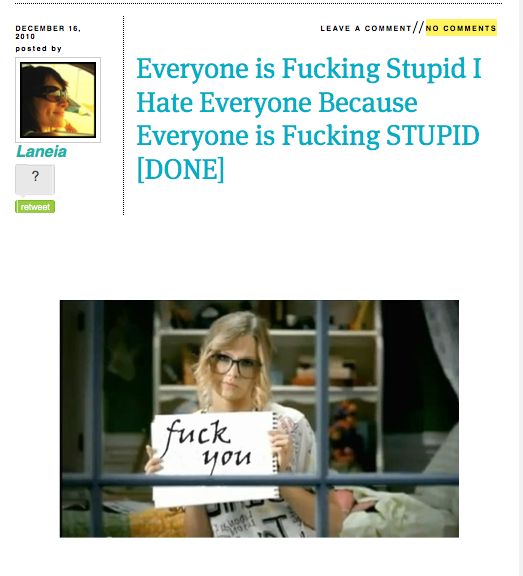 I admire the subtlety expressed in this post

6. Lindsay Lohan on Playing Porn Star Linda Lovelace, Disturbing Andrea Dworkin's Spirit
Author: riese
Last Modified: august 10, 2010
In late Novemeber Lohan got FIRED from Inferno in which she was going to play Linda Lovelace, rendering this piece irrelevant. Granted I hadn't touched this thing since the August afternoon I spent on amphetamines at Alex's dining room table, reading everything ever written about the Feminist Sex Wars and watching documentaries on Netflix, congratulating myself for such a genius "spin" on a benign topic with three SEO words in the title.
The future of this piece, much like Lindsay Lohan's life itself, is unclear.

5. Dear Kings of Leon
Author: Laneia
Last Modified: October 17, 2010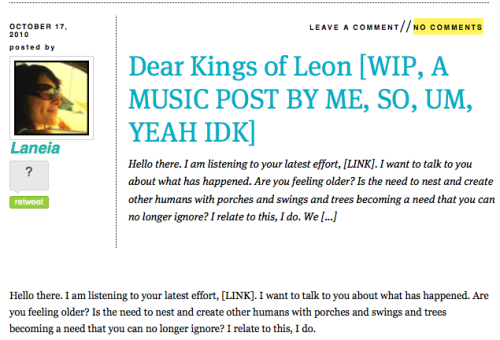 I imagine Laneia constructed "Dear Kings of Leon" in a moment of very passionate feelings about, it appears, Kings of Leon's latest album. Laneia's title-note is laced with self-deprecation regarding her perceived inability to complete a "music post" herself. Laneia is one of those people who gives you something awesome while warning you that it sucks.
Following the opening (above), Laneia asks Kings of Leon some questions and provides her empathy for the hypothetical situations she imagines may have caused their suckdom, whether it be 'getting older' or 'being from TN.' Then Laneia's discontent towards Kings of Leon emerges again, like a dolphin breaking valiantly out of the ocean into the air:
None the fucking less, we will need to discuss this homogenized emo/country/'rock' thing that I've been listening to for a few days, which made me nervous / I let slide on [LAST ALBUM]
Laneia then details "Things That Were Amazing / VERY FUCK YES About You Prior to This" and "Things I Can Currently Do Without." Here's another excerpt:
I know what it's like to be away from that place that fed you for years. I know wanting that time back. That time was a thing you bought via memories, though. That time, the way you see it now, didn't exist. Not really. What you're creating via these songs isn't a thing. This is not the way it feels there…
You know what it was like. It didn't sound like [SOUND] or [SOUND]. It was [SONG] and [LYRIC] and [something].
[ALBUM] sounds like a soundtrack, in that it's someone else's take on on a thing / place. Where the fuck are you?
The way you see it now, didn't exist. AND SCENE.
+

4. CRYSTAL I LOVE YOU
Author: Laneia
Last Modified: October 6, 2010
This is how that looks: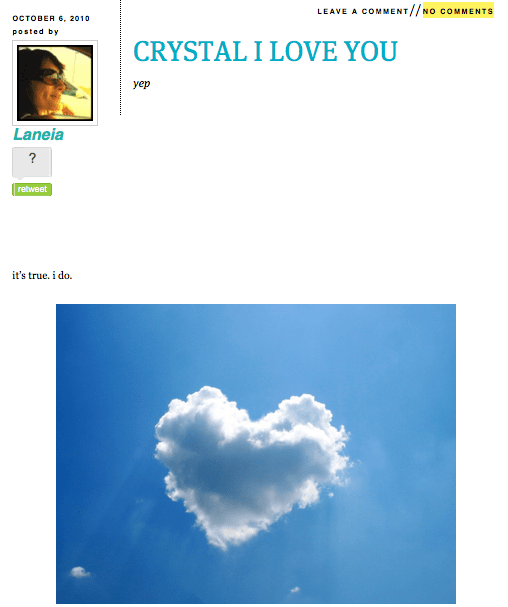 3. What My Heart Says About Emily Gould's "And the Heart Says Whatever"
Author: riese
Last Modified: august 27, 2010
JK! I'm totally gonna finish this for the one year anniversary of the publication of "And the Heart Says Whatever."
For real…
3. wtf are you dumb this is not actually an article
Author: riese
Last Modified: September 4, 2010
The title says it all. The other thing that says it all is the first paragraph, which indicates I was perhaps Robo-tripping or something.
95% of things I try to write get ruined because I attempt to incorporate THE ENTIRE UNIVERSE into every essay I compose, it's problematic.
I open attempting to make some sort of point that involves, somehow, 9/11, and then later I reveal I'm responding to an Onion article everyone recommended on facebook about everyone moving out of New York City. Mostly what I do here is re-present the Onion article, but without humor, and with extra 9/11.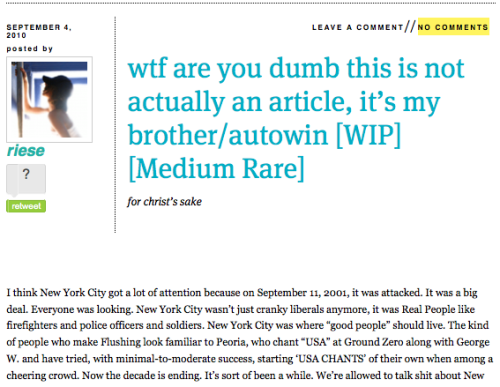 It goes on to describe kissing in lots of places, references "The Style Tribes of San Francisco" (an article I apparently read in The Sunday New York Times), Joan Didion, the flooring in my Harlem apartment, my income variance over several years, the pros and cons of working from home, how the internet changes our everyday lives, why living in New York is like having an affair with a married woman and how it costs a lot to go out (including an overblown explanation of Point A–>Point B). At some point I think I unfortunately return to 9/11, as we so often do.
A variety of extended metaphors happen. This one is homosexual:
Leaving New York is like realizing that episode of Oprah wasn't about you after all. Leaving New York is like realizing that Ellen DeGeneres lives in California and generally you prefer her show anyhow, it makes you dance.
Idk.

2. Feel Flow: A Fake Article About My / Our Dinah Hangover
Author: the team
Last Modified: august 8, 2010
This is a "fake article" nobody can bring themselves to delete. It is a safe space for us to share important memories, like this:
And this: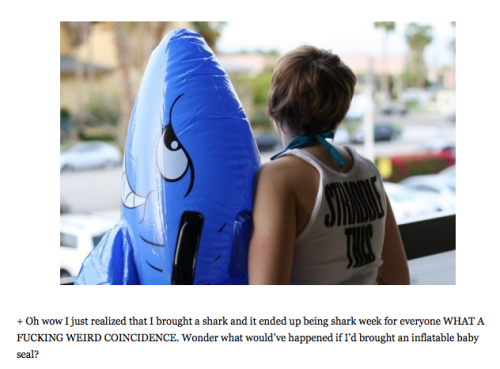 Also, this: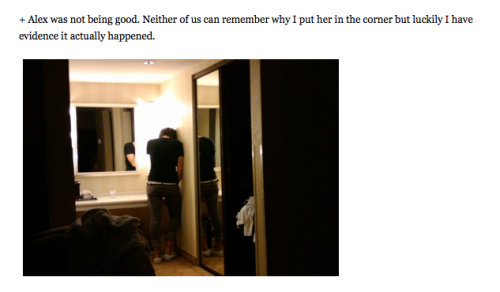 Other excerpts from this piece include "Team Ke$ha peaced out after I heard the words "Fuck you like a Dinosaur" and "When I told Brandy I was an art history major, she said "I hate art.wp_postsBut then later squeezed my shoulders, so whatever."
And also this:

I do not.
+

1. omg shoes
Author: a;ex
Last Modified: December 11, 2009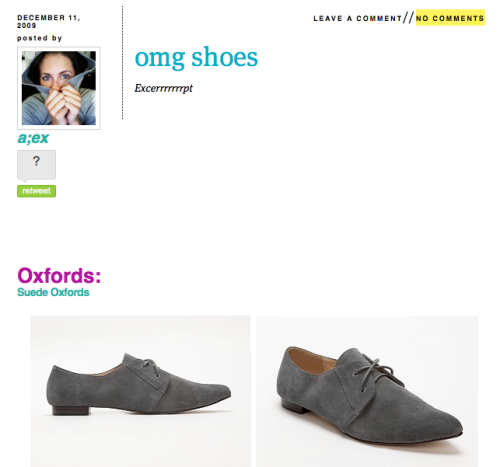 For this post our Design Director A;ex Vega has inserted some photographs of 'Over-the-Knee Boots,' 'Slouchy Boots', 'Motorcycle Boots' and 'Oxfords.' A;ex has not yet added any text to the post. As Design Director, A;ex usually adds pictures and formatting to posts written by writers, so perhaps she got confused and forgot that when it is HER post, she has to put in the pictures AND write the text.
We are unable to move "omg shoes" to the trash, because it's much funnier to ask for progress reports on "omg shoes" at every editorial meeting. We will never delete it. One day, I think, Alex will wake up with her socks on, look around the room, think "OMG SHOES!" and start pounding out this sucker lickity split. You know what I'm saying? You do. You get it. I know you get it.