Oh Tegan, oh Sara. Between the two of them, they've created a lot of Halloween costume potential over the years, you know? There are countless ways to dress up like Tegan, or Sara, or even one of their songs. We've made a handy guide so you can pick your favorite era, your favorite song, or just the one that matches your current hair. Maybe you won't look so different from how you look on an every-day basis, but on Halloween, people will ask, "What's your costume?" And once you've said, "Oh, me? I'm Tegan and/or Sara, circa 2009," they'll definitely get it. Probably.
---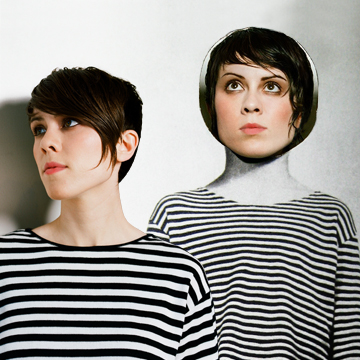 Do you have a striped shirt? Good work! Some long sideburns? Cool if you have 'em, still cool if you don't!
---
Alligator
You have TWO Alligator Halloween options:
The first: Dress up like the twins in the Alligator video, by knitting yourself a giant woolen hooded vest (Tegan) or by wrapping your head in a large blanket (Sara).
Your OTHER option is to follow a more literal interpretation of the video, and put on your Alligator onesie and some sneakers (you're going to have to "run around on me"). Bam.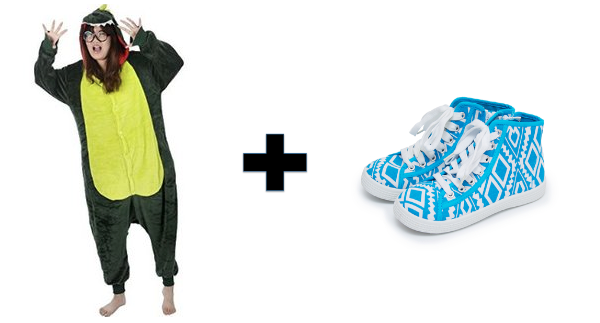 ---
The Mullet Years
How about a mullet? Are you rocking a mullet? I'm impressed. Grab a dark-colored t-shirt with an interesting graphic and some jeans and you are so good to go.
Add a hoodie and a green stripe on your face and then you can be this picture:
Or this picture:
---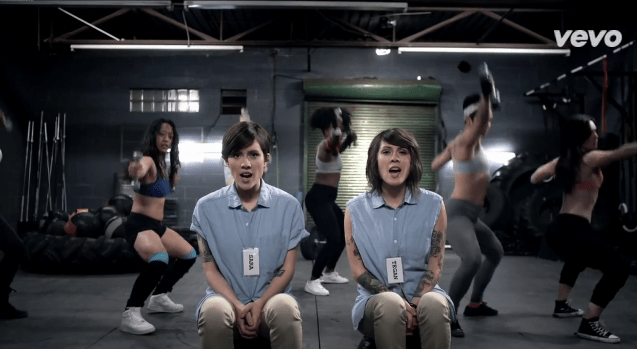 Find an old blue button-down work shirt and cut the sleeves off, then tie your hair up in a bandanda. Do you have some free weights? How about some laundry? Maybe a friend who looks like Morgan Page? Feel free to bring any of those things/people around with you.
---
Cut two outfits in half, sew them together, then go downtown, catch an early movie, and you can be "Divided." Alternate option: do your top half as one twin and the bottom half as the other twin. Very subtle.
---
David Letterman, 2001
Do you remember the very special time that Tegan and Sara, self-proclaimed "babies," played My Number on David Letterman in 2001?
Do you have a Tim Horton's shirt? Does your hair go every which way, or perhaps look like Mary Louise Parker's in Saved!?
If any of the above are true, you are more than prepared to be Tegan and Sara from their very early years.
---
Here's what you need to do for the current almost-two-years-post-Heartthrob moment: Wear all black for Sara, wear all black with a splash of color for Tegan. If you're styling your hair as Tegan, make sure you really capture the wavy bangs. Really wave them.
---
Wear a pilot's jacket and some aviators, make some wings out of a cardboard box (or REALLY go all out and make this guy), and write, "You're not mine," all over them.
Ok, your turn.
What's your Tegan and Sara Halloween going to look like?