Nothing gets me pumped quite like a fangirl Halloween costume. Nothing. And this year is no different. With Hunger Games being released last March, you'd think that every Halloween store in town would be overrun with Hunger Games costumes, but that's just not the case. So what's a girl to do when all she wants is to dress up like Katniss Everdeen? Make your own costume of course! I've got three different Katniss costumes in — varying degrees of difficulty — to suit everyone from the die hard cosplayers to the casual last-minute fan.
+
Arena Katniss

Potentially the most recognizable Katniss look, dressing as Katniss during the 74th Hunger Games is actually not hard to put together. You may actually have many of your necessary items hanging around your house. Start with the basics: a black or green V-neck paired with some brown or tawny skinny cargo pants. Though you don't absolutely need it, a heavy duty brown or black belt is a nice touch. Next, find a hooded zip-up black jacket. A raincoat or lightweight faux-leather works really well. If you want to be a stickler you can put a zip-up track jacket underneath this, but you're fine either way. Similarly, in the movie, the Tribute's jackets had a red strip up behind the zipper and around the hood. This can be done with some red duct tape or glued in red ribbon. Finally, Katniss has black motorcycle/combat/paddock style boots. I'm going to take a wild guess that you might already have a pair. Any black boots will get the point across. Finally, grab a black or bright orange backpack.
+
+
Now that you've assembled your base costume, it's on to the Hunger Game essential details. These are potentially the most important parts of the costume. Of course, you need a mocking jay pin. While I'm sure you could make one out of pipe-cleaners/clay and metallic spray paint, I opted to spend $4 and buy myself one. I'd say this was a sound investment. Amazon is a great option, but you could also check Newbury Comics or even a Target. Secondly you'll need a nice long side braid. If you have blonde or short hair, I suggest investigating a brunette wig. Although you might be able to finagle braiding a wig yourself, It's potentially much easier to buy one already braided. A Lara Croft wig will suit you well and will probably be cheaper than some "Arena Girl" wigs you might find.
If you already hair long brown hair, you can certainly just braid it. If you want to go for Katniss's long braid but don't have quite the length, you can braid in some clip-on extensions in-between layers of your hair. For the super savvy, you can try to do Katniss's dutch braid, essentially a french braid going around your head.
+
+
Having never been able to french braid my own hair, after watching this video I was able to dutch braid my hair after the fourth or fifth try. My suggestion is to attempt to do so while pacing around your bathroom in a plaid flanel and underwear.
Absolutely most importantly, you need a bow and arrow. Why? Because you're going to want to shoot toy arrows at people all night (safely and not at anyone's eyes). You can certainly get an amazing movie replica and/or realistic looking bow, arrows and quivers. Personally, I like the idea of getting a bow and arrows that look the most like a foam toy as possible. It's not as realistic, but it's potentially more hilarious. Alternatively, you could go for a happy medium with a Disney Brave bow and arrow set — I feel like you'll use that again.
+
Hunting Gear Katniss

Back before The Games, Katniss was just another girl who loved hunting and the occasional bout of sexual tension with her neighbor. Start with a black V-neck and straight leg or skinny pants. Next, add some boots. Your best option are high brown boots, but honestly any leather boot is fine. Most importantly, a worn-in brown hunting-style leather jacket is critical. You can also accessorize with things like fingerless gloves, a cap or a hunting satchel to get that full Girl In The Wilderness look.
+
+
As mentioned before, you'll need Katniss's signature side braid and bow and arrow. Although it doesn't fully make sense for the book, you can also add the mockingjay pin. It may make your costume clearer.
+
Reaping Katniss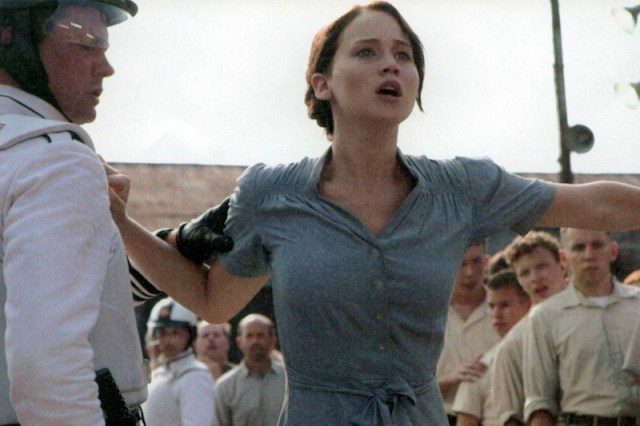 The Reaping Katniss costume is by far the easiest to pull off. All you need is a light blue (or even denim or white) shirt dress that ties in the middle. It's also a great costume if you have a lazy costuming boifriend who wants to just wear all white and an apron and go as Baker Peta.
+
+
If you really want to get fancy, you can create the ruched effect at the collarbone of Katniss's dress if you have a sewing machine. About two inches below the shoulder on the front of each side, baste in two rows of very long straight stich. On one side, holding one end of the strings, pull the opposite end of the strings to scrunch the fabric up. Once you've reached your desired scratchiness, straight stich through the middle of your two basting stitches. Repeat this on the other side of the dress and you're good to go. In addition, include some no-nonsense brown shoes. You should also braid you hair in two long braids and pin them up. Oh look, another hair video:
+
+
The most important part of this Katniss costume? Every time someone offers someone else a trick or a treat (or a drink for that matter) you throw your hand in the air and yell "I volunteer as tribute!" Actually, whichever Katniss costume you choose, be sure to be volunteering as tribute all night long.