This morning I played the demo for Detroit: Become Human, an upcoming PS4 exclusive about androids I guess. Or at least, featuring androids. The demo played like an exceptionally gorgeous L.A. Noire with lighting so good it was a pleasure to look at the evidence it made me look at. I have no idea if that's what the rest of the game will be like, but I am very psyched to play it. But since it doesn't come out for a whole month, I can't play it yet. So in the meantime I've been playing NieR:Automata, a game about androids that came out an entire year ago.
I didn't playing NieR: Automata last year for a few reasons. The main one is that it came out the same week as Mass Effect and less than a month after Horizon Zero Dawn and got lost in the shuffle. But also it didn't look very pretty, and I'm kind of superficial? And I heard that it was very hard, and I usually don't have the drive to get good enough at hard games for them to be fun before I quit out of frustration.
CAPTION: I disagree!
I am playing it now for one reason: it was on sale for half price and I had just gotten paid. And you know what? I like it!
It feels good to play this game. All of the buttons do the things I want them to do without me ever having to guess. The movement is tight and the jumping feels right and the enormous Monster Hunter-style swords swing faster than should ever be possible but I will take fun over realism with this stuff any day of the week. Like, everybody loved Red Dead Redemption but I spent a couple minutes on a horse in the tutorial and the movement felt so bad me that I turned it off and never tried to play it again. I have turned this game on multiple times to play it, which makes it better than Red Dead Redemption in my opinion. (This is sort of a joke, except not really, because subjectively it's very true!)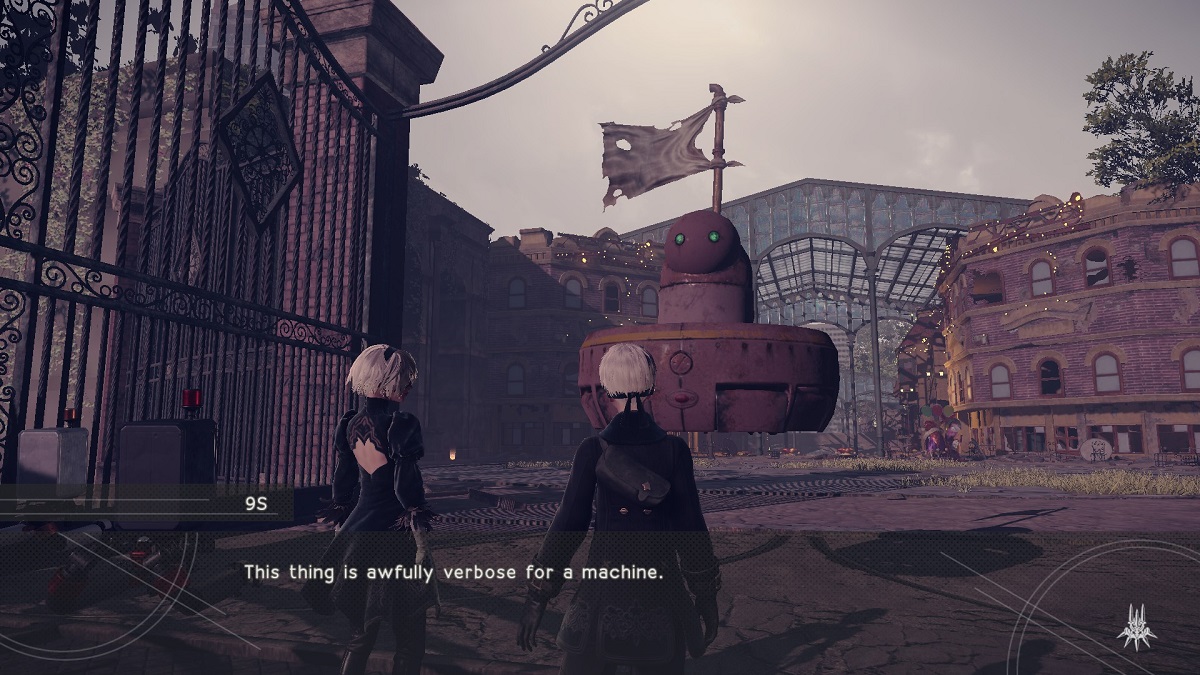 CAPTION: Hey who you calling a machine?
So here is what I think the premise of the story is about, but you need to understand there was a lot going on while these things were being explained to me. I know that robots have taken over the Earth. I believe that they came from space, but I'm not sure about that or about how that would be true. It is my understanding that any surviving humans are on the moon, and that they sent us, androids, to fight the robots. It's pretty standard stuff until a nude somebody falls out of a robot nest and all hell breaks loose. It is a story about one thing that turns into a story about something else and keeps iterating on itself almost forever like for instance the hit television show Lost, which had both too many seasons and not enough seasons. The good news is, if you like playing this game, the game itself recommends that you to keep playing it for a very long time. I confess that I think the story is (very fun!) nonsense and I don't care about the characters. My only friend is an annoying boy who keeps asking me if I want him to adjust his fighting style. I don't care about his fighting style, because I am playing this game on easy mode.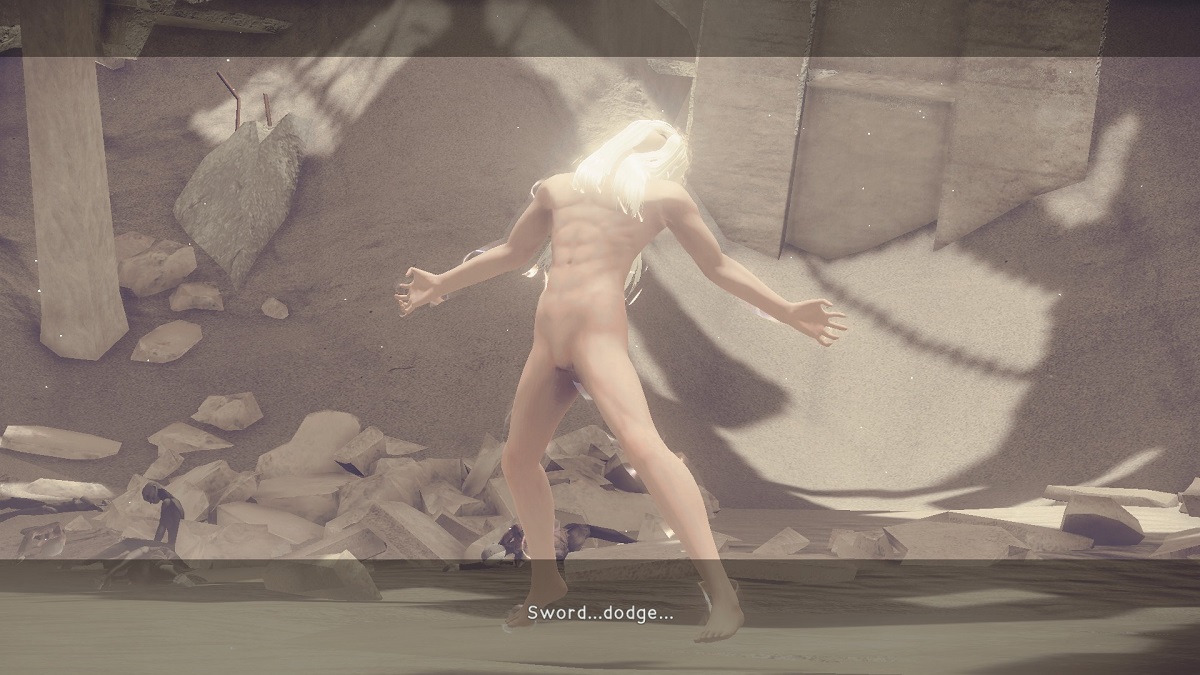 CAPTION: A Nude Somebody.
That brings me back to that thing I said before about the game being apparently pretty hard? Well I'll tell you, through the prologue mission I was playing on Normal mode like some kind of eSports Professional feeling like I must be much better at videogames than everybody who has ever mentioned this game to me. But then the second mission began with a spaceship bullet-hell fighting sequence that I died to one dozen times in a row until I finally put it on easy mode and coincidentally figured out how to do special moves in the spaceship. Some combination of those things got me through on my first try, not counting the twelve first tries before it. And then the game, which had been mostly a sidescrolling platformer in the prologue, and was then a spaceship for a while, suddenly became an open world adventure where I could explore and kill things and find Plant Seed and Complex Gadget, or I could go fishing. So I went fishing, and caught Carp Machine, and I wondered how I could have ever found this stressful? But then I had to fight an opera singer machine and I died three times, now on easy mode with nowhere easier left to go, before I beat her. I can confirm: it is hard. But the combat has a frenetic arcade-iness that makes me a little giddy even as I'm being chewed up by the robot dog that was for some reason built under the metallic skirts of the robot diva that was for some reason deemed an essential part of the robot invasion force. I'm saying, it's a good game.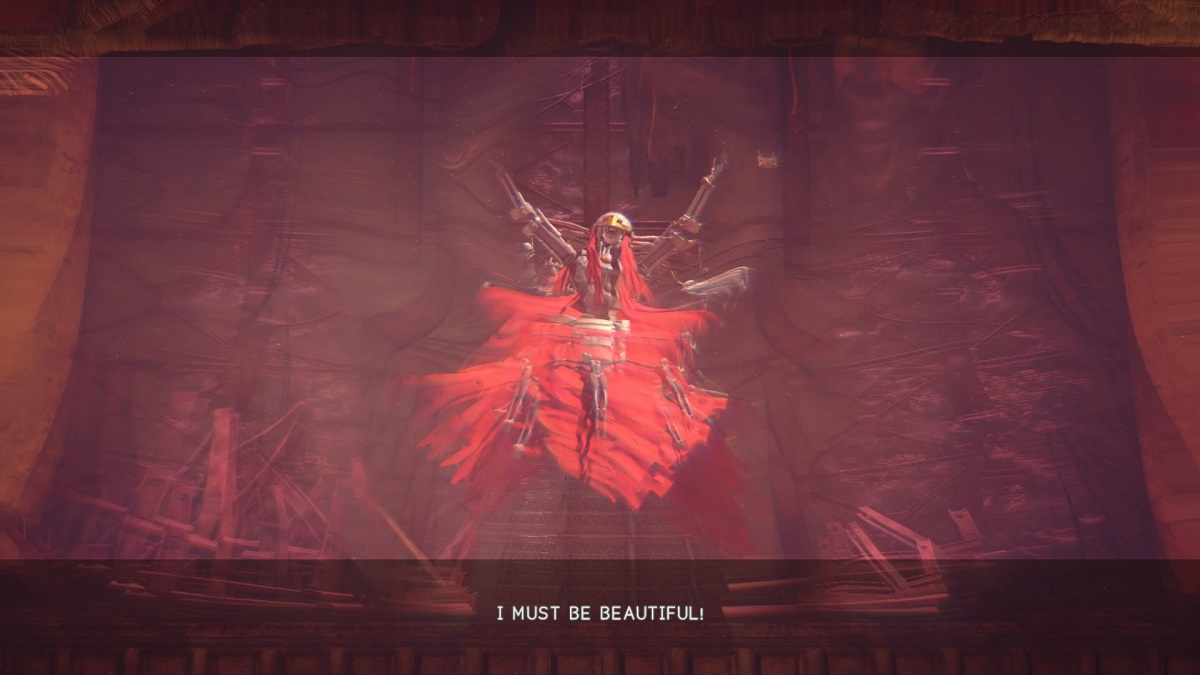 CAPTION: YOU ALREADY ARE BEAUTIFUL, INSIDE AND OUT
The only issue I have with the game, apart from some technical difficulties (mainly that I cannot get the resolution to cooperate with my monitor), is the aesthetic. This game is visually exhausting for me. The color palette is washed out in a way that makes it really hard for me to play for long periods of time. And the art for the android characters is kinda goth and stylish and very much A Look, whereas the robots have an Iron Giant whimsy that I really like, but they don't look like they belong in the same game as the androids and none of them necessarily look like they belong in the same world as the world itself, which is sometimes beautiful but also feels sparse like a last generation console game. And the bullets that a lot of the robot enemies shoot don't look like anything else, which is probably to make them noticeable for dodging, but they're so ugly I want to scream. It's a real mish-mash. The game is at it's best, visually, in the sidescrolling parts. Those screens feel actively designed in a way a lot of the 3D sections don't. And the character models look a lot cooler in silhouette too.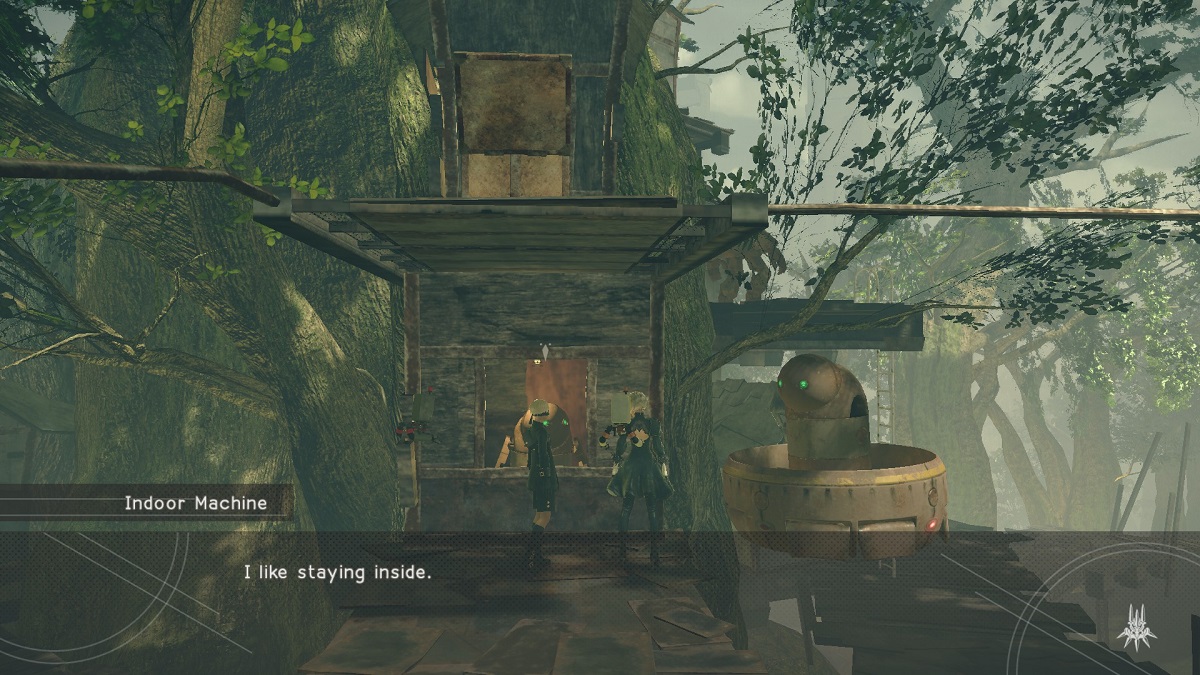 CAPTION: Maybe robots aren't so different from us after all.
I played NieR:Automata on PC, but it's also available for PS4. It's on sale on Steam for $30 until May 6th, and it looks like it goes for under $40 on Amazon for PS4 these days. You should play this game if you like or do not mind: hard games, action games, RPGs, platformers, bullet-hell games, hacking mini-games, hot androids, cute robots, nude somebodies. And fishing.