Here we are! Yellowjackets 204 recap! "Old Wounds" was written by Julia Bicknell and Liz Phang and directed by Scott Winant. As always, your theories, speculations, deep dives on symbolism, etc. are very welcome in the comments, where I'm an active participant! I really do consider the comments sections on these recaps to be supplementary texts to the recap itself, so even if you don't want to hop in yourself, reading them is rewarding! You can backread past recaps and their comments sections, which to me sounds like the perfect way to pass time before the next episode of Yellowjackets 💫 Okay, let's jump in!
---
First and foremost, we must address a very fun aesthetic detail in this episode: the theme song! It's the usual song "No Return," but in this main title sequence, it's covered by 90s icon Alanis Morissette, whose song "Uninvited" is also featured in season one. It's a slight but perceptible shift, Alanis' rendition a little more aching and haunting than the original while still preserving that sense of rage and turmoil. I love it as a one-off stunt! Alanis' penchant for visceral, angry, emotional gut-punchy lyrics and sounds fits very well in this universe.
"Old Wounds" really does feel like a transitional episode for this season of Yellowjackets. With the exception of two big character reveals at the end of the episode, not a ton happens. But characters are in motion, Taissa quite literally spending the entire episode traveling to a specific place, Misty traveling with Walter to a new place, Nat and Lottie in both timelines moving into a new space with each other that isn't trust or understanding but something of a turning point and a clear line drawn between them, Shauna entering into a new relationship with Callie built on radical honesty. Everyone's reopening the titular old wounds and creating new ones in the process.
Let's start with Misty and Walter actually, because I've only really touched on them briefly in previous recaps and I have a new fun theory I want to bat around. Misty and Walter road trip out to the Catskills in pursuit of the purple cult, not yet knowing Lottie's connection to it. On the way, Walter tells Misty she can put on some music and pulls out a bunch of cassette tapes featuring showtunes. Misty, reasonably, concludes he's a Yellowjackets Fanboy, given the 90s nostalgia of the tapes and the fact that showtunes are Misty's favorite. But Walter shoots this down, saying he of course knows about the Yellowjackets stuff but also doesn't care about it.
"That was like 30 years ago," Walter says. "Twenty five," Misty interjects abruptly, which I laughed at, because for someone putting up a huge act that she's annoyed that he's a Yellowjackets freak, she sure does enjoy the Yellowjacket spotlight. Whereas for other characters that time was formative in a traumatic way, I think for Misty it was formative in an empowering way.
Walter, who I do not trust for reasons I'm about to lay out, says he just happens to love musicals. SURE, WALTER! Misty pretends she doesn't care much about musicals, too, which we know is a lie. They put on music from Evita, and then in a very good transition, we jump back to the past and see Misty and Crystal singing Evita together in the cabin, to the apparent annoyance of everyone else.
Musical banter aside, something Walter says stands out in this car scene. Misty has been trying to get ahold of Taissa and Shauna still, and both are ignoring her calls. She's also determined to save Nat from whatever fate has befallen her. Walter takes all this in and says: "It's good to have a friend that's relentlessly got your back." Could this be a hint at Walter's own motivations? Could Walter be protecting a friend by trying to get closer to Misty? An obvious explanation would be that he knew Adam Martin, hence his deep-dive on Adam theories and questioning of Misty's downvoting. But wouldn't that also mean Walter's showing his hand too much by poking around about Adam explicitly?
What if Walter knew Jessica Roberts? In the comments of last week's recap, someone pointed out that in the season premiere there was a thread on the Citizen Detective forums that read: "The Parsippany Poisoner — what are the cops missing?" This reasonably sounds like it could be about Misty's poisoning of Jessica Roberts. We learn in this episode that Walter is independently wealthy — a multi-millionaire in fact — due to a settlement with a construction company whose faulty scaffolding led to an accident resulting in a metal plate in his head. Jessica Roberts' clientele were primarily wealthy people trying to cover up their own messes or expose the messes of their enemies. Even though Walter seemingly prefers to do his own sleuthing, it does seem like he'd be more likely to know or be friendly with someone like Jessica Roberts over moody artist boy Adam, right?
In any case, we know Walter is after Misty for something. He cast himself as the Moriarty to her Sherlock last episode, suggesting rather baldly that he has diabolical intentions. Then, in "Old Wounds", there's another hint at his intended dynamic with her. After a bit of a wild goose chase trying to track down the cult, Walter insists they should check into a bed and breakfast for the night and reconvene in the morning. A split-screen sequence shows Misty and Walter going through their separate rooms, placing the TV remote in plastic bags, inspecting TVs, lightbulbs, and phones for any evidence of tampering. They're equally paranoid, equally alert. Indeed, the sequence seems like it's largely intended to show how similar these two are.
And that's why one key difference between them stands out starkly. It's quick, but near the end of the montage. We see what they each like to put on their phones before bed: Misty sleeps to bird sounds, and Walter sleeps to cat sounds. She's the prey; he's the predator. We've never really seen Misty go up against a formidable foe. Jessica Roberts thought she could out-maneuver Misty, but she didn't take Misty seriously as a threat, playing into a lot of assumptions about how Misty looks and moves through the world. But Yellowjackets consistently makes it clear that plenty of people are capable of violence and destruction — from teenage girls to Jersey housewives. Walter is moving at the same speed as Misty, his whole bumbling nerdy weirdo thing not necessarily an act but also not at odds with his more nefarious underpinnings, much like Misty is genuinely this quirky little freak who can also kill.
Speaking of Jessica Roberts, who I miss dearly for the sheer reason that she was scary and hot, a possessed Taissa breaks into her apartment to rifle through the files she collected on the Yellowjackets at Taissa's request last season. She pulls a file we can reasonably assume is for Van, the scene playing out in a fractured, nightmarish way with no dialogue, Taissa split in two, her sleepwalking self clearly in control, scowling, almost taunting the helpless Taissa. Even though Sammy called this version of Taissa "The Bad One" last season and we know just the kinds of disturbing things sleepwalking Taissa gets up to (RIP Biscuit), I've been avoiding calling these bifurcated identities Good Taissa and Bad Taissa, because I think this show rarely deals in cut and dried moral dichotomies like that. If it ever gets confusing which version of Taissa I'm writing about, that's probably intentional! Sometimes, the lines are blurred on the show, too.
An Interlude: DID WE JUST GET CONFIRMATION THAT JESSICA ROBERTS WAS GAY? Because in that fractured Taissa sequence, which uses a staticky television device kind of like the one used when Ben was flashing back to Paul, she looks at a photo on the wall of Jessica Roberts with another woman who has har hand wrapped around her face and appears to be wearing a wedding ring. Another picture that's less in focus shows the two of them with a guy wearing winter gear and smiling for the camera. Jessica always pinged for me, but also Rekha Sharma played the character as hot and mysterious, and sometimes that just automatically registers as gay for me personally (I call this the Kalinda Sharma Effect: Sexy&Cryptic = GAY).
Taissa wakes up in a car without gas, having seemingly driven for a while. She gets out and keeps walking, like she's being pulled toward something. A truck driver picks her up on the side of the road, says he voted for her, and jumps to clarify when Taissa picks up a pen on the floor of his truck and it turns out to be a tip n strip novelty pen. The moment feels, briefly, ominous, but Taissa dispels it with a joke.
Meanwhile, Teen Taissa is engaging in controlled sleepwalking sessions under the supervision of Van. Tai has been finding trees marked with the symbol in her sleep, and Van has been mapping them out on top of Nat's thorough hunting maps. She thinks they should talk to Lottie, but Taissa is still a skeptic. It's undeniable that something strange is happening to her, but does she really need Lottie's guidance and rituals introduced? I think she's right to think that could make things worse and more out of control for her.
Over in the land of suburban chaos, Shauna has convinced Jeff that a tow company simply found the minivan on the side of the road and returned it, opting not to inform him that she nearly shot a man for…fun? Shauna has moved on from all that, is talking about going to Kohl's because they're having a sale and maybe she could get Jeff some of those odor-resistant socks he likes so much. You know, just cute little wifey things. Jeff drops that the cops know about the affair, and why wouldn't they, because Shauna was running around with her young lover in public places, it's a small town, people talk. Shauna fires back at him that he was running all over town in a ski mask blackmailing people. They're slightly different situations given that Shauna might be a murder suspect, but sure Shauna, let's make a 1:1 comparison about these little dalliances with danger. Also, while I'm not necessarily defending him, Jeff blackmailed them to get out of a tricky situation. Shauna was just sort of doing what she wanted. Callie announces, with no room for question or pushback, that she will be sleeping at Ilana's again.
We know, of course, that Callie has not been sleeping at Ilana's. Shauna should really know, too. But alas, Shauna naively thanks Ilana's mom Michelle for letting her stay over so much when they run into each other in the Kohl's parking garage. Michelle tells her Callie hasn't slept at their house in weeks. This sends Shauna on a search party in Callie's room, where she discovers a condom in a drawer, which perhaps in another family on another show would spark conflict, but these are not the trivial sorts of suburban drama that the Sadecki family deals in, at least not lately. Also tucked in that drawer is the real cause for concern: the fragment of Adam's burned driver's license that Callie plucked out of the charcoal grill after Jeff and Shauna once again did a piss-poor job of cleaning up their mess.
Callie is texting with Jay to meet up, still unaware he's a cop, when Shauna rolls up on her in the minivan and asks her to hop in so they can have some fun. That "fun" consists of Shauna driving Callie out to the middle of nowhere and then confessing to murder. She tells Callie the full truth, even that Adam was not really the blackmailer even though that's the cover story she used with Tai, Nat, and Misty. The scene is a comedy masterclass by Melanie Lynskey, whose line readings at every turn here both stokes tension and lands laughs. "He's not a bad person, okay?" Shauna says to Callie about Jeff. "He's just a bad criminal."
Callie is confused as to why her dad thought he could blackmail the Yellowjackets, prompting Shauna to say the following:
"Because they did, they" *pause* "we did things out there that" *pause* "we're really ashamed of and" *pause* "sorry, I know, maybe one day I can talk to you about it but for now, can that just be enough?"
I'm emphasizing the pauses, because I am struck by the intention and caution in Shauna's wording here. She says "they" before she adjusts to "we," which could just be rooted in general guilt or a sense of wanting to distance herself from her past or could signal an even deeper disconnect. Does Shauna become dissociative in the wilderness? Is her identity as bifurcated as Taissa's but just in less obvious ways? It's almost like she's having to remind herself she was a participant.
Callie promises she won't tell anyone about what Shauna has just unloaded on her, but she also doesn't come clean about talking about the affair to a stranger. Later, at the Sadecki household, Jeff tells Shauna he's trying to get over the affair and take the high road but maybe he's not totally over it, and for that he's sorry. Oh, Jeff! I do love how Jeff and Shauna are more focused on the affair and its aftermath than, you know, murder. Their domestic chaos is a blended smoothie of regular conflict (affair, lies, sexual dissatisfaction, poor communication) and operatic conflict (murder, covering up murder, blackmail, a sordid past that involves ritualistic killing, a shared dead person in common, and a prior baby's unknown fate). Shauna says she thinks they're going to be okay, all of them, the whole family. Jeff is slightly confused by this, so Shauna clarifies: She told Callie everything.
Jeff, understandably, is like uhhhhhh what? He's horrified that Shauna would make their daughter their accomplice. It's their one job as parents to protect her. Right on cue, Callie enters and confesses to her father that she has been lying about going to Ilana's and has been drinking in a park with a friend (again, she neglects to share her secret of an older man to whom she has been spilling her guts). She offers to help with dinner and starts chopping cucumbers. It'd be a quaint image of suburban domesticity if not for all the shit beneath it. Seeing Callie wield a kitchen knife hits different when we know about her mother's aptitude for knife skills. What exactly has Callie inherited from Shauna?
While Jeff might see Shauna's decision to tell Callie the truth as poor judgement, I think Shauna knows exactly what she's doing. Telling Callie is an insurance policy. Even though Jeff has indeed proven his loyalty over and over and was very willing to go to prison for her no questions asked last season, he now can't turn on Shauna, because doing so would mean putting Callie at risk, too. I think Shauna relishes the idea of them all caught up in this mess — her mess — together, like one big happy crime family. After all, we saw Shauna's true colors last episode. Shout out to the commenters who pointed out that after Shauna gets back into her minivan in "Digestif," her stomach literally gurgles. She was hungry for a kill, and she leaves unsatisfied. Telling Callie isn't a lapse in judgement or an impulsive decision, even if Shauna stumbles her way through that confession. It's all very calculated. Jeff and Callie are bound to her, and she holds all the power.
Over on the compound, Nat is lurking around corners, clearly trying to out-maneuver Lottie. She asks for the keys to the car so she can join Lisa in taking honey to the farmer's market. Lottie either doesn't think Nat is manipulating her or is unthreatened by it; she hands over the keys easily. In the car, Nat questions Lisa about the nature of the cult, but Lisa remains unfazed. She explains that they all wear purple because of Charlotte's philosophy that everyone should be on equal ground since some people on the compound come from a lot of money and many do not (this explanation, of course, obscures the fact that Lottie meanwhile wears bright orange). Lisa insists there are no rules at the compound, but when they pull up to Lisa's mom's house because Lisa wants to visit her pet fish, she asks Nat not to tell anyone. "Oh, so no rules but you can't see your family?" Nat asks. Lisa specifies that Lottie merely discourages contact. Again, from Nat's perspective it's easy to see these explanations as the fodder of Lottie's manipulations.
We learn a bit more about Lisa and her background from her visit with her mother, who is clearly against her participation in Lottie's compound and wants her to come home. She asks if she has been taking her medication, and Lisa says she has had help weaning off of it. We learn that she is depressed and has attempted suicide in the past, and her mother seems to hold this against her as proof she's not able to care for a goldfish. Nat snaps at her mother, but Lisa tells her she's making it worse. In the car, Lisa apologizes, and Nat spits out her goldfish into a cup of water. "Here's your fucking fish," she says, cementing a new dynamic between the two that isn't quite friendship but also is a far cry from stab-you-in-the-face-with-a-forkship.
They go to a bar together with the fish, and Nat says fuck what her mom says. Lisa says she was there when she had a gun to her head. "Do you still wanna kill yourself?" she asks. "Not today," Nat says, pushing a shot of whiskey away. It's a genuine moment of connection between the two. They aren't downplaying their shared history of suicidal thoughts and attempts by speaking so plainly. They're actually supporting themselves and each other in ways Lisa's mother fails. They're holding onto their agency. Nat might not be at the compound to intentionally heal, but she's clearly getting something out of this relationship with Lisa if she's able to push the booze away.
Back at the compound, Adult Lottie is having visions. Last episode, we saw her see the bloody death of her bees. Near the end of "Old Wounds," we see her flip through affirmation cards written by her acolytes and then come across a Queen card with its eyes scratched out. Last season, a deck without Queens in the cabin was referenced. This season, we know the girls use a deck of cards to determine chores. The eyeless Queen appears in the main title sequence this year, and now it's haunting Lottie. She closes her eyes and the card turns back into an affirmation. But when she flips it to another, the Queen shows back up. Is this another old wound? Does the fact that the Queen doesn't have eyes somehow connect Lottie and Taissa, who we know follows a "the one without eyes"?
But a key piece of information about these visions comes earlier in the episode, when Lottie meets with a psychiatrist. Only, it isn't her regular psychiatrist, who is on sabbatical. "Interim psychiatrist" immediately had my horror senses tingling. I don't think I trust this woman, and I don't think Lottie does, either. Lottie wants to up her meds, because she wants to stop these visions, which she hasn't had in decades, from happening. She says:
"The last time it was, became something different, can't happen again. You know I've worked really hard, and I've built something that's, that's helping people. It's helping me. Can't go back."
Here, we get a sense that Lottie very much does not want these visions. Not only that, but she doesn't believe in them. When the psychiatrist — AGAIN, WHO I DO NOT TRUST — suggests that she reframe the way she thinks of these visions and try to unpack their meaning, Lottie is confused by the insinuation. "Nothing," she says when asked what they could mean. "Because they're not real."
I've been having some difficulty this season squaring Adult Lottie with her teen self. It's true that none of the teen and adult versions of each character are in perfect alignment, and in fact, they're all morphed to the point where overlaying them on top of each other doesn't create a straightforward doubling but rather a composite image. They aren't just grown up versions of their younger selves; they've been changed, in all the usual ways that people change as they grow up but also in extreme ways due to this traumatic experience during formative years. I'm less interested in the places the teen and adults touch but rather where they diverge, as with teen Shauna being scared of the unknown last episode but adult Shauna making it explicit that she gets off on uncertainty. Still, I've been tripping over how to place the two Lotties in conversation. "Old Wounds" though provides the most clues as to her arc by establishing her adult relationship with her prophetic abilities.
I have a growing suspicion that one of Lottie's visions goes horribly wrong. She tends to have visions that portend death or near-death experiences, and so far we've mostly seen her be right about her instincts. Adult Lottie's attitude about her visions contrasts Teen Lottie's though, and I also can't stop thinking about the fact that Lottie doesn't speak for a while after she gets out of the wilderness. Here, though, is where I'm also hazy on Adult Lottie's motivations. Hearing Lisa talk to Nat, it does sound like Lottie holds a lot of power over her acolytes and gives them an illusion of freedom. She may also be helping them in some ways, but it comes at a cost, and she also preserves control — it's not an equal relationship. If it were, she'd be wearing purple, too. Teen Lottie, similarly, has a hold on certain followers — only back then, she wasn't always asking for it, just going with the flow. Adult Lottie's determination to help other people seems somewhat grounded in guilt and not merely just a power trip, though I think those things go hand in hand. Whatever happened before, she doesn't want to happen again. And yet, she might be living in the past even more than Misty does. The compound's structures mimic the wilderness. Great meaning is given to rituals; everyone has to dress the same; contact with the outside world is limited. Lottie has found a way to construct a version of the wilderness in which she's in control (and also that she profits from).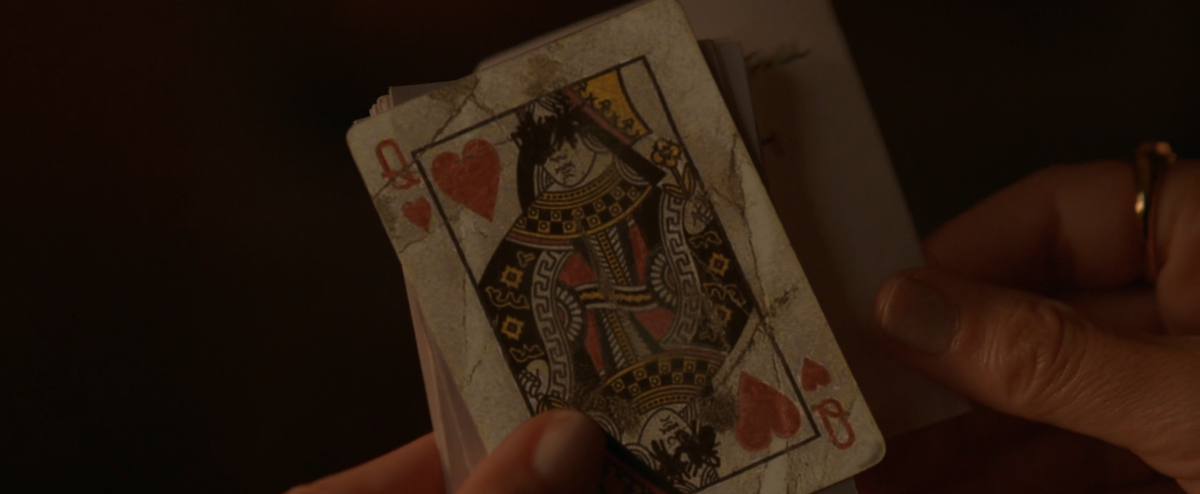 Which brings us to the central conflict in "Old Wounds," which also adds some background to the relationship between Nat and Lottie as their adult selves. Back at the cabin, Teen Nat and Teen Lottie end up in a one-on-one wilderness survival match that, by my reading, is born out of not just the growing divide between Lottie Faithfuls and Lottie Skeptics in the cabin but also just boredom. Like, a one-on-one hunting match? That tbh sounds fun for 90s teens who haven't had access to electricity or a mall in many months. And isn't that also what the most disturbing part about "pit girl" from the pilot is? It seems like a game.
After Ben makes a comment about the girls eating him, Mari tries to come for him. When Nat stops her, Mari then turns on Nat and says it's her fault they're all hungry. She thinks Nat's refusal to come to Lottie's blessings is why Nat hasn't found any game to hunt. Mari, Akilah, and Van are all in agreement that Lottie is to thank for the dead birds, which we learn they indeed have eaten without getting sick. Mari takes it so far as to say Lottie told the birds to hit the roof.
Nat suggests the contest. Both she and Lottie will go out and hunt, and whoever brings back the most food wins. Misty lays out the rules, saying they're not allowed to get help and that they have to be back by sundown. Mari insists Lottie doesn't need a gun, so it goes to Nat. They both head out into the snowy wilderness for what is surely a Bad Idea.
Lottie, with only a knife, approaches a tree with the symbol on it. She touches the symbol. "Fuck me," she says, and it's a funny but also unnerving reminder that she's just a kid who really has no idea what's going on. She's making up this shit as she goes, and I don't think that's intentional. I don't think she's faking anything exactly; I just don't think she knows what she's doing any more than any of the rest of them. She might have visions, but she has no control over them, no way to call to her instincts when she needs them, like now. She also cuts her palm and lets her blood fall on the tree trunk altar. We do see Adult Lottie repeat this ritual at the end of the episode, saying: "Can this just be enough? Please?" So maybe Adult Lottie does give more credence to visions and mysticism than her therapy session suggests. She still thinks something requires blood. But she's also obviously scared of what heading down this path means.
Back to the contest. Nat finds actual animal tracks. They belong to the moose from last episode, which wasn't a hallucination after all. But the moose is dead, frozen beneath the surface of the rock-solid lake. She breaks the rules of the game to gather others at the cabin in an attempt to hoist and pull the moose out. They try really hard, but they fail. As the moose slips into the depths of the lake, Nat plunges in, too, Travis having to pull her out. It's a devastating moment. There's so much weight on Nat's shoulders as the group's hunter.
While Nat's on her wild moose chase, Lottie's hunt takes a much stranger turn. She comes across Laura Lee's plane, suddenly in one piece. Leonard the teddybear (RIP) sits on the front seat, and she greets him. Then she opens a hatch at the back of the plane and discovers a tunnel that she lowers herself into, closely resembling the industrial-looking tunnel we've seen her navigate before. Until, suddenly, she's in an elevator.
Its doors open into a 1990s mall.
Seeming like part memory and part hypothermia-induced hallucination, the mall scene features Lottie coming across a food court table full of the Yellowjackets, their faces suddenly done up, their winter rags replaced with real clothes. Laura Lee is here, and she got Lottie some Chinese food. They think she looks hungry, cold. Van says she saw a coat for sale at Abercrombie, and Lottie mumbles something about not having a credit card. "When did that ever stop you?" Nat asks. If you recall, Lottie copped to a bit of a shoplifting tendency in season one. Specifically, she would steal clothes from T.J. Maxx and then return them for T.J. Maxx bucks. Here, we see bits of Lottie's prior life seep in — not just in the sense of the other Yellowjackets' 90s hair and the mall setting but how this particular shame comes up in the fantasy. She was a rich girl who stole clothes in her pre-crash life; clearly, she is someone with specific control issues.
We don't have a ton of context for how Lottie functioned in the group of girls prior to the crash; she wasn't the queen bee like Jackie, but she also seemed popular, hardly an outcast. At the cabin, she's a divine leader to some, a nuisance to others. Here in the mall sequence, she loses her power. Only Laura Lee seems genuinely interested in helping her; the others seem to be quietly mocking her. This could all just be stemming from regular ass teen girl insecurity, especially since Lottie's history of mental illness likely makes her especially sensitive to anyone calling her crazy. Indeed, even the characters who support her, like Van, seem to be judging her in this mall sequence. Sometimes when I get lost in the weeds of trying to analyze moments like this, I have to remind myself that it can be as simple as normal high school-level stakes and contexts. Is it possible that Lottie's desire to be liked for more than just her social status as a rich girl before the crash is at the root of her impulse to want to be seen as a healer, a prophet, someone who can guide others?
What constantly surprised me about the hierarchies of Yellowjackets is that they're never particularly fixed. The only real sense of order at the cabin is one that's disorderly. Nat is the hunter, Lottie is the priestess, Shauna is the holder of the knife, but power between them — as well as Tai and Misty — shifts with the wind. Jackie was once a queen bee, but now she has been consumed by all of them; nothing remains of her but disconnected bones. It's why it's difficult for me to conceive of a real person behind the costume of the Antler Queen (and, in fact, some have speculated she is not a real presence at all). Lottie is a vision-having, mystical leader who some — like Mari and Akilah — revere. But the mall fantasy also just reduces her to a regular teenage girl who's insecure and isolated.
Laura Lee snaps Lottie out of the hallucination and back to reality. The other girls eventually go find her in the place where the hunter's plane used to be, and they bring her back to the cabin, barely conscious. Nat has had her turn warming up in the bathtub with hot water, and she suggests they put Lottie in, too. Then the two have a quiet moment together. Nat blames herself for suggesting the contest. "Good game you fucking loser," Lottie says, surprising Nat. "You ended up with nil, the same as me," she says, before adding "good game." I always love when these flashes of their previous lives as ruthless soccer girlies pop through. Even though it doesn't explicitly come up frequently, their high school athlete backgrounds are often on my mind. Varsity team sports — and soccer in particular — encourage brutality, competition, mind games. It's impossible to sever that context from their behaviors in the woods and from the Rubik's cube of a power struggle they're constantly locked into out there.
Speaking of fantasy sequences, Ben's still seeking solace in his mental visitations with Paul. In reality, he tries to read a copy of The Magus, a novel about a schoolteacher on a Greek island who becomes bored and lonely to the point of contemplating suicide and is eventually put through a series of psychological games. ANY OF THAT SOUND FAMILIAR? Ben, maybe you should put that particular book the fuck down.
He does, blessedly, but then he slips into that fantasy space with Paul, and it's unclear if what we're watching is a memory or something Ben has constructed in his imagined alternate timeline where he never got on the plane. It doesn't matter really. Even if it's a memory, it's a fantasy. In it, Ben finds a box containing memories of Paul's past boyfriends and becomes insecure. He doesn't have a box like that; he just has soccer cleats and trophies. "This is my past, and you Ben are my future," Paul says. It is, of course, devastating, because right now Ben can't really seem to imagine a future for himself at all and instead only has his past and a reimagined alternate timeline of a life to cling to. I really like the conversation in the comments last week touching on the fact that in 1996, the fear and stigma of HIV would no doubt be forces in Paul's life, perhaps making him unable to see a real future for himself as an openly gay man before the wilderness was even a factor. While the episode largely feels like filler and placesetting, Ben's and Teen Lottie's respective fantasy sequences are standout moments that break away from the straightforward action of the episode and provide something meatier, if brief. Getting into any character's head makes for a dizzying and dazzling experience on this show.
Teen Tai hopes to appease Van by helping her search for where she believes the final tree with a symbol should be. Just when they're about to give up, they see a figure flash by. They chase him down, and it's Javi, who they bring back to the cabin but who refuses to speak right away. "Lottie knew he was alive, but Taissa knew where he was," Van says, hoping she can finally prove to Tai and also reveal to the others that Taissa is somehow connected to the wilderness. Again, this draws a connection between Tai and Lottie, bringing me back to that eyeless Queen card Lottie sees and the eyeless figure Tai follows.
Where has Javi been this whole time? His survival seems like an impossibility, and yet there have also been clues that he has been hiding right underneath their noses this entire time. The shit in the piss bucket last episode. Missing meat in this episode. If Javi has been here all along, how and why? Shauna told him to run; if she were secretly helping him hide somewhere, she wouldn't be so upset about the missing meat. Could Lottie's "feeling" that he was alive this time have actually been more concrete knowledge? Or was Javi just somehow surviving without direct help, and again, HOW?
Adult Tai finally arrives at her destination at the end of the episode: a video rental store called WHILE YOU WERE STREAMING, run by resident While You Were Sleeping superfan Van. There has been a ton of lead up to their reunion, and for now all we get is this quick tease, a moment of recognition and between the two of them. The adult Yellowjackets have spent much of this season apart, and now some are moving their way back to each other, Misty getting gradually closer to Nat and Lottie, Taissa and Van reunited after what seems like a very long time based on Van's reaction.
With the exception of Javi and Van both showing up at the end of the episode, it's a relatively quiet one, the pieces moving around on the board. Several threads are getting closer to touching, and next week marks the halfway point of the season, so that feels right. Between now and then, I'll be listening to the Alanis cover of the theme song on repeat.
---
Last Buzz:
I could watch a full hour of Walter and Misty arguing about Broadway Opinions.
Mari is still hearing a dripping noise, and she tasks Akilah — who is very adorably studying for the SATs — with helping her search for the source. But no one else really hears it, so what's going on here? Does it have something to do with Javi? Something else?
During the search for the drip source, Akilah discovers a mouse and decides to pocket it. This mouse is officially her pal, and I am worried about its fate.
I do love this show's ability to imbue the simplest of objects with horror and suspense, like we see here with the novelty pen (though the tension there quickly dissipates) and the Queen card. Yellowjackets uses its props very well.
Nat clearly wants to get into Lottie's locked cabinet in her office.
Read more about the Alanis-ified theme song!
All of the Staff Picks at While You Were Streaming sound very fitting: Bound, Mean Girls, Footloose, Trainspotting, Wayne's World, Into The Wild, Varsity Blues.