EXCLUSIVE LESBIAN TV:
Ya know how most independent lesbian sites give their content away for free and are subsequently broke as hell? Well, TelloFilms.com (a distribution site for kickass video content made by and for lesbians) started a premium content section available for just $3.99/month, giving you exclusive access to a few oldies but goodies (Brunch with Bridget starring comedian Bridget McManus & Niki and Nora starring Christina Cox and Liz Vassey) as well as several brand spankin' new web series:
+ Cowgirl Up is an ensemble comedy western starring Mandy Musgrave (South of Nowhere), Marnie Alton (Exes and Ohs) and Bridget.
+ McManusland (coming soon) is Bridget's version of Curb Your Enthusiasm co-starring her wife Karman Kregloe and their cats.
This is Bridget McManus. She'd probs look cute in a cowgirl outfit.

.
NEW SPORTS DOC STARRING YOUNG LESBIAN:
Check out Rachel Larsen in the brand new sports documentary Hood to Coast, which follows 4 teams as they take on a whopping 197-mile relay race from Mt. Hood, Oregon to the coast. Support your friendly neighborhood lesbian and see Rachel's film at a theater near you!
.
REAL L WORD'S NIKKI & JILL:
You sat through 9 episodes of them planning the wedding, don't you wanna see how it all turned out? They spill it in the new issue of Curve.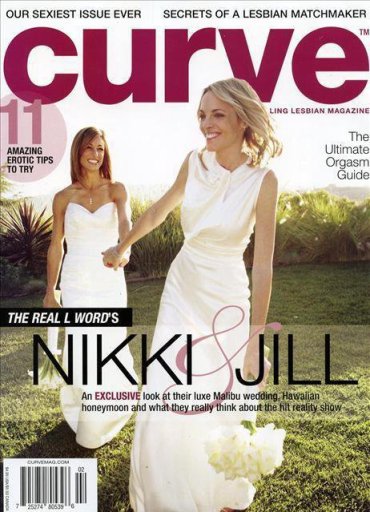 GAYS ON TV:
The LA Times must be having a slow news week like we are. Yes, there are a lot of gays coming out on teen TV shows including 90210, Glee, Pretty Little Liars, Degrassi, etc.
PRETTY LITTLE LIARS:
Season 2 premieres this week! Get psyched with an interview with the executive producers Marlene King & Oliver Goldstick and an on set feature with the cast.
.


NO DOUBT:

This one time I had a dream that Lady Gaga was actually Gwen Stefani playing a big trick on everyone.