Button here! In this episode, I show Bly around my chilled out hometown of San Diego, California. With its poppin' nightlife, beautiful beaches, and vibrant Mexicali culture, San Diego is a must visit destination for anyone planning a trip to California.
I grew up in Carlsbad, a sleepy little surf town about half an hour north of San Diego. I'd go down to San Diego occasionally with friends, but when it came to beaches, our North County ones can't be beat. We have good waves, less populated beaches, and typically the parking is free. In other words, all things win. Carlsbad and Oceanside are great (if underrated) little cities, with beautiful beaches and cute downtown areas. If you're staying in San Diego but want to experience this slower style of life, you can jump on the Coaster (San Diego's coastal commuter train), take it north, and get off right in Downtown Carlsbad. If you do head up there, your coffee spot is Vinaka's, your Mexican joint is Cessy's or Alejandro's, and your pizza and micro brewery is Pizza Port (get the beer called Chronic). Carlsbad is also home to the Flower Fields, antique stores, an outlet mall, and Legoland, if you have a passion for global icons made of tiny plastic.
Hillcrest, where we went to the gay dance club Brass Rail, is the San Diego gayborhood and has lot of great restaurants and little shops. It also has some great gay coffee (you can hardly taste the difference)! We recommend going to Filter Coffee. Other great choices are Cafe Calabria (a top roaster on the West coast) and Clair de Lune's coffee lounge, which has a great hangout vibe.
If the club isn't your thing, you can still have a great time in Hillcrest, but the surrounding neighborhoods of North Park and University City may be more your speed. They're still queer friendly, but offer a bit more of the artsy hipster feel. Some other great clubs include Gossip Grill which is lLesbian 24/7 and the gay bars Rich's and Urban Mo's.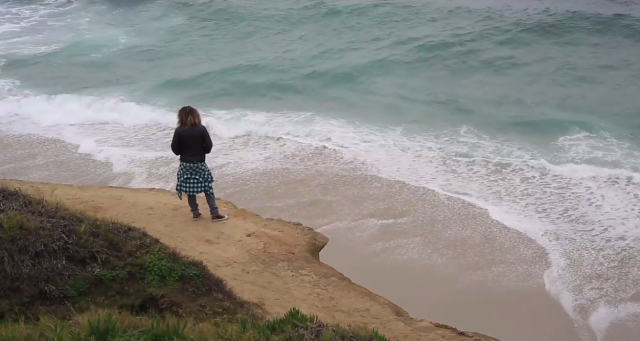 La Jolla (where the seals are) is one of the most picturesque beaches in San Diego County. Other notable beaches are Mission Beach, where there is a boardwalk and small amusement park, Belmont Park, and Ocean Beach, which is a local favorite with a laid-back vibe that is super dog-friendly.
If you want to watch some badass lady surfers do their thing, or be a badass surfer yourself, head to Blacks beach in Torrey Pines. Blacks beach also happens to be a clothing-optional beach, so you do you. There's more surfing in Swamis in Encinitas, and Oceanside. Remember though, you can't swim in surf zones! Almost any beachside town will have good beaches in San Diego, though if you want a little more privacy, I recommend heading north to Carlsbad or Oceanside.
If you loved the seals and pelicans, there are tons of good wildlife spots along the coast in the San Diego area! Torrey Pines also has a Nature Reserve, which is a great place to start. Many coastal areas and lagoons around San Diego County are protected and have trails, so you can really go crazy with nature spots here.
Since Old Town has been restored to its former dirt road glory, visitors are free to come roam around the little shops and preserved buildings. They have an old school, restored houses, even a theater that shows performances from Shakespeare to "Cabaret," all year round. If you're curious about the history of Old Town, you can learn more inside each of the restored buildings. And the people working in the area are also very knowledgeable, so strike up a conversation!
For you beer fans, the number of breweries and microbreweries in San Diego is growing quickly. Karl Strauss is my favorite, but don't be afraid to get adventurous. Most breweries have tours and you'll likely be close to one wherever you are staying, so go say hi and drink up!
Button's Top 8 San Diego Breweries
Saint Archer
Stone Brewery
Ballast Point
Coronado Brewing Co.
Hillcrest Brewery
Mission Brewery
Pizza Port
Beer Brewing Company (Oceanside)
Finally, I have to bring up one more beach: Terramar. This is where we went for the sunset, and it's up north, about 10 minutes from where I grew up. It's probably one of my favorite places in the world to watch the sunset. Terramar is a relatively unpopulated beach where you can sit on the cliffs or climb down and sit in the sand. This spot is definitely a local secret, so don't tell!
---
Any other San Diego locals? Tell us what we might have missed! Do you have your own secret beach? Or have you visited San Diego and can't believe we didn't bring up your favorite spots?
We'll see you in a couple of weeks for another new episode!