Star Wars and Mattel just released a line of Star Wars Barbies and I'm pretty sure these are actually very good??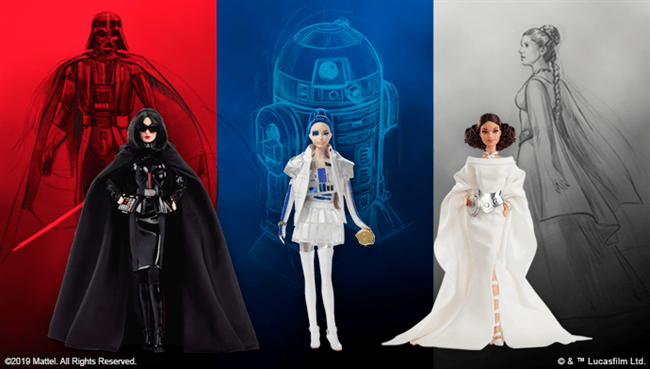 The Leia doll's outfit is pretty straight forward, even if she does look more like Mila Kunis than Carrie Fisher for some reason. It's even more high fashion than Leia's usual clothing but these dolls are based on the original concept art, which was more flamboyant anyway. Plus Leia absolutely would have worn this when she wasn't on the run.
Then we have the R2D2 doll, and frankly this is where things start to get a little gay. It's a very cyberpunk meets pop princess sort of look – which is gay, obviously – and to quote my fiance, "no one straight wears a collar like that."
It's when we get the Darth Vader offering that I begin to lose it.
I'm someone whose Star Wars obsession was peaking around about the same time I discovered I was into girls, so these two things are deeply connected for me. But I still never thought I'd be proclaiming any incarnation of Vader a queer lady icon. And yet. Just look at her. Look at that vinyl skirt, and the utter disdain on her face. Look at her boots.
I've never seen a greater embodiment of the "step on me" evil lady meme in my life. I can't believe I'm saying any of this and I also can't believe that no one else is? Where are the rest of you? Why aren't you out there on Twitter proclaiming her our new femme top queen? Have I just lost my entire mind?
I cannot be the only one seeing this. She's already the best seller in the pre-orders so I know I'm not the only one floored by her greatness. I'd give a thousand Marvel movies for just one spin off about alternate universe anti-hero Lady Vader and her wife Padme travelling the universe, kicking ass and taking names. In those boots.