Glennisha Morgan has been exclusively covering female MC's for four years at The Fembassy; today, she released the trailer for "Turn Me Up," a film that brings those stories to life.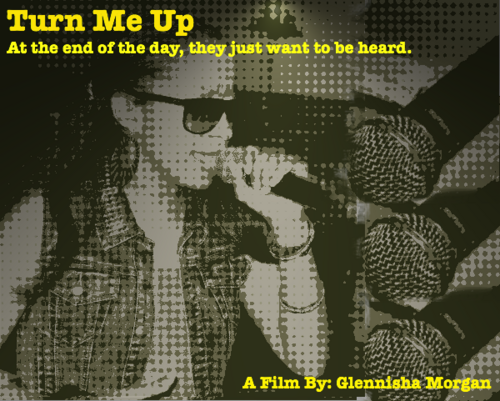 Morgan directed Turn Me Up, a film chronicling underground and independent women MCs from Los Angeles to Brooklyn and everywhere in between, including Siya, Raven Sorvino, Mae Day, IB, Invincible and Miz Korona. Throughout the film the women talk gender, stigmatization and stereotypes, and their intense desire to be heard. And for what feels like the incredibly long-awaited first time ever, they're being given space to do it in their own words.
While Morgan was covering the work and pursuits of female MCs, she collected footage from performances as well as interviews with the artists themselves. She archived the footage – and in Turn Me Up, she frees it.
Morgan's concept when building the film and The Fembassy was to finally seek a definition and history of female rap, since we haven't been able to settle on one via our collective media silence on the matter. Accepting that no single artist could possibly tell the whole story, Morgan went to find the formerly hidden ones. What they have to say is important and leads us closer to the heart of rap: the passion, the grit, and the work. Morgan would know well where to find the best women: in 2009, she was an honoree at the Women of Hip Hop Awards; in 2010 she was featured in BET's first original music documentary, My Mic Sounds Nice; and she's been published widely in Vibe Vixen, The Fader, Digiwaxx Media's The Blast, and AOL's Spinner.com, among others. She's an expert, and her film is promising.
"If I could describe this film in one word, I would describe it as raw." Morgan said. "Until now I have yet to hear the women in the trenches be so unapologetic and brutally honest."
The Fembassy also needs funds to complete the film, and has set a hopeful Spring 2013 release goal.  The Indiegogo campaign is now live, and you should totally give to it! Perks include autographed any and everything, artist merchandise from the documentary subjects, and thank-you cards (which we know you're bonkers about).
On a side note, I'm excited for the official soundtrack.