Trans representation is a big topic right now. Trans women of color are still being murdered at terrifying and heartbreaking rates, and quality trans stories are still rarely told. While some actors and filmmakers like Laverne Cox, Jen Richards, Angelica Ross and Sydney Freeland are fighting to get more roles for trans actors, much of Hollywood is ignoring them. That's why it's so important to celebrate shows that get it right and cast trans actors. If you're looking for trans actors playing trans characters, the absolute best place on TV to look is Jill Soloway's show for Amazon Prime, Transparent.
The new season, the show's third, just debuted on Amazon and it is terrific. It also features several more trans characters played by trans actors. Some of these characters only have a few lines in one episode, but others have character growth and story arcs that span episodes and touch on really important topics. There have now been so many trans actors on this show, in just thirty episodes, that I can make this list of characters with names and multiple lines! That's like, more trans characters than the rest of TV combined.
Just a warning: there are probably some mild spoilers in this post.
---
9. Omar
Played by Rocco Kayiatos
Kayiatos, who also goes by the name Katastrophe when he raps, also shows up in the first episode. He's working at the LA LGBT center, answering the suicide hotline alongside Maura.
---
8. Eleanor
Played by Zackary Drucker
Drucker, who's been a consultant on the show and also works as a co-producer, played the person moderating a trans support group all the way back in Season One.
---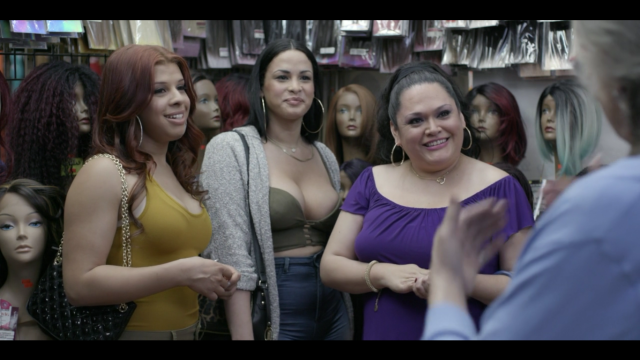 7. Adriana, Lorena and Carmen
Played by Hailie Sahar, Harmony Santana and Mariana Marroquin
These three only make one appearance, again, in the first episode of Season 3, but I LOVED them so much. They're three Latinas hanging out at the Slauson Swap Meet, looking at hair, when Maura comes in and asks them for some help. Here we see Maura at Peak White Transness, first calling them "familia" and then asking if they've seen another trans woman of color, Elizah, "on the streets." Their reaction is priceless and they seem like people I would love hanging out with. Plus, it's super nice to see Harmony Santana back in acting after her absolutely brilliant performance in the movie Gun Hill Road a few years ago.
---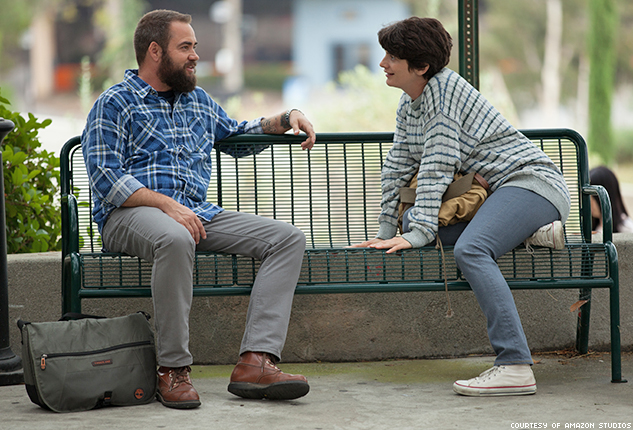 6. Dale
Played by Ian Harvie
Dale served a very important role in the first season as one of the first trans people outside of their mother that any of the Pfefferman kids knowingly spent time with. Things weren't exactly great for him, though, as Ali ends up fetishizing him as sort of the "ultimate man."
---

5. Elizah
Played by Alexandra Grey
The title character of the first episode of Season Three, Grey makes quite an impression and I really cannot wait to see her in more things. She plays a young trans woman who calls the suicide hotline and talks to Maura. We don't see a lot of her, but whenever she's on screen, she's magnetic.
---

4. Young Maura
Played by Sophia Grace Gianna
Wow. Just wow. There's an episode in Season Three that's maybe my all-time favorite episode of the show, and it's a flashback to Maura's childhood. Soloway made the correct decision and decided to cast a young trans girl as the young Maura, and the difference between her performance and when boys play young trans girls is clear. Sophia Grace brings a palpable honestly and reality to the role that taps into the truth of what it's like to be a trans kid.
---

3. Shea
Played by Trace Lysette
One of Maura's first trans friends, Shea is young, full of life, and helps Maura get into trans culture and trans slang. Her role is expanded in Season Three and we get to see what she's like when she's not helping out babytrans Maura. There's one episode in particular where Trace Lysette does an absolutely brilliant job and really highlights some huge issues that many, many trans women have when trying to date men. I'm super excited that we got to learn a lot more about Shea this season and I'm really, really glad that Trace Lysette is the one bringing her to life.
---

2. Gittel
Played by Hari Nef
Hari Nef deserved an Emmy nomination, if not a win, for playing this Jewish trans woman who lived in Berlin before World War II. In Season Two we got a lot of flashbacks to Gittel's story, as she's Maura's aunt, and we got to see the history of the Pfefferman family. Gittel's story is so incredibly important. Thousands of LGBT people were rounded up and slaughtered by the Nazis and an entire generation of queer people and information about them was stolen. Nef plays the role to perfection. She's a fighter and she knows who she is, and she won't let anyone tell her she has to be someone else. Honestly, her performance in the episode "Man on the Land" is one of the best acting performances I've ever seen.
---

1. Davina
Played by Alexandra Billings
In a lot of ways, Davina is the trans heart of the show. She's Maura's best friend and roommate, she's a trans woman who's been out for a while and is able to teach Maura (and the show's audience) about what it's like being a trans woman. Billings is a legend of trans acting, having pioneered much of the way for trans actors in Hollywood today, and it's good to see a show like this pay respect to that. Davina acts as a grounding force in Maura's life, constantly reminding her that being trans isn't the same for everyone, especially if you're not white and wealthy like Maura is. Davina's the trans auntie so many of us have had in our lives and that Maura so desperately needs.