There are a lot of opinions floating around out there about what "makes you gay." Maybe it's a gene! Maybe it's hormones in the womb! Maybe your mom should have watched less AbFab while she was pregnant! But for many of us, we locate something in our early life — if not something that "made us gay," then something that at least functioned as a flashing neon sign to alert us to the fact. What that thing is depends on what kinds of culture you were exposed to at a young age — maybe you were lucky, and it was Scully, Our Lady of Auburn Sexual Tension. Speaking strictly for me, I spent a lot of time growing up in a household with one single dad and one teenaged boy, so I've seen every Die Hard movie, and I've watched Starship Troopers more times than you could count. (If you think I don't have the naked shower boob scene memorized, you are just dead wrong.)
So obviously, to the extent that I was able to squeeze in a Sapphic awakening in between driving my underage brother to his friends' houses and campaigning for something other than canned Hormel chili for dinner, it came from the super hot ladies of action movies, who can handle their shit and everyone else's, all while only slightly ruffling their very carefully unkempt hair. Also, man, some really solid arms. Mm mm.

5. Charly, The Long Kiss Goodnight
The Long Kiss Goodnight is sort of the opposite of Kill Bill, in that a suburban housewife realizes she is actually a deadly trained assassin but didn't know about it. This is unequivocally awesome. Also, Geena Davis is very pretty, both as a housewife and a deadly lady with a gun.
4. The Bride, Kill Bill
Uma Thurman is somewhere in the no-man's-land between "wanting to be her" and "wanting to fuck her." Also though, wanting to fuck Uma Thurman seems sort of dangerous, so there's that. While Tarantino doesn't necessarily win prizes for unproblematic female characters, there's something really appealing about a female character bent on revenge; because bad things do happen, and a character who responds to them by taking control of the situation is sexy. Also, she looks really cute when she goes to that sake bar.
3. Michelle Rodriguez, Resident Evil
Ok, sure, Milla Jovovich, whatever. I see you in your red dress and combat boots (and later, booty shorts and see-through tank top?). But aside from playing for our team in real life (ahem), Rodriguez's character is also tough as nails and does not do so with the benefit of weirdo genetic manipulation, or whatever completely implausible justification is at work in that movie. "Hey, has anyone ever mistaken you for a man?" "No, has anyone ever mistaken you for one?" Gender binarist and heteronormative as hell, but also: Michelle Rodriguez can take care of herself better than any of those men in kevlar vests. Even if she doesn't make it to the end of the movie. Sorry, Michelle.
2. Ripley, Alien
If I remember correctly, there are significant portions of the movie where Sigourney Weaver is not wearing pants. That's awesome, but that's not the reason she's so crazysexycool. Ripley is a really amazing female character, and gets to avoid a lot of the annoying tropes that female action heroines are often subject to (see above re: not wearing pants). See, in the original script for Alien, Ripley is written as a male (or sometimes "unisex", depending on who you ask) character, and Sigourney Weaver just happened to get the part. So she gets to be strong and self-reliant and do really incredible stuff with some scary aliens without having to have a love interest or a zany marriage plot! Badass as hell, full stop.
1. Sarah Connor, Terminator 2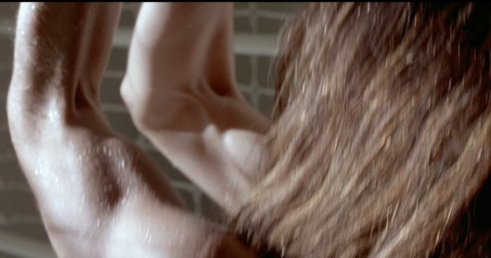 If I had to pinpoint an instant that instilled in me the permanent desire to hug other women with my legs, it would be the moment that the camera first finds Sarah Connor behind the door of her institutional little cell/bedroom, and she is doing badass sexy sweaty pullups with arms that make Michelle Obama's look like Dick Cheney's, and shooting her captors some fierce sideeye while doing so. I'm weak in the knees just typing this, and that doesn't even make sense because I'm sitting down. Jesus God, Linda Hamilton, have mercy.