[ buy every Designing Women DVD ever ]
10. Suzanne: What's the big deal about sex. I mean, people talk about it as if it's the be-all and end-all of existence and I just don't get it. I mean, we're talking about what, 6 or 7 seconds here? And it's OK but it's not as good as having someone put a crown on your head or shopping.
9. Suzanne: Where are our seats?
Julia: I don't know. If history teaches us anything, mine will be next to a baby who smokes.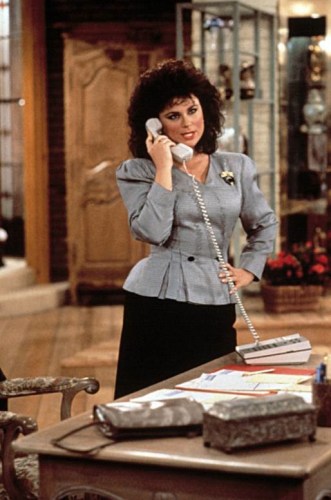 8. Charlene: We're talkin' about a millionaire who spends his weekends with under-privileged kids. I mean, we're talkin' about a Phi Beta Kappa from Vanderbilt who still knows why Hee-Haw is funny. I mean, men like that are just not walking the streets.
Suzanne: Well, that's good. Because men like that would be bumping into each other.
7. Julia: If you must know, Charlene, I'm at a keg party.
6. Julia: I'm saying I want you and your equipment out of here now. If you are looking for somebody to suck pearls, then I suggest you try finding yourself an oyster. Because I am not a woman who does that, as a matter of fact, I don't know any woman who does that, because it's stupid. And it doesn't have any more to do with decorating than having cleavage and looking sexy has to do with working in a bank. These are not pictures about the women of Atlanta. These are about just the same thing they're always about. And it doesn't matter whether the clothes are on or off… it's just the same ol' message. And I don't care how many pictures you've taken of movie stars — when you start snapping photos of serious, successful businessmen like Donald Trump and Lee Iacocca in unzipped jumpsuits with wet lips, straddling chairs, then we'll talk.
5. Suzanne: It's been my experience, Julia, that no matter where you go…there you are.
4. Publisher: Actually, I'm a feminist, and I and my magazine make large contributions to feminist charities.
Suzanne: Yeah, well I donate to the ASPCA, but that doesn't make me a cat!
3. Julia: I'm saying this is the South. And we're proud of our crazy people. We don't hide them up in the attic. We bring 'em right down to the living room and show 'em off. See, Phyllis, no one in the South ever asks if you have crazy people in your family. They just ask what side they're on.
Phyllis: Oh? And which side are yours on Mrs. Sugarbaker?
Julia: Both.
2. Suzanne: I have better things to do with my time than sitting around waiting for some concubine to fall outta bed. I mean, I could be home watching Green Acres.
1.

Tell me which quotes I missed in the comments!