This is Fish Party, a new series about tinned fish, friendship, and dyke domesticity. This week, I'm looking at the dill and lemon octopus from women-owned tinned fish company Tiny Fish Co. To read a little more about the origins of Fish Party as well as a review of the Fishwife x Fly By Jing chili crisp/tinned salmon collab, check out the first piece in the series.
---
I am very bad at getting dinner on the table at a reasonable hour. This has to do with growing up in a family that, on average, ate later than most of my friends did, and it has to do with my tendency to choose dinners with a lot of steps, a lot of ingredients, things that can't so easily be whipped up. I like it that way. Working in the kitchen is a huge stress reliever for me. It's a way to calm my brain and also let go. In the kitchen, I have much fewer rules with myself than I do in any other aspect of my life. I let myself experiment and play, even invite a little chaos in. My girlfriend often quietly tidies up my messes behind me while I work and make more and more messes, an act of love I always notice even if I forget to thank her for it.
I'll finally go to set the table at the end of all my cooking and realize it's 8, 9, 10 p.m. Even in the middle of summer, it's often dark by the time we eat. It's not a problem; we both prefer it to eating early. But when I transitioned from being a full-time freelancer to having this more structured, more conventional full-time editing job here at Autostraddle, it got worse. Dinners started pushing 11 p.m. Some nights, I've been too tired to cook at all. Which is fine! No one has to cook every night. But it's difficult for me to accept that. I get so much out of making dinner, even on the nights when it takes a lot out of me. It feels worth it. To make something with my hands and then place it on our table. Even if what I made is simple. Tinned fish has been a godsend on this front — easy, adaptable, delicious, and full of all the flavors I love.
Tinned fish is trendy, but I came to it in this organic way, drawn to this food that can be eaten on its own or added to something easily. It's ready-to-go. It's convenient, and yet, it still tastes like a treat.
Sometimes, it gets to be late at night, and I still want to make dinner. Sometimes, you accidentally eat dinner at midnight, and that's okay! It's fine! It doesn't have to feel like a failure. In fact, it can even be special. It can even be hot.
Recently, I had one of those nights where I knew that if I wanted to make dinner myself instead of ordering something for us, then dinner was probably going to happen at midnight. That's extra late, even by our standards, but I just had in my head that I wanted to make something. Something that, even if it was just thrown together, would be different than standard the go-to last-minute meals in my rotation. (The most frequent of these is Shin Ramyun.)
So I made an octopus salad.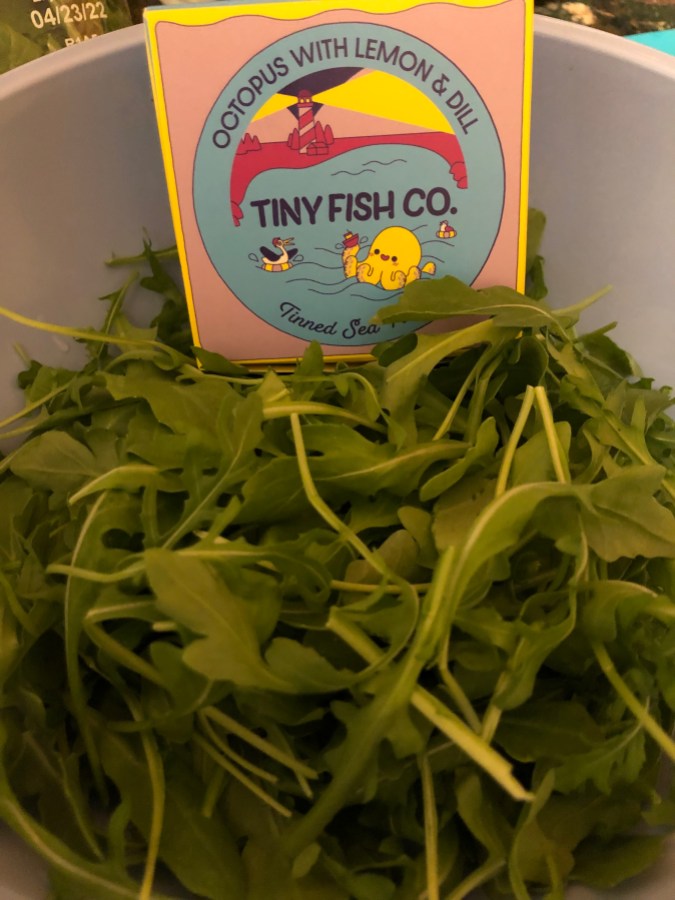 I'd recently been gifted the latest product from Tiny Fish, a women-owned tinned fish company. It's an octopus packed in sunflower oil, clarified butter, dill weed, and lemon. The octopus is just the perfect level of chewy and tastes so fresh. The lemon brightens it up, while the clarified butter adds a surprising layer of rich fatty flavor.
I turned the tinned octopus into a late-night salad, and suddenly it didn't feel so bad to be eating close to midnight. It felt a little romantic, a little spontaneous. Like my girlfriend and I had been whisked away to some quaint city in Europe and stumbled into an all-night cafe for a late-night treat. I'm not even a salad person!!! But tinned fish salad has been a gamechanger. Paired with a very dry and cold white wine, the views of Miami from our balcony, and hunks of crusty bread to soak up the remaining salad dressing when we'd finished the bowl.
The "recipe" for the salad is super simple and no-cook. Get a big bowl and dump the entire can of octopus in it. Add a peppery green as your salad base. I used arugula this time, but watercress would also be delicious. Now, add more of what the octopus is basically already marinated in. I did about half a tablespoon of olive oil, the juice of half a lemon, and a handful of chopped fresh dill. Mix it all up and that's it! You have a citrusy, peppery, bright, sexy tinned octopus salad. Yes, sexy! It really was a sexy salad! (For all you Bravo Dykes who understand that reference, you're welcome and I'm sorry.)
The salad was a quick trick, but if you wanted to incorporate this tinned octopus into a meal that would take a little more but still not too much time to put together, you could mix it in with some orzo and lemon juice.
Look, it's fine if you can't get dinner on the table before 10 p.m. And a thrown-together salad can be just as special as a more over-the-top recipe. A few ingredients can go along way, and a tinned fish like this can pack all the salt, fat, and acid (no heat required!) you need for a flavorful, memorable meal.