Happy Sunday Funday, chiclets! I'm all moved into a new house far away from an Internet connection, which is the equivalent, for me, of being trapped in the fiery pits of hell! Luckily, I've stacked this baby with animal videos to help myself get over it.
Benjamin the Pygmy Goat Will Follow You Until You Love Him
Tom's kid is the best kid because TOM'S KID AN ADORABLE PYGMY GOAT NAMED BENAJMIN, YOU GUYS.
Stars of The Fosters Talk Sexual Attraction, Their Own Cuteness on The View
Teri Polo, Sherri Saum, and Maia Mitchell hit up The View to talk about The Fosters and also fulfill their secret agenda to make you fall deeply in love with them as human beings.
Samira Wiley Represents
Samira Wiley won a Visibility Award from the Human Rights Campaign and then blew everyone away with her acceptance speech, despite having not delivered it in a Scissoring Sweatshirt. From self-love to laughing, loving, living, and the rest of the gamut, she did a damn good job representing.
"I believe that our self worth and how we are taught to think about ourselves and the world around us almost always begins at home. I have two parents that not only tolerated who I am, but accepted me and embraced me. They embraced me before I came out, and they embraced me after. They told me everyday that I am enough. I am enough just of being who I am and that that alone makes me whole…

It's interesting to me that tonight I am here receiving the visibility award… Over the past few years since my own public image has increased tenfold, I have been overwhelmed to witness the profound ways that I am able to make a difference simply by living my life openly and with love."
This Dog is So F*cking Excited
This is how I feel about all of you, JSYK.
The (Gender) Limit Does Not Exist
Facebook has introduced "infinite" gender options because binaries are a societal invention and we r who we r. From their official statement:
Last year we were proud to add a custom gender option to help people better express their identities on Facebook.

We collaborated with our Network of Support, a group of leading LGBT advocacy organizations, to offer an extensive list of gender identities that many people use to describe themselves. After a year of offering this feature, we have expanded it to include a free-form field.

Now, if you do not identify with the pre-populated list of gender identities, you are able to add your own. As before, you can add up to ten gender terms and also have the ability to control the audience with whom you would like to share your custom gender.

We recognize that some people face challenges sharing their true gender identity with others, and this setting gives people the ability to express themselves in an authentic way.
We Won Some Sh*t
+ An update to the Family Medical Leave Act will extend sick leave coverage to hundreds of thousands of same-sex couples around the nation.
"The basic promise of the FMLA is that no one should have to choose between the job and income they need, and caring for a loved one,wp_postsUS Secretary of Labor Thomas Perez said Monday in a news release. "With our action today, we extend that promise so that no matter who you love, you will receive the same rights and protections as everyone else."
+ The city of Phoenix has dropped Monica Jones' charges for "walking while trans."
Korean TV Just Aired Its First Lesbian Kiss
The first lesbian kiss on South Korean television ever just happened and it is causing quite a ruckus. The folks from the show are all long-hair-don't-care about it, though, because they wanted to help gay kids who struggle for acceptance feel a little more seen in this cold, cruel world.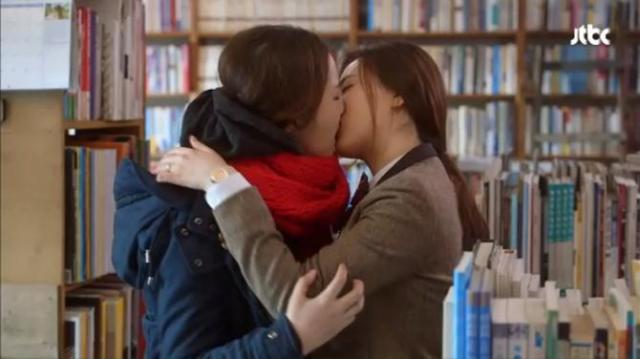 Dance, Nutella! Dance!
Nutella the Teacup Poodle is going to be on the mantle with me at Klub Deer this spring. In my heart.