Happy Sunday Funday! We've got a long, hard week ahead of us, so let's take this moment to bask in the glow of some good gay news. Can you pass the banana nut muffins? Thanks, bae.
Sonia Sotomayor Just Officiated Her First Gay Wedding
LGBT activists Ingrid Duran and Catherine Pino of Washington, DC got married recently and invited a bunch of really important people to the big event. Among the most important was Supreme Court Justice Sonia Sotomayor, who officiated their nuptials — thus marking her first-ever gig at a gay wedding.
Also, every woman to ever be a SCOTUS Justice in herstory has now officiated at least one same-sex wedding, because girls rule and boys drool.
It's Official: All Girls Can Be Girl Guides
The Girl Guides of Canada have officially updated their guidelines to foster safe and fun spaces for cis and trans girls alike.
Meet Planned Parenthood's Tiniest Defender
Staceyann Chin's badass daughter Zuri stands with Planned Parenthood, and it's really cute.
A Duck Walks Into a Bar…
Duck Wearing Bow-Tie Walks Into Pub, Drinks Pint, Fights Dog, Loses. Yep.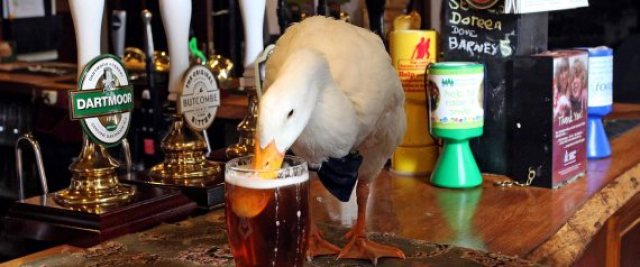 This Puerto Rican School is Relaxing Its Dress Code for LGBT Kids
Children enrolled in public schools across Puerto Rico can now opt to wear pants or skirts, regardless of their gender identity. At this moment I really wish I could find one of the many photographs of me enrolled in school in Puerto Rico wearing a plaid skirt and a collared shirt because I just think it'd be a really good visual for this story that would connect you to my past, but I can't do that, so. Just trust: It was fabulous.
Barbie Wants You to Be Whatever You Wanna Be
Look, I know the word "Barbie" can evoke a wide range of responses from women, queer people, feminists, and really anything that's live and able / willing to discuss gender politics. But growing up, my Barbie collection served as a solid reminder that I could do anything and become anyone I wanted: growing up to be elected president, kicking men out of the house and speeding away in a shiny new VW Beetle, and baring my sexy abs at the grocery store as I juggled my priorities as a doctor / teacher / lawyer included.  (All of these dreams, obviously, have or will soon come true.)
What I'm trying to say is that that I really like this Barbie ad and I hope you will, too. Let's watch it!
The White House Still Hates Anti-LGBT Therapy Because, Um, Duh
The White House is upping the ante in its fight to end anti-gay "conversion" therapy. The Substance Abuse and Mental Helath Services Administration has released a report backing up claims that the practice is dangerous and harmful. That means hard numbers! And data! And fancy words! And thus, an even more solid case to force everyone to perceive the practice as junk science and total garbage. Whee!
This is the Story of a Corgi and a Tiny Pumpkin
Eli chases around gourds like lil balls and then chews them up. Not so with this Corgi, who appears to have some of the most adorable trust issues in all the land.