Hello and welcome to This Queer House, a monthly column where you and I can walk together through the sometimes scary world of home improvement. I'll answer your questions, take you step-by-step through DIY projects, and generally help you to be handier in your everyday life. You might be thinking to yourself, "Wow, that sounds great! But why should I listen to this clown?"
Dear reader, here are my qualifications:
Completed a semester of high school woodshop in 2003 (I think I got an A)
Was a member of the City Year Civic Engagement team 2010-2011 (We built picnic tables and painted murals at pretty much every public school in Washington, DC)
Successfully installed a dimmer switch last year and only almost electrocuted myself one time
This outfit:
Wynn recently made A Butch's Guide To Your First Toolkit. It's great; you should check it out! So let me show you what's in my toolbox and then we'll get to our first project: hanging stuff on the wall!
---
What's in my toolbox?
In general, I am not a proponent of any particular brand of tools over another. My toolbox has been built up over the years from a combination of things my dad passed down to me and whatever cheap new or used tool I needed at the time. I have found that you can make most any project work even when you don't have the ideal equipment; you just have to be creative with what you have.
+ Hammer: Obviously, it's necessary for hanging things on your wall (or removing old nails from the previous tenant), but it has many other uses! One of my favorite alt-uses is to pound a nail into a wall or other surface and then take it out so you have a starter hole for a screw. It's like a drill replacement, basically.
+ Screwdrivers: Flat head, Phillips head, Multi-bit. The Multi-bit is mostly handy for if you ever lose either your flat or phillips (not to name names cough me). Also, there are a bunch of options for bits! Like so many that you will probably definitely never use them all, but you'll be secure knowing they're there.
+ Level
+ Measuring tape
+ Pencil: ABM. Always. Be. Markin'. Seriously though, measuring and marking are often the most important parts of any project. More on this later.
+ Ladder: Obviously this won't fit in a toolbox, but having a step stool or small ladder is handy. In a pinch, though, you could just stand on a chair or table (but please be careful and don't get mad at me if you fall).
+ Pliers: There are lots of different types of pliers, but I am partial to the needle-nose variety as a good first purchase if you don't have any heavy duty projects planned. Pliers, in general, are really handy for removing old screws that have been stripped. Also, try to find some with wire cutting capability built in if you can.
+ Wrenches: I have a standard set and an adjustable wrench (which I can't find), but you can definitely get away with either/or. To be honest, I don't use wrenches a whole lot so I'm not sure why I have so many?
+ Sandpaper of varying grains: Sometimes you have to make things smoother. You want to be smooth, right?
---
DIY Tutorial: How to hang things on your wall
Since this is our first project, we're going to start off with something fairly simple: hanging multiple objects on a wall with even spacing. I'll be using some super cheap mirrors from Ikea, but the basic concept will work for most any wall decorations you could possibly want.
1. Make a plan. This is a good first step for all DIY projects, to be honest. Have you ever heard the phrase "measure twice, cut once?" It is a thing for a reason. For this particular project, my plan involved taking measurements of the mirrors and the wall space, and then making some simple calculations to figure out the spacing.
2. Measure and mark the wall. I happened to be starting off with a wall that had a very old nail sticking out of it. I tried half-heartedly to remove it, but that thing has probably been there since about 1942 and is covered in multiple coats of paint. Luckily, it worked out fine to use the existing nail as the starting point for one of my mirrors. Using a level to keep things straight, I measured out from the nail 32 inches in either direction (the distance between mirror center points that I came up with in my sketch). I also double-checked the alignment by measuring up from the bookshelf and confirming that my two new marks were the same distance up the wall.
3. Hammer time! Before moving on to measure the bottom row, I decided to put up the top three mirrors and make sure everything was looking good.
4. Measure and mark the wall, part 2. I wanted the top edge of the bottom row of mirrors to share an axis with the bottom edge of the top row, so I had to do a little extra measuring. First I checked the distance between the top edge of a mirror and where the nail for hanging goes (about two inches). Then, I marked the halfway point between two of the mirrors already hung up on the wall to ensure everything would be centered and spaced well. From there, I measured down toward the bookcase about two inches to account for the space between the top of the mirror and where it would hang from the nail.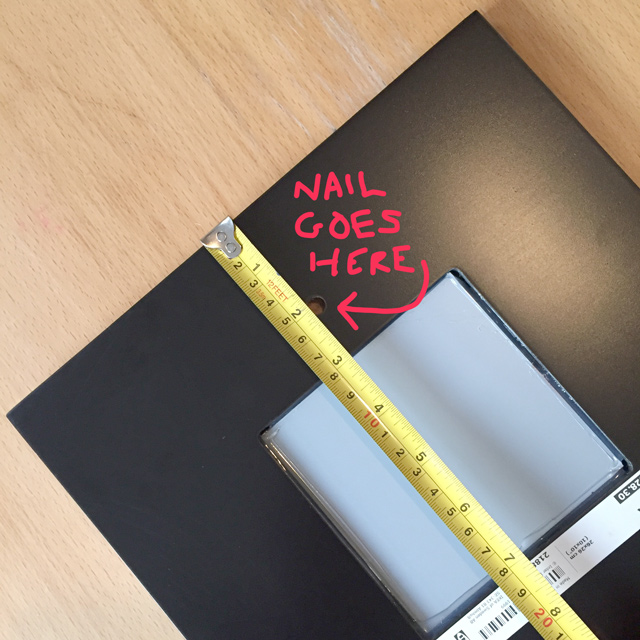 5. Throw the plan out the window (sometimes). In this particular case, I ended up calling an audible on my original plan and only hanging five of the mirrors. The placement of that existing nail threw things off, and I was going to have to move the bookshelf way off-center of the wall to hang all six mirrors. There's a good DIY lesson to be learned here: plan your project thoroughly, but be willing to be flexible.
6. Finishing touches. The very last thing I did was use a couple of cut up Command strips (which is just double sided tape, basically) to ensure the frames would stay level. Like I said earlier these are cheap mirrors with only the one nail hole, so they aren't super stable. Having to constantly adjust them would've driven me crazy, so I used a level and stuck them onto the wall.
And that was it! The whole thing probably only took me about half an hour or so, but I have a lot of experience hanging things up so don't stress if it takes you longer. Just take your time, measure early and often, trust your instincts, and you'll be a pro at hanging stuff in no time.
Do you need advice on a DIY project? Let me know about it here in the comments, by email (jenna@autostraddle.com), or on Twitter and I'll do my best to help you out in a future column. I have rented apartments my entire adult life, so there is a limit to the level of project I can take on (no kitchen demolition, for example, no matter how badly I want to). The plus side of this is that I have a lot of years of experience creatively, but not permanently, altering spaces, so don't be shy.