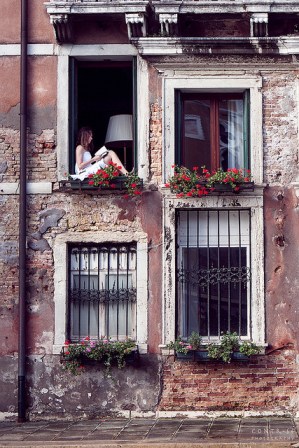 HELLO and welcome to the 50th installment of Things I Read That I Love, wherein I share with you some of the longer-form journalism/essays I've read recently so that you can read them too and we can all know more about The Electric Daisy Carnival and hazing in college marching bands! This "column" is less feminist/queer focused than the rest of the site because when something is feminist/queer focused, I put it on the rest of the site. Here is where the other things are.
The title of this feature is inspired by the title of Emily Gould's tumblr, Things I Ate That I Love.
Screensavers (December 2011), by Meghan Daum for Prospect – How can you not read an article by Meghan Daum (My Misspent Youth) about watching seven seasons of every TV show ever with your significant other?
Dance Dance Revolution (Novemeber 2012), by Gideon Lewis-Kraus for GQ – "The biggest thing in music this year? A supercharged version of something that nearly died in the '90s: the rave. Gideon Lewis-Kraus reports from the Electric Daisy Carnival, a three-ight (and surprisingly polite) bacchanal where international DJs spin for 100,000 wasted hedonists scantily dressed in furry underwear"
Can You Say…Hero? (1998), by Tom Junod for Creative Nonfiction – An amazing article about Mr. Rogers. Really it's amazing. Go read it right now. Trust me!
Recounting The Deadly Hazing That Destroyed FAMU band's reputation (November 2012), by Ben Montgomery for The Tampa Bay Times – Another horrifying story about hazing in one of the country's best college marching bands. At some point I felt like I was reading a 4,000 word piece that used to be 8,000 words and was cut by a very precise editor, but that's just my hunch.
As Not Seen On TV (November 2012), by Pete Wells for then The New York Times – this is so so funny – "GUY FIERI, have you eaten at your new restaurant in Times Square?… Did panic grip your soul as you stared into the whirling hypno wheel of the menu, where adjectives and nouns spin in a crazy vortex?… "Were you struck by how very far from awesome the Awesome Pretzel Chicken Tenders are?… "Why is one of the few things on your menu that can be eaten without fear or regret — a lunch-only sandwich of chopped soy-glazed pork with coleslaw and cucumbers — called a Roasted Pork Bahn Mi, when it resembles that item about as much as you resemble Emily Dickinson?"
Greetings From Willston, North Dakota (July 2013), by Stephen Rodrick for Men's Journal – "In recession-strapped America, Williston, North Dakota, may be some kind of paradise: a town where oil jobs are plentiful, lap dances are cheap, and desperate – possibly meth-addicted – men can change their luck. On the loose in the new Wild West."
The Underground Economy (November 2012), by Nicole Gelinas For City Journal – "The bus lines point up two lessons of Hurricane Sandy. One: New Yorkers have a strong work ethic… Two: New Yorkers—and New York—cannot work without their century-old subway system. Nor can they work without the many miles' worth of electrical equipment that threads its way underneath the dense streets."
Please Don't Oil The Animatronic Warthog (May 1998), by Tad Friend for Outside Magazine: "Two months before Disney animal Kingdom's April 22 opening I spent a week peeking behind the scenes, watching construction workers punch-listing the exhibits and "cast members" learning their scripts, and being hurried into—and quickly out of—interviews with the park's creators. Disney minders bird-dogged me everywhere, wearing worried expressions and having sotto-voce cell phone conversations. The marvels I did see made me confident that DAK will be a great success with Disney World's forty million annual visitors—and, at $39.75 a head, highly profitable. Yet DAK also left me with a lingering unease: its cinematic departure from the taxonomic, geographic, and natural history framework of zoos does facilitate our intimacy with animals, but it also blurs our sense of what, exactly, animals are."
Java Man (2001), by Malcom Gladwell for The New Yorker – "How caffeine created the modern world." It's really interesting for real, w/r/t how coffee changed the American workday and seemed to override a prior respect for actual rest over a cup of coffee.
GONE: Tragic Endings For Felix Vail's Mates Coincidence or Foul Play? (November 2012), by Jerry Mitchell for The Missisippi Clarion-Ledger – WHY ISN'T THIS MAN IN JAIL