Hello and welcome to a special mini NaNoWriMo edition of Autostraddle's College Lesbianage. Follow along as Nita and Kate write all the words with all the struggles and all the feelings.+
Nita
The University of North Carolina Greensboro
This month, I decided to embark on a whirlwind literary adventure and attempt to do NaNoWriMo.
NaNoWriMo, which stands for National Novel Writing Month, is a month-long literary challenge in which the writer (yourself) tries to write a 50,000 word novel in one month. (For comparison, 50,000 words is about the length of The Catcher in the Rye). I did NaNoWriMo before back in 2009 and won, but since my writing has vastly improved since then I thought I'd give it another shot.
As of right now I'm 13,324 words into my novel, not bad for being on day 11. I'm using Scrivener to write, which is an absolutely fantastic word processing software for anybody considering a new one—plus, it syncs with my Dropbox so I can write on the go. (Well, it's bad when I realize I'm supposed to be at 18,888 words but whatever). I've decided to write about a lesbian romance in 1969 between a high school senior and the local preacher's daughter. It's going pretty well, except for the fact that my characters don't want to do what I tell them and I'm having a hard time getting enough research on Southern life in the late '60s. So, if anyone wants to help me out with that research, I'd be more than happy to listen. I've been reading Dorothy Allison and Rita Mae Brown's Rubyfruit Jungle for inspiration.
I don't know if I'm going to finish this novel or even get to 50,000 words, but NaNoWriMo is all about the journey—and quantity over quality, which is a huge deal for me since I'm such a perfectionist. I'll fill all of y'all in on my progress at the end of the month and if I've made it across the finish line, but for the meantime, you can keep track of me on NaNoWriMo's Website, and here are the opening paragraphs to my novel.
Had my mother not made me deliver a pie to the new preacher and his family, none of this would have happened. I'm not saying it was my mother's fault, after all, but she has to see what she set in motion—that one small incident marked the rest of my year, the turning point in my adolescence. It was what made me decide to leave my town, and it was how I met the girl I would ultimately fall in love with.
It was August of 1969, and I was just shy of 18. Woodstock was all over the news, though the hippie movement never quite made its way to Alliance with the exception of a few of the high school students–it was too afraid of change, too afraid of anything different. Besides, our town was in the midst of its own turmoil, with the departure of our most recent pastor in a scandal involving a school board member. While the politics of the church may not seem so important, in a town as small as Alliance, the church was the town, the representation of our whole way of life. So the frantic search for a preacher had been well underway, and by the end of that summer, they finally found one–Brett Sommers, who, along with his family, moved into the house right behind mine.
I watched them on moving day, sitting on my back porch and peeling an apple with a knife from the kitchen. We never got strangers in Alliance—no one ever came in and no one ever left, except me and Jesse—the preacher's daughter. Because she came in and tore everything apart, and I… well, afterward, I was hell-bent on leaving.
+
Kate
Wellesley College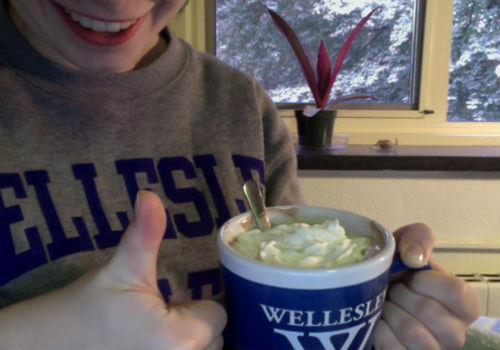 My NaNoWriMo has gotten off to an unimpressive start, with me clocking in at…about 600 words at the time I write this. In my defense, I opened a play this weekend that continues until next weekend, and have thus has no free time at all for almost three weeks. But, the play is now in full swing and has been going very well, and I'll have all of Thanksgiving weekend to write, since I'm not going home.
Content-wise, I've decided to do 50,000 words of journaling and writing exercises this year. I lost my journal in the move over here, and thus have not written down anything about my first three months of college. This is a travesty. And since I much prefer writing Literary Nonfiction to Fiction, I'm going to go through one of my textbooks from a Lit-Nonfic class I took last semester and do ALL of the exercises. (For those of you who care, the textbook is called Tell it Slant and it is amazing.)
2. November. 2012.
At this moment, I am sitting in the Shakes Haus at 4:58 on a chilly Friday afternoon. I just finished running some scenes from Henry IV and I'm waiting for 6pm to rehearse the Welsh song, and then we have fight call at 7. The show is in full swing as we head into tech week, rehearsals are running late into the night and the Haus is always a-bustle with people sewing and ironing and setting up and adjusting. Meg brought home (yes I call it home in my head) some vegetables and is making a soup with kale and leeks and beans and garlic ("I think you guys need some green vegetables right about now," she said,) and the whole house smells like healthy food. It's the feeling you get around holidays when you know it's cold outside but it's warm inside and everyone is happily busy and content to share space with one another. It's great and so…homey.
I am still overly optimistic that I will be able to pull 50,000 words out of my ass in two weeks. If I can do it, you can too! How's your NaNoWriMo going?