Happy moving day! Erm, sorry, Sunday Funday. For me, it's the same thing. Time to take Eli from one park to another and move in with my best friend. What a good day! Did I mention Eli and I have matching leather jackets and it's finally fall? Kay. Just making sure you're aware.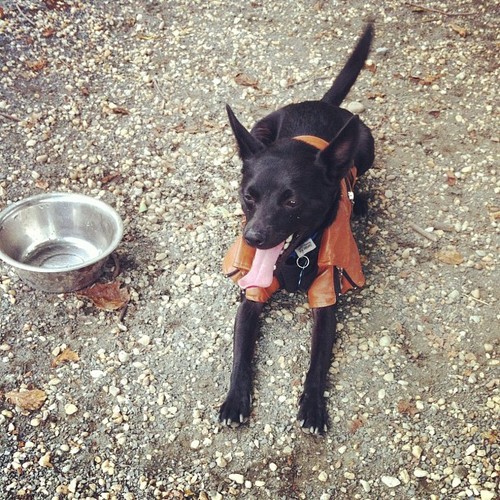 This Sunday, Lady Gaga and Honey Boo Boo are standing on the side of various politicians to support gay people. Also, an adorable lesbian engagement happened and lesbian werewolves are abound – which sounds like a great twist for Camp 3.0. Let's dig in!
Lesbian Central Park Engagement
What's this? Oh, just the perfect union between beautiful wilderness, lesbian romance, good use of rainbow colors, and a boat that forms the most beautiful lesbian engagement of all time. Seriously, someone please stand up, pick up a mic, drop it, and walk off the stage. I feel Brittani would be good for that.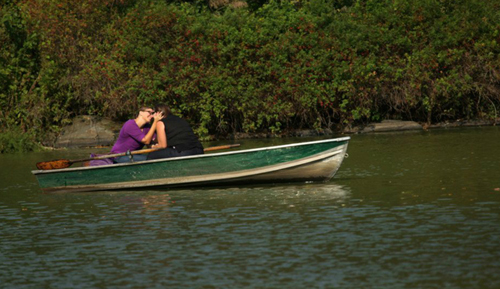 She rowed her girlfriend out from under the bridge as friends secretly gathered overhead for "Operation Rainbow Umbrella." The girlfriend said "Yes" as Central Park visitors applauded and took photos from from the shore.
Lady Gaga Gives No Fucks About the Pope, Many About Homos
Lady Gaga dissed the pope and spoke about the inevitability of gay marriage. Amen.
Honey Boo Boo Thinks We're All Gay
When asked about homosexuality, the innocent child replied, "ain't nothing wrong with being a little gay. Everybody's a little gay." And then the world rejoiced her wisdom.
Oktoberfest is the New Gay Pride in Germany
Hey, if you can't beat 'em, outnumber 'em and drink 'em under the table. That's a strategy that proves popular in Germany, where gays can find themselves a part of Oktoberfest with their own special place to gather. Seriously I'm jealous. And I'm so in.
Football Star Will Fight For Gay Rights
Chris Kluwe is ready, willing, and able to talk LGBT rights – even among his teammates and in front of all of us via the Internet. He's already written an awesomely upfront letter about why anyone feels the need to take away our rights, and this week, he took on Republican Mary Franson, a representative from Alexandria, Minnesota via Twitter:

It's hilariously ironic that Rep. Mary Franson claims I'm undermining "traditional values." How's the right to vote treatin' ya, Mary?

If any MN politician would like to logically debate the same-sex marriage issue (a la The Federalist Papers), please feel free to contact me.
DAMN.
Welcome to Canada, Gay Refugees!
Canada is willing to do what it takes to play a part in the creation of safe immigration alternatives for people in Iran facing persecution:
Canada welcomes about 100 Iranian gay and lesbian refugees each year and says it is willing to do more to save them from oppression in their birth country, and in Turkey where many first flee.
"I don't have an exact figure because we don't note the reasons why a person seeks asylum" through the United Nations, Immigration Minister Jason Kenney told AFP. "But I estimate that out of 800 Iranian refugees that come here through Turkey, a hundred or so fled over their sexual orientation."
The total number of Iranian LGBT (lesbian, gay, bisexual and transsexual) expatriates in Canada tops 1,000, according to Saghi Ghahraman of the Iranian Queer Organization.
"They prefer Canada over other countries, when they leave Iran, and they have very good reasons for this," she said, citing Canadian democracy, its "friendly and supportive society, and with great social services which are utterly crucial for most gay, lesbian, and transsexual Iranians who need all the support when they arrive in a new country."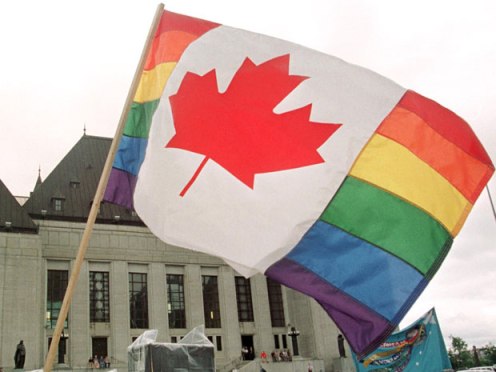 The United States is Crazy About Gay People, In A Good Way
You know that song "Around the World" by ATC? Well, let's go around the United States where gay people are making small incremental progress in their overall search for love, happiness, and justice!
+ In California, same-sex couples will now have equal access to fertility services in the state.
+ Support for gay marriage is increasing by a shit ton in Illinois, or, more accurately, by ten points in two years:
Rep. Greg Harris, a Chicago Democrat who led efforts to allow civil unions in Illinois, called the poll results "monumental."
"It's just striking how fast public opinion is changing," he said.
Harris attributed the change to more public discussion of the issue – for example, an endorsement from President Barack Obama – and people seeing more gay friends, relatives and neighbors living ordinary lives. Harris said people look around and say, "Gosh, those families want what my family has. What's wrong with that?"
+ On Thursday, Austin became the first city in Texas to officially endorse same-sex marriage.
+ Homeland Security, just as a little bit of whipped cream on top of this ice cream Sunday Funday topped with peanuts and cherries, has announced that same-sex couples will officially be recognized as families in all further immigration proceedings.
Lesbian Werewolf Movie Finally Yours
Lesbian werewolf flick Jack and Diane is now available via VOD!
Goats Playing On A See-Saw