Q:
I have a dilemma that has affected my day-to-day life and now I'm stuck between decisions in a way that I can't make heads or tails of. I'm hoping some gorgeous advice from yourselves can give me some clarity of what to do.
I'm in my early 30s and recently I reconnected with someone for the first time in nearly 15 years. The current state of this reconnection is different to our previous knowledge of each other. I recently bumped into a former school teacher of mine and we have been on a couple of resoundingly successful dates since — but my internal debate of "is this right?" has not ceased.
Our chemistry now is something I haven't experienced before, not even in my previous serious long-term relationship. We make each other laugh, we talk about serious societal subjects (and see eye to eye on 95% of those), and even down to the small romantic moments that I honestly thought would only belong on AO3.
She is 9 years older than me — and I would like to make explicitly clear that nothing romantic or sexual happened when she was my teacher. When we had field trips that spent time away, we didn't have 1-on-1 time or anything similar. I just want to make it very clear that at that time I had NO feelings in that way for her (I was very much mid-teens when I knew her last) and she has said the same. I had no reason to think that at the time, and looking back, there are zero similarities to the way she is with me now.
The situation has made me feel messy. I have no friends from school left (unfortunately I attended somewhere very homophobic and none of my peers have outgrown that) so I have no one to bounce this off of. The relationship feels genuine and between two adults, but I don't know whether I'm making this issue up or not. I haven't spoken to her about this yet because I can barely get my own thoughts in order, but we speak every day and I forget this is even a thing when I'm with her/talking to her.
This may sound contradictory because I've referred to her as such throughout, but I don't see my former teacher there. I see a woman that I'm already falling in love with. It's just a fact — she is my former teacher. I'm worried that I'm overlooking this fact just because my heart and soul feels enriched in a way it never has before. Thanks for reading my message, I hope you can maybe sprinkle some advice on this dilemma, and I send all my love and solidarity to all the workers of Autostraddle.
Big love.
A:
So first off, because this is going to live on the internet and I am well aware of the comments I might get I must do a disclaimer: I obviously have to say that I am not advocating for teachers to fuck their current students (in any stage of schooling even college), that I am not advocating for adults to have relationships with minors in any way, that I am aware of the power dynamic that exists between students and teachers, and that I am also not an advocate for grooming. That's all the disclaiming I am going to do 'cos I know folks will find a way to ick me regardless.
Now, I am so happy that you are finding sweetness, romance, and love in a way that you never experienced before! That's so sweet and beautiful! Now to jump into it, TO ME, this is literally fine and I think that it's not even a thing. With all the information you gave, it seems like you met someone who just so happened to be your teacher when you were younger. If you're telling the truth and you didn't seek them out, you never thought of them romantically before (and vice versa), AND you have both acknowledged all those things, then I don't see an issue.
I do see why you wonder if it is right or not though, so let's break down the other side of why other people who are not me could think it's not fine. Some may think it's weird, and others (me) may think it's just a fact.
Why do I think it's not a thing and just a fact?
Several reasons actually, but mainly these:
You never had feelings/thoughts for this person when they were your teacher, and they never had feelings/thoughts about you when you were their student — This is the most important thing that can make it either weird or just a fact. If you never in the slightest way had any other thoughts for this person when you were a student other than acknowledging that they were your teacher and vice versa (and I mean even the tiniest crush) then that is good news to me. It means that you both weren't waiting to act on it anything until "the time was right", and that you were going about your lives over the years. It makes your reconnection even more chill because you were probably just another person in their long list of students they had over the years — not someone they thought of in some sort of fond remembrance and waited for.
You are 15 years removed from your connection as student/teacher  — This was so long ago and you kept no connection during the time that passed. You are both adults and can acknowledge that you have an age gap and at one point they were grown when you were not. But I don't think that is something to harp on because there are many folks in age gap relationships. If you have some years between you, than y'all will always be able to look back and think things like when you were 10 they were 20, or when you were getting into college they were signing their first mortgage. But I don't think folks who are in age gap relationships (even if they weren't student/teacher) focus on that — it's just a fact.
It's simply a fact — It is what it is. This person used to be your teacher and you used to be their student. It's a point that cannot be argued but can be obsessed over if you allow it, but like — don't.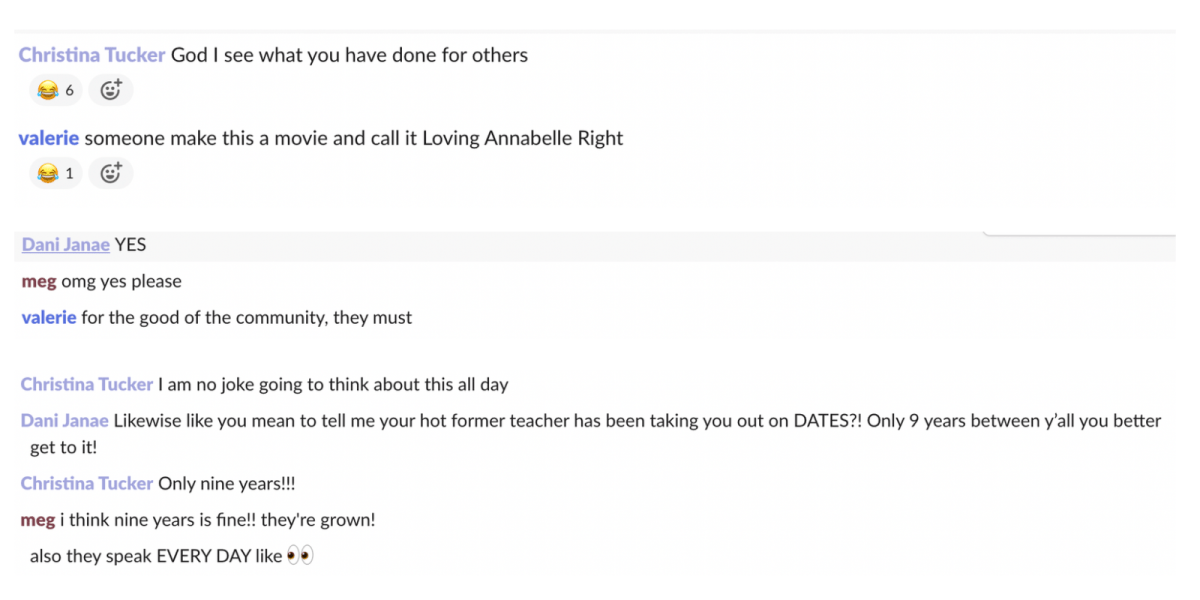 Why will others think it's weird?
These are just the main reasons I could think of why other folks may say this is def not a good idea:
Because at one point there was a major power dynamic  — This person used to be your teacher, and that means at a certain point in your life there was an imbalance of power between the two of you. Because of that, it means that there is a possibility that imbalance of power will always exist and that they will be able to improperly act upon it. There is also a possibility that even if they don't act on it, it will be lingering in their minds that they in some way could.
Because they will make assumptions that assume the worst  — This is an extension of the power dynamic bit. For some folks once a type of relationship is established, in this case student/teacher, there is no way for that to evolve into something else in the future — no matter how much time has passed or how grown you both are. Folks will think they waited for you to be legal, that they always had a thing for you, etc. And it's fair for them to think that because 8/10 those are the horrid stories we have heard.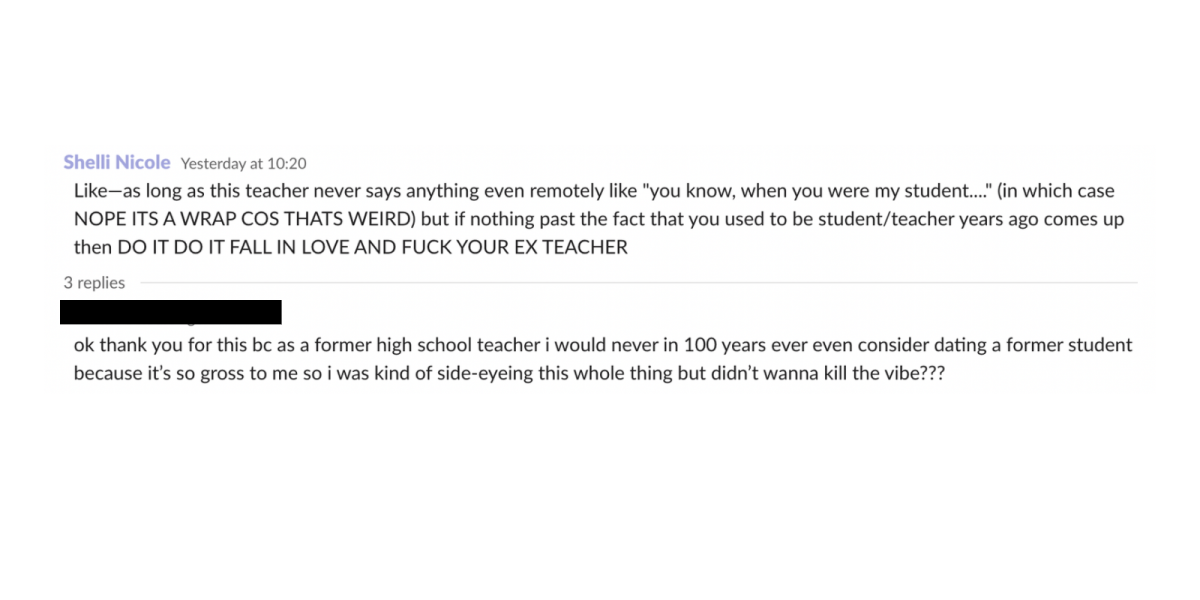 Now that you have a sorta vibe for what feelings may be on both sides, I suggest taking them in and talking to yourself about what you truly feel. You should also have a conversation with her, telling her the emotions you've been having around it and letting her in as best you can. You have to have a talk about it because it's affecting you and your dating life with her. Also, you have to chat so that if you do decide to carry on, you don't have to have multiple deep talks about it. There is nothing wrong with reassurance, but what you don't want to do is land on you both being cool with everything, but then constantly bring it up and keep it a big thing instead of letting it naturally whittle down to a tiny one that soon just goes away.
People will always have something to say about anyone's relationship — especially if things about it are atypical. But you have to decide if you are going to let others' views about it (when it's not illegal/harmful, just could be viewed as weird/odd) affect you in such a way that you don't go forward with it, or let it ruin it in the long run.
Hope this advice helps, and as you can see in the photos for extra clarity I added in some thoughts on both sides of the coin from other AS staff. <3
Happy Dating,
Shelli Nicole
---
You can chime in with your advice in the comments and submit your own questions any time.