R&B is one of the most expansive and soul-baring music genres of all time. It is a beautiful amalgamation of history, emotion, identity, love, joy, and pain. An impactful fusion of rhythmic bass, prominent percussion, layered instrumentation, and vocal agility all wrapped together to create passionate and expressive melodies about life's multitudes.
While the genre's name developed out of a marker of racial difference — created to replace the label "Race Musicwp_postsas previously used by the industry to separate Black from white music — the musicians who pioneered this genre have never succumbed to restriction. Unapologetic expression is the undercurrent that energizes this genre. Black and queer blues and rock artists such as Ma Rainey, Bessie Smith, and Sister Rosetta Tharpe, whose powerful voices and musical vision laid the groundwork for the genre's inception. Sonically travel through the next decades and witness how artists such as Aretha, Chaka, Luther, Mary J. Blige, and others stamped, molded, and transformed the genre into all its incarnations. R&B musicians have cultivated a space that overflows with true artistry and brilliance; each artist helping to create a transcendent art form.
Today, R&B remains a powerful space for dynamic storytelling and collective unity through shared emotion and experience. Gen-Z artists continue to explore the depths and possibilities of the genre, utilizing it to amplify their voices and narratives. I'm highlighting five queer artists that are doing just that — honoring the genre's musical roots and traditions while breathing new identities and stories into it.
---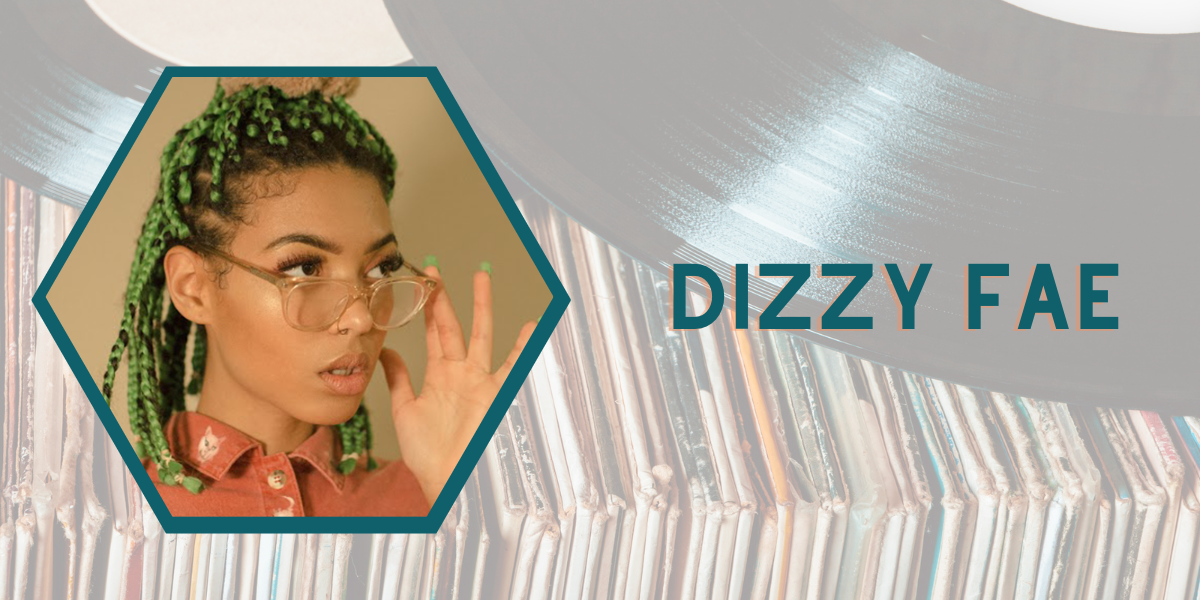 Dizzy Fae is a dynamic singer and dancer from St. Paul, Minnesota whose music epitomizes the multifaceted nature of R&B. You can hear the legacies and outgrowth of the traditional genre in her music as she weaves personal exploration with a mixture of Alternative, Electronic, and rhythmic elements.
Punchy No GMO Mixtape opener Huu R Uu asserts Dizzy Fae's confidence, talent, knowledge, and skill over prominent bass and electronic funk sounds. Solo brings you to the club with a sensual groove. Songs After Hours and Indica are theatrical, sultry blends of syncopated rhythms, emotive vocals, and electronic reverb that brings you into Dizzy Fae's headspace while she copes with the ups and downs of love and being human.
She openly and intently embraces her queer identity, highlighting the importance and strength of the queer community in supporting her career dreams: "I identify as queer. I believe that queer is the blanket for it all. You are who you are, you are queer. It's knowing who you are, and being okay with who you're not […] It's so important. It's how most of us live. We have a strong community, and when you have that community behind you, you're good for the rest of your life because we're loyal, and we know how to love. It's amazing. Some of my biggest fans are the LGBTQ community."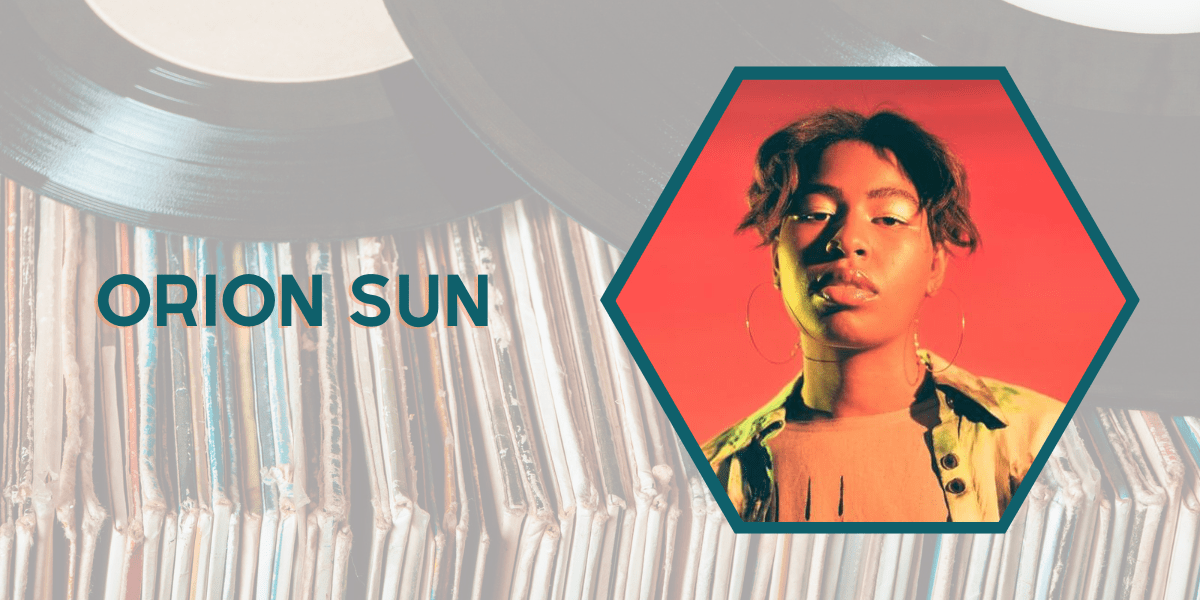 Orion Sun is an alternative R&B singer-songwriter with gospel musical roots that certainly shine through. Over the course of her discography, she sings about the emotional depth of love, queerness, intimacy, and personal struggles. Her tracks stun both lyrically and sonically, sharing her experiences and thoughts over acoustic-heavy rhythms. Her work is heavily inspired by her journey with her personal identity: "I think my music wouldn't be made if I wasn't a strong queer Black woman."
Songs like So Tall from Down Here and Concrete are soothing melodic tracks that utilize evocative storytelling and metaphors to express queer relationship aspirations and sensuality, while her vocals glide over warm Neo-Soul/Jazz percussion and harmonies. In El Camino, R&B and Rap are woven together seamlessly with lyrics that explore her relatable desire to unplug and disconnect, while also embracing joy: "Passenger one nine '87 El Camino/ Spontaneous vacation down in Puerto Rico/ The sun be blessing you and shit when you a negro.wp_postsMeaningful exploration continues in songs like Pressure, where she gets real about life's tribulations over instrumentation that swells parallel to her emotional expression.
Hope Tala is a musical force from London. She has carved out a unique sound for herself, weaving R&B, Bossa Nova, Latin, and Jazz. Her songs examine her relationships and experiences with love in alignment with the historical traditions of rhythm and blues.
Upbeat and harmonious grooves in Valentine and Lovestained display her hopeless romantic ambitions and in Crazy she sings about an insatiable flurry of love and lust over a rhythmic ballad. All My Girls Like to Fight is a seductive vengeful track about a sour breakup in the past, while her exes haunt her in the present: "I like to make you suffer/ Thought we loved one another/ Ghosts of all my old lovers around/ Be quiet, don't make a sound/ 'Cause all my girls like to fight."
The artist hopes everyone can enjoy and relate to her music while also emphasizing the importance of having queer representation, both for herself while growing up and in the present for her listeners. "I want everyone to be able to like my music, no matter of creed, race, religion, gender, or sexuality. If I hadn't had that music, I would have struggled quite a lot, so I'm really conscious of the fact that there are people out there who need to feel seen and represented […] When I was a teenager and questioning my own sexuality, it was really useful for me to be able to listen to music that mirrored that experience. Kehlani is the artist I always mention that was the most important to me at that time."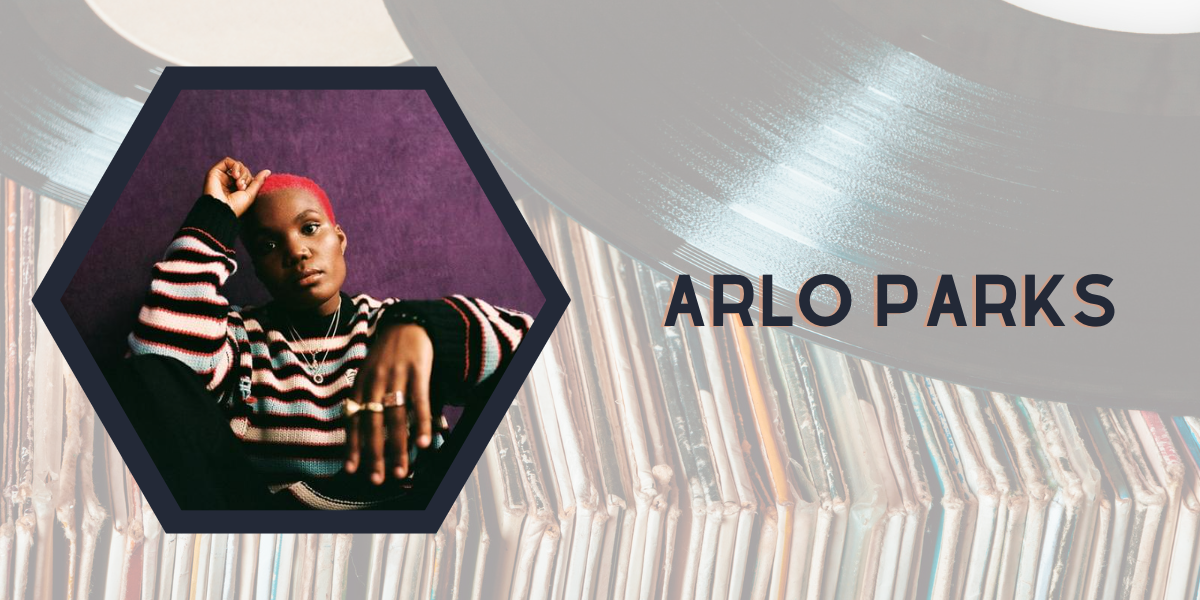 Arlo Parks is the youngest artist on this list — but don't let her years fool you. Her music is a powerful fusion of R&B and Indie Folk-Pop that leaves an impression. The bisexual British singer-songwriter's vocal intonation and musical inclinations bring to mind artists like Frank Ocean, Tracy Chapman, and Corinne Bailey Rae.
She tackles a variety of significant topics and themes in her music. Exploring heartbreak, overcoming mental health challenges, finding ourselves, and more. Black Dog is a calm yet impactful, lyrical track about helping her friend "Alicewp_postswho stuggles with depression. Cola describes the painful experience of suspecting a partner is cheating, backed by a stripped-down instrumental that merely emphasizes the lyrical expressions of hurt and heartbreak. Caroline is an alternative indie fusion track that tells a story of relationship troubles from the third person. Green Eyes is an honest expression of being in a queer relationship, with Parks using the song to share the challenges of being in and out of love.
She understands how important it is to have unapologetically queer music for the sake of her own self-expression and freedom: "I remember the first time I heard somebody singing a song about being queer and using pronouns that I felt I could apply to love stories that I had been through, then also wanting to give that back to people. A big part of encouraging people is making them feel less alone […] Coming out as bisexual was freeing in a way, because it allowed me to talk about experiences and feelings about certain things and people that I didn't feel able to before."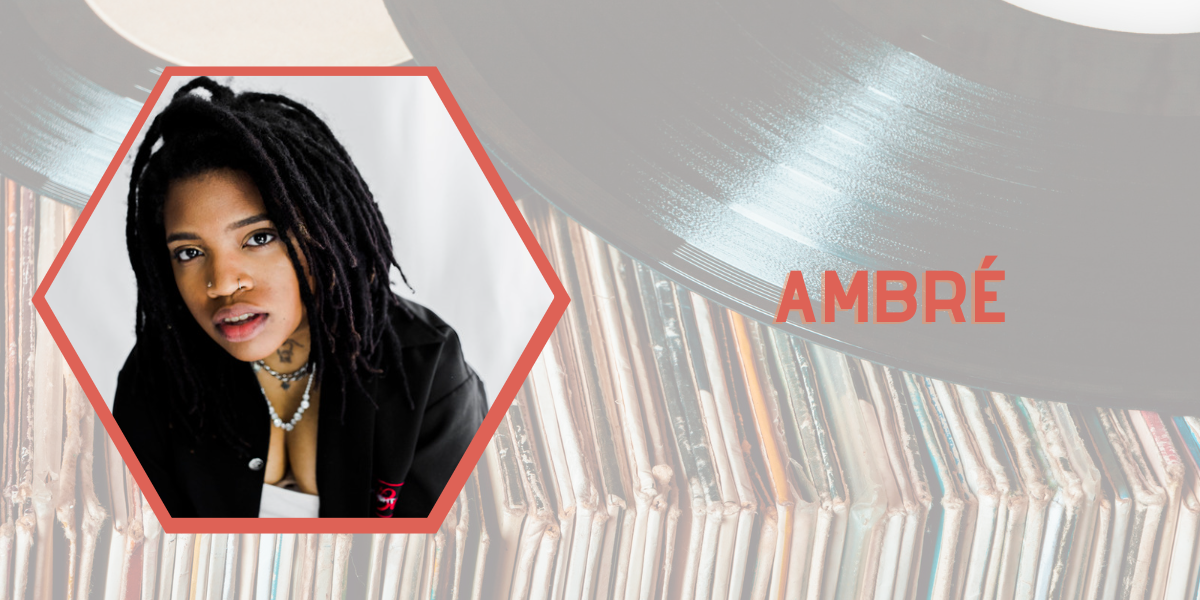 Roc Nation signed artist Ambrè is a singer-songwriter from New Orleans, Louisiana with a Grammy award already under her belt. With her musical influences including powerhouses like Nat King Cole, Brandy, Andre 3000, Nina Simone, Kendrick Lamar, and more, Ambrè upholds R&B tradition while transforming and pushing it into new sonic spaces. Her music is truthful and real, embracing vulnerability through her lyrical storytelling while incorporating trap instrumentation, soul, experimental sounds, and memorable melodies.
Illusionz is a dynamic song that builds up from an orchestral ballad introduction, transforms into a trap beat-backed rhythmic anthem, and calms back down to a serene serenade while Ambrè seeks clarity, sorting through the fake from the real. Must Be The Fall is a pop-punk R&B track with layered harmonies and instrumentation that overwhelms, transporting us to the obsessive, infatuated stage of love where you just can't get enough of your beloved. Eternal Sunshine is a neo-jazz-inspired ode about staying true to yourself, achieving your dreams against greater social forces, and uplifting the ones you love in the process. Her video for The Catch Up is a charming accompaniment to a song about embracing lust and desire, displaying sensual and intimate Black queer love.
---
R&B has always been a musical space for honest rumination about love, identity, and hardships. It is beautiful to see how today's artists not only honor that legacy but advance it for queer generations to come. By proclaiming and exploring their truths and experiences through rhythmic fusion and experimentation, the aforementioned artists prove that R&B is alive and well; in fact, the genre is being fondly and passionately sustained thanks to the talents of today that never fail to innovate and evolve.
If you dig the sounds of Gen-Z, check out Amari's piece on Queer Gen-Z rappers making waves!