New Canadian citizenship guidelines were released Monday, and the entire section on gay and lesbian rights is about as long as this sentence. Period.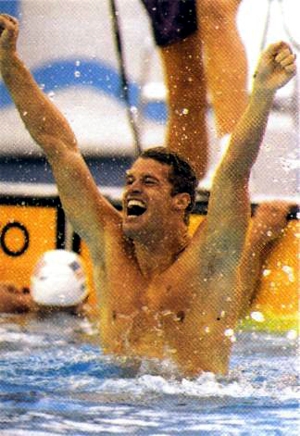 The guide, which is called "Discover Canada," was first released in November 2009. That edition, which was the first change the new citizen study materials in nearly 15 years, only mentioned gay rights in a caption under a photo of Mark Tewksbury, an Olympic gold medalist, describing him as a "prominent activist for gay and lesbian Canadians."
The edition released earlier this week isn't much of an improvement. The entire section on gay and lesbian rights reads as follows:
"Canada's diversity includes gay and lesbian Canadians, who enjoy the full protection of and equal treatment under the law, including access to civil marriage."
That's it.
According to the Canadian Press, an early draft talked about gay rights milestones, the decriminalization of homosexuality in the late 60s, and the legalization of same-sex marriage in 2005. However, Immigration Minister Jason Kenney's office removed that information before publication, though Kenney has denied doing it personally. At a press conference earlier this week, Kenney told reporters,
"If you actually look at the previous guide, the one that was published under the Liberal government, there was not a single word or sentence or paragraph at all about gay or lesbian rights."
This is somehow supposed to make it OK that there was supposed to be far more about gay rights this time around but he — sorry, his office — deleted most of it.
Egale Canada, a gay and lesbian rights advocacy group, released a statement saying that they are generally happy with the updated edition, except for its failure to mention trans rights:
"Egale Canada is pleased that the new guide accurately reflects the current climate in Canada. Nonetheless, its obvious omission of our trans population highlights the urgent need to pass Bill C-389 before the next election, in order to ensure the rightful inclusion of trans people within Canada's human rights regime."
Egale Canada has been criticized for this response, most notably by Canadian queer activist Justin Stayshyn in Xtra:
"'We've seen other people responding in a way that I feel is more appropriate: demanding an apology, demanding to know why, demanding answers… the right tone for something like this,' says Stayshyn. 'Actual anger and outrage… The relevance of certain organizations needs to be reconsidered, given what our community can do using our own tools.'
He notes that more than 4,500 people have organized via a Facebook group calling for Kenney's resignation. CUPE also launched an online petition Mar 4, demanding that the gay rights references be put back in the guide."
Olivia Chow, a Member of Parliament for the NDP, is also disappointed. Last spring, Chow put forward a motion, which passed, to include gay and lesbian rights in the guide. In a recent interview with CTV, she said,
"It's better than not having anything — at least the words 'rights' and 'marriage' are in there. They removed it (from the first version), they deliberately removed it."
While calls for Kenney's resignation might seem extreme, there are still obvious discrepancies between what people — MPs, the Canadian Press, gay people — thought was going to be in the guide and what actually appears in it. A second version of the guide is supposed to be printed, but whether or not it will expand on gay and lesbian rights – a pertinent issue for many new citizens coming from less tolerant nations – is unknown.