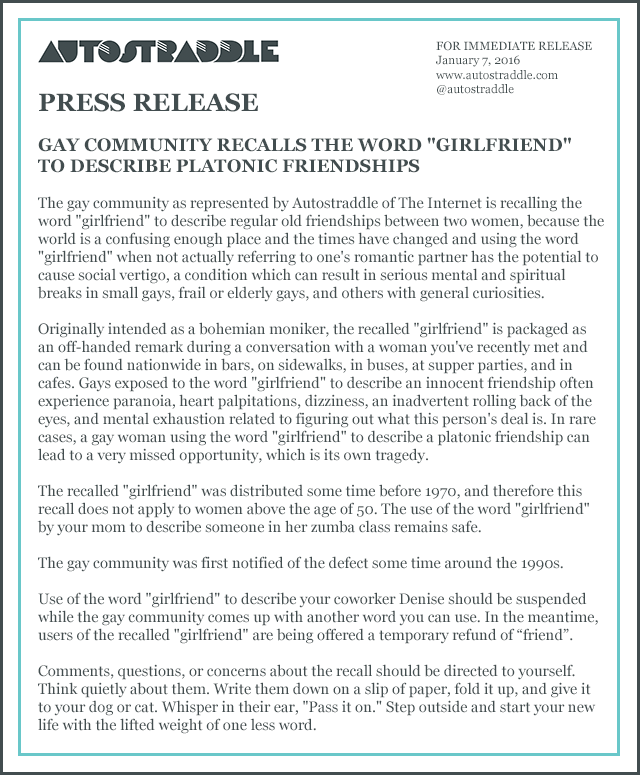 Full text available on Page 2

For Immediate Release
GAY COMMUNITY RECALLS THE WORD "GIRLFRIEND" TO DESCRIBE PLATONIC FRIENDSHIPS
The gay community as represented by Autostraddle of The Internet is recalling the word "girlfriend" to describe regular old friendships between two women, because the world is a confusing enough place and the times have changed and using the word "girlfriend" when not actually referring to one's romantic partner has the potential to cause social vertigo, a condition which can result in serious mental and spiritual breaks in small gays, frail or elderly gays, and others with general curiosities.
Originally intended as a bohemian moniker, the recalled "girlfriend" is packaged as an off-handed remark during a conversation with a woman you've recently met and can be found nationwide in bars, on sidewalks, in buses, at supper parties, and in cafes. Gays exposed to the word "girlfriend" to describe an innocent friendship often experience paranoia, heart palpitations, dizziness, an inadvertent rolling back of the eyes, and mental exhaustion related to figuring out what this person's deal is. In rare cases, a gay woman using the word "girlfriend" to describe a platonic friendship can lead to a very missed opportunity, which is its own tragedy.
The recalled "girlfriend" was distributed some time before 1970, and therefore this recall does not apply to women above the age of 50. The use of the word "girlfriend" by your mom to describe someone in her zumba class remains safe.
The gay community was first notified of the defect some time around the 1990s.
Use of the word "girlfriend" to describe your coworker Denise should be suspended while the gay community comes up with another word you can use. In the meantime, users of the recalled "girlfriend" are being offered a temporary refund of "friend".
Comments, questions, or concerns about the recall should be directed to yourself. Think quietly about them. Write them down on a slip of paper, fold it up, and give it to your dog or cat. Whisper in their ear, "Pass it on." Step outside and start your new life with the lifted weight of one less word.
Pages: 1 2See entire article on one page