The Dyke Kitchen is a bi-weekly series about how queerness, identity, culture and love are expressed through food and cooking.
---
There are some tastes of home that transport me back into my parents' kitchen immediately. I mentioned this one in my very first edition of The Dyke Kitchen because I hold it dear. It's a South Indian condiment or accompaniment that we call gunpowder. It also goes by a few different names, including molaha podi, as Julie Sahni, the expert on Indian cooking in our home, calls it.
As a little kid, I mostly ate gunpowder on idlis and watched my dad eat it on rice, but it scared me a little. It's made from ground up lentils and spices, and so it has a rough, gritty quality in your mouth and can be really spicy, depending on how hot your chilies are. Compared to the tame Japanese comfort foods I ate as a child, gunpowder was a little wild. Now, as with so many of my favorite flavors, I like to put it on everything from avocado toast and oatmeal to salmon, but I still primarily eat it on rice with ghee — that's where it sings.
"When we were growing up, we always called it gunpowder because it makes you fart," my dad, Balaram, says and cracks up. I, personally, always thought it was called gunpowder because it was spicy, and maybe possibly that the asafoetida that we put in smelled a little like farts. I have not yet had the experience that gunpowder makes me fart, but I guess you can heed my dad's warning and continue at your own risk.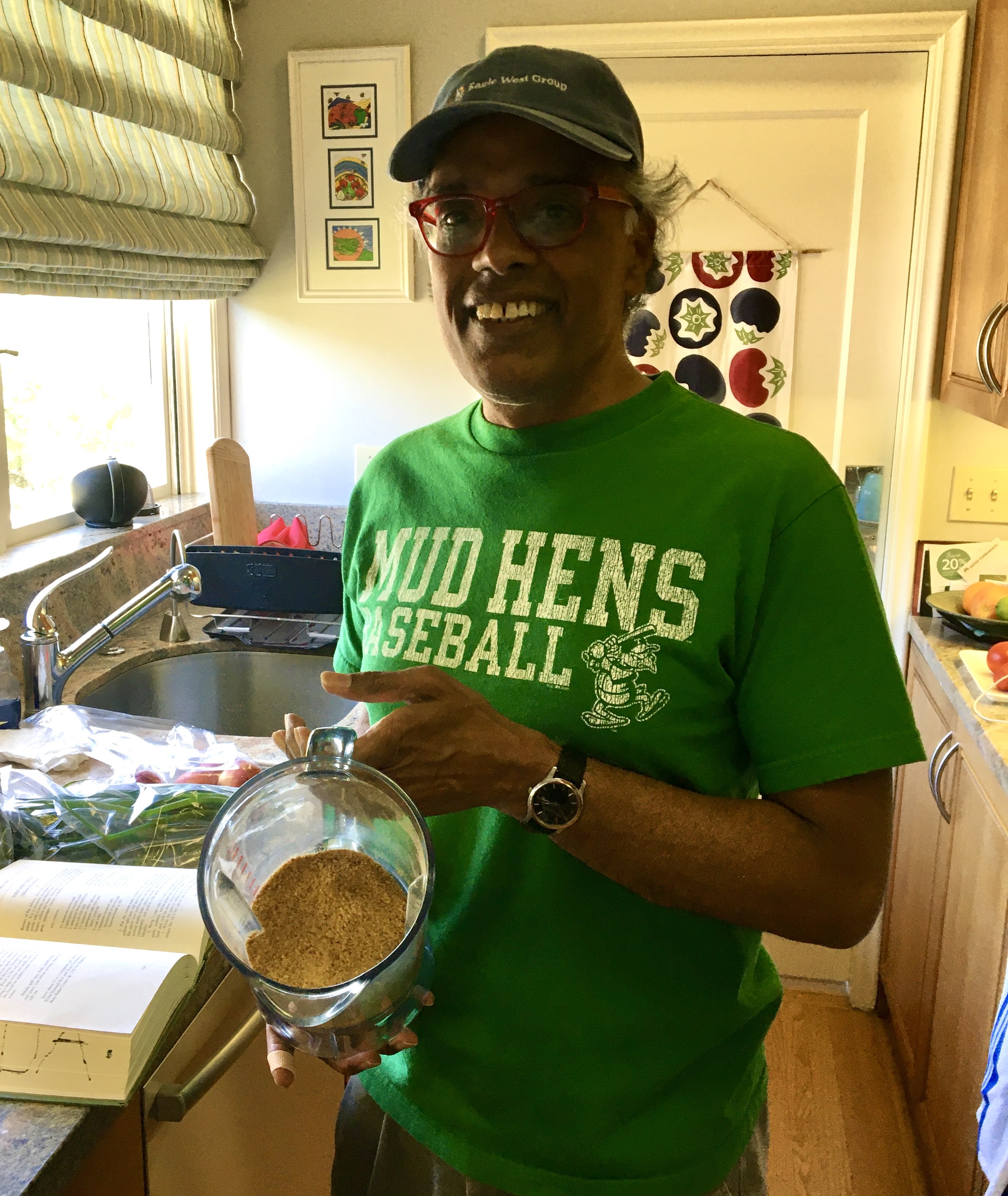 My dad is the one who has introduced his mom's South Indian recipes into our family, but my mom is also just as responsible for carrying them along. I watched both of them make a batch of gunpowder this weekend, and they have just ever-so-slight differences — which chilies they use, how long they toast the ingredients — that do make each batch a little different. I like to think that one day, when I stop being a baby and make my own, mine will have its own signature twists too.
How To Make Gunpowder
Our recipe is basically a double recipe from Julie Sahni's Classic Vegetarian and Grain Cooking with a few small changes. My dad told me that when his family was living in South Dakota, his mom had to order their Indian spices from New York and his mom would substitute split peas for chana dal in various recipes, which worked but was also pretty different. So we suggest hitting up your online or local South Asian grocery for these ingredients, and you will need a blender or spice grinder to mix them up.
Ingredients
4 tablespoons chana dal
4 tablespoons urad dal
15-20 dry chili pods, you can alter this based on your chilies and desired spice levels. My mom used Japanese chilies and my dad used some Diaspora Co. chilies that I gave him.
1 teaspoon Hing powder or asafoetida
4 tablespoons sesame seeds
2 teaspoons salt
3 teaspoons brown sugar, my mom only added one to hers and my dad's family doesn't use any at all, but I do prefer a little sugar to bring out the nuttiness.
Directions
To make gunpowder, some people might have you fry your ingredients in oil, but we do ours straight in a hot frying pan to give it more of a char than fry. So begin by toasting the chana and urad dal, sesame seeds, chilies and asafoetida, which you can do in separate pans, like my dad does, or just have them take turns in the same pan. Stir them pretty constantly until they all have some browning on all of it, but hopefully not a burn.
Set these aside and let them cool.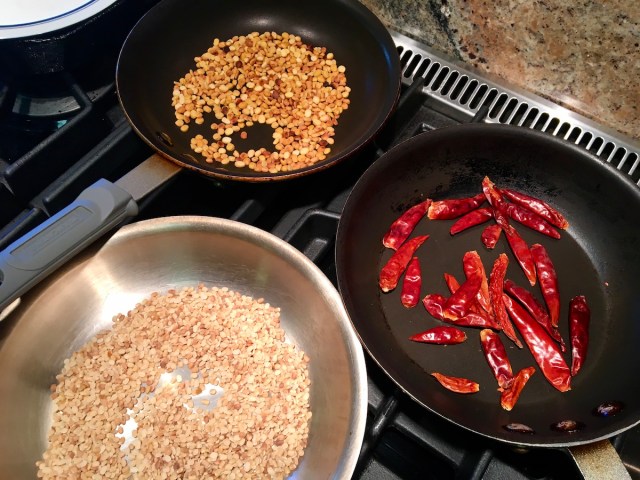 When you can safely handle the ingredients, start by pulsing the the chana dal and the chilies together. My dad advises that these tend to be the hardest to break down into small pieces. So get them to a chunky processed texture. My dad also advises that when you open the lid on the blender, the chili powder that gets released might make you sneeze, so be careful.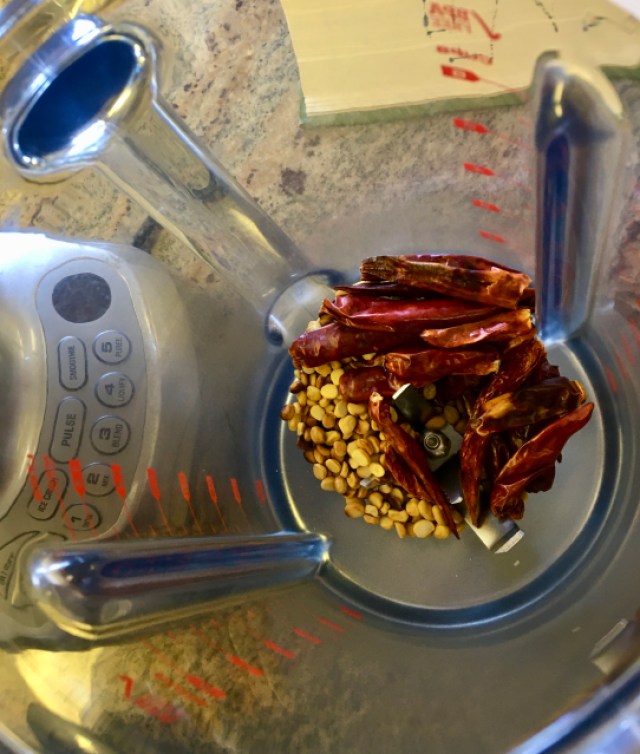 Then you'll add the rest of your ingredients. Pulse to blend these. You don't want to a super fine powder, the idea is to leave a little bite in there.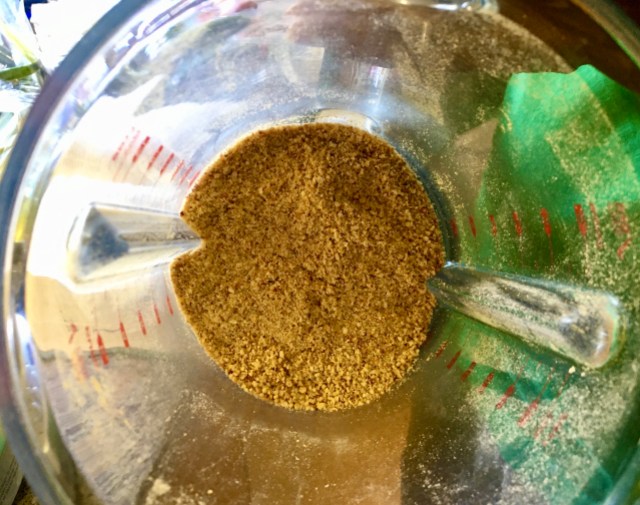 Once you have a ground-down powder, you're done! You can store it in a sealed jar for a very long time without it going bad. It might lose some of its spicy ferocity over time, we generally don't make too much at one time.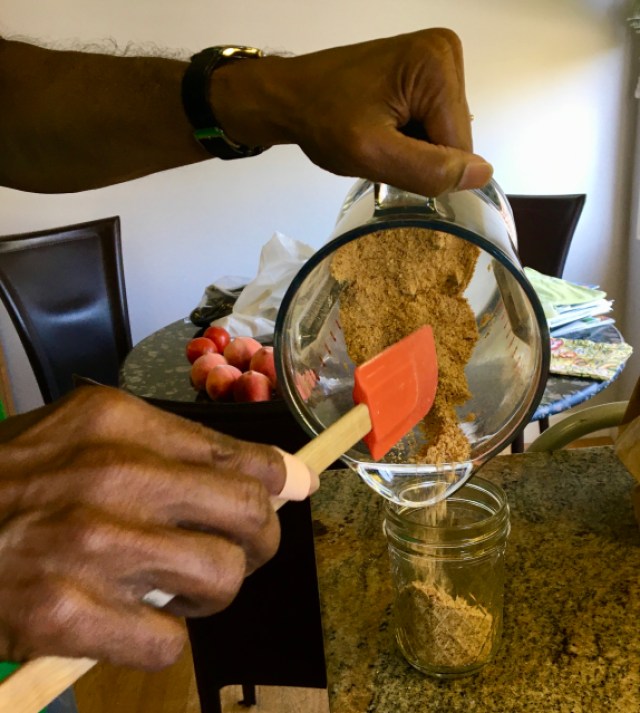 A few last tips from my dad:
A great way to clean your blender or spice grinder is to fill it with soapy water and run it, so the soap and water get all in the blades.
I ate our fresh gunpowder over rice a coconut rice that my dad made too. For that dish, he cooked one cup of Basmati rice with one cup of water and one cup of coconut milk. Once it was steamed, he fluffed it with lime zest and some chopped up green onions. It was a really delicious pairing for the gunpowder!