Welcome to The Best Ever series, where Autostraddle team members recommend their favorite things. Today, Aja, Fikri and Audrey are talking about mirrorless cameras.
---
Doesn't your hair look great today? Maybe you should take a picture. (Okay definitely take a picture. Maybe share it!) Here at Autostraddle dot com we'd love to see more fancy cameras dedicated to documenting even fancier queer lives and faces, so let's talk about compact system cameras (CSCs).
CSCs — or mirrorless interchangeable lens cameras (MILCs), or digital single lens mirrorless cameras (DSLCs) (yeah no one really thought this through) — are a growing part of the camera market, usually sold as a middle ground between point-and-shoots and DSLRs. The main difference between CSCs and DSLRs is that mirrorless cameras do away with well, mirrors. In DSLRs, mirrors and prisms inside the camera body flip up/down to alternate light between the viewfinder (which you look into) and image sensor (which captures the image). Without these finicky moving parts, CSCs tend to be smaller, lighter and more durable, especially since manufacturers sometimes also strip away other features that we expect on DSLRs, such as viewfinders, built-in flash, hotshoes (for attachments), hand grips, and dedicated button controls.
On the other end of the spectrum, CSCs are a step up from point-and-shoot or smartphone cameras because they usually have larger image sensors (meaning better quality, less grainy photos) and come with the option of interchangeable lenses for vastly different end results.
Possibly one of the most alluring — and confusing! — things about CSCs is the wide and continuously expanding range of cameras that fall within this category: from the compact, lightweight Panasonic LUMIX GM1, which fits into your pocket as easily as a point-and-shoot, to the full-frame Sony Alpha A7 Mark II, which rivals some of the most high-end DSLRs in the market today. To help you along, we've rounded up Autostraddle team members to tell you about their favourite cameras and lenses and why they love them.
---
For eight years I've photographed my outfits (and increasingly, my life) for the style blog I started in 2008. Fit for a Femme was launched using a Sony Cybershot that was quickly replaced with a then brand-new Panasonic Lumix DMC-G1. Hesitant to take on the bulk of even an entry-level DSLR, I took the plunge in the hopes that I could bring more beautiful, quality images to the site with the G1.
My G1 and I got on beautifully for an impressive five years. The change was like night and day! My photography steadily improved, and so did my style. Acquiring a new lens every other year or so kept me happy and growing as an amateur; I went from the kit lens to a fairly silly (for my purposes) Panasonic Lumix G X Vario PZ 45-175mm f/4.0-5.6 zoom, and settled on a do-it-all Panasonic Lumix G 20mm f/1.7 prime. Tiny, bright, quick and ultra-sharp, the 20mm (and its ability to generate a pleasing enough bokeh) allowed me to hang on to the G1 a while longer, even though I'd outgrown it.
In late 2013, I started to become restless. My home base had changed from California to Boston, both my standards and the photography landscape had shifted dramatically and I knew I'd hit a wall with the G1. Having so much more control over the photos I took was liberating and challenging; every time you pick up a new body or a new lens, there's a learning curve or exploratory period while you get familiar with stuff; muscle memory in getting used to the physical controls and EVF of the camera's body, how your own body moves to shoot with primes especially, and going through the motions of experimenting with light sources and shooting conditions.
Going from a point-and-shoot to the G1 was a great big eye-opening step up, but only that. I couldn't push the G1 any harder, and the time had come to take the next step up to a semi-professional DSLR.
My priorities were still shooting lifestyle, close-up, and travel photography, and size-wise, I wanted something inconspicuous enough for special occasions or day trips around New England. A gentle learning curve was important, too. FFAF hasn't got a professional photographer behind it, so the new camera needed to be something that both my wife and I could handle — neither of us are pros — and she's often the one pressing the shutter button.
I researched the Canon EOS 70D and Nikon D7100, pestered my exceptionally talented photographer friends for advice and dutifully spun my wheels at sites like Snapsort (for specs) and CNET (for reviews). In person, though, I found them to be all clunky and alien, even ones well outside my price range (which I tried just in case leveling up might help — it didn't). So I fell back on more advanced mirrorless ILCs thinking they'd be a bit more familiar, giving the G1's very grown-up older sibling, the handsome Panasonic Lumix GX7, a shot. Awesome, but not "the one." Same with Sony's respectable NEX range (specifically the NEX-6 and NEX-7).
It was not going well, superfriends.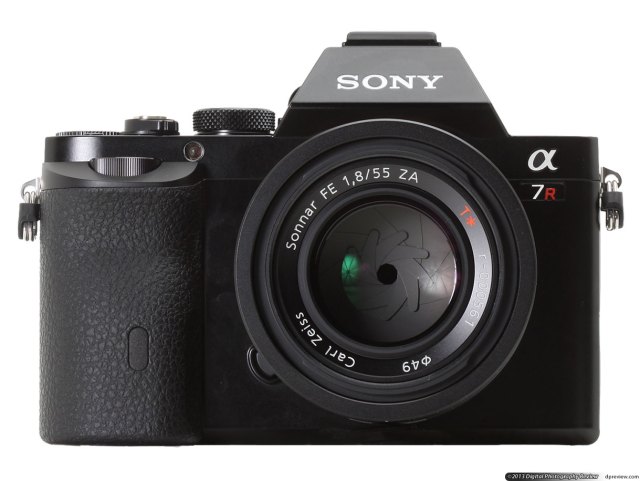 In the middle of all this research and test-driving, there was a huge fuss over Sony's a7 and a7R cameras but the price tag on the bodies alone shoved them off my list (and never mind tacking on the added cost of a really great lens). On a bitterly cold but blindingly sunny February day at Hunt's in Cambridge, my wife blithely suggested I try one out, "You might as well while we're here." Y'all, that is the camera equivalent of taking me to a big old farm, leading me to the best horses in the barn and saying, "You might as well hop on and take him out for a trot." Be prepared to drive off with a horse, okay?
What do you think happened? I was an absolute goner the second I laid hands on the Sony a7R. Paired with the FE 35mm F2.8 ZA Carl Zeiss Sonnar T* lens, I got actual butterflies. I melted, I swooned, I went on and on about how it felt like an organic extension of myself.
Here's the thing, though: It was the most sophisticated camera I'd ever held, but I still felt capable and competent using it right away. That was a big deal! There were minor drawbacks — shorter battery life, a less limber flip-out screen, overall heft — but its specs blew the G1 out of the water, set it proudly alongside the DSLRs I was considering, and might as well have clucked a "bless your hearts" at everything else on my list. I ended up saving hundreds by choosing the Sony a7, which is a bit lighter than the a7R, with superior autofocus, and when choosing a prime (I'd learned enough to know not to bother with a kit lens), I opted for the stunning FE 55mm F1.8 ZA Carl Zeiss Sonnar T* lens.
Why that lens, instead of the 35mm I tested? Excellent question! Try double the focal length, snappy autofocus, greater depth of field control, and bokeh so buttery it'd make a Berkshires jersey cow cry. The Phoblographer described shooting with this lens best:
Step 1: Mount.
Step 2: Aim.
Step 3: Focus.
Step 4: Photograph.
Step 5 is "Ogle" because this lens produces truly beautiful results. 
Sony utterly changed the MILC game by releasing two (two!) full-frame cameras under $2K to compete with hotshot DSLRs at similar price points, especially when competing Leica models start at $6K. Two years later, there are now five full-frame cameras from Sony that allow use of pretty much every make of 35mm lens using adapters, and one of them — the pricey a7RII Fikri mentioned — has killer autofocus that plays nice with any Canon lens built after 1995. That is potentially groundbreaking.
Eighteen months later, and I'm still head over heels excited about the images I'm creating. Plus, something unexpected has happened — instead of trying to push my camera to do more, it actually pushes me to do more; to be better, to learn everything I can, to handle its power and sophistication with real proficiency. I'm constantly aware that I need to make more time to explore it and do it justice. There's a whole world of adapters and lenses, vintage and new, to discover! It's a lot of camera, the kind that takes awhile to master, and it makes me want to work harder.
If you've graduated from point-and-shoots, have outgrown your MILC or want to switch teams (more and more DSLR users are jumping ship, it's a thing), something from Sony's a7 range might be a brilliant choice for you, too!
Note on lenses: I bought a very well-reviewed, more compact Sigma 30mm f/2.8 lens for a recent trip abroad. They're known for making fantastic, affordable lenses, and I wanted to love it. We took it out on our first day in Lisbon, but that was it. I couldn't wait to throw the 55mm back on.
---
Last summer, my DSLR was stolen during my one and only trip to a Nando's while I was tending to an exasperatingly fussy 8-year-old. I considered giving up photography altogether — my enthusiasm for the hobby had long been fading, anyway — but then after just two days with only my mother's point-and-shoot to document my last few days in London I just couldn't. I couldn't! So after researching my options obsessively I settled on the Olympus OM-D E-M10 because it cost less than what I would have spent on a mid-range DSLR (the Nikon D7100, to be exact), and… I liked how it felt in my hand. Yup. I spent ages reading and comparing reviews only to be suckered by good looks.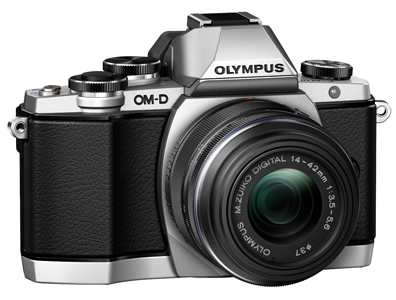 Lugging around a DSLR with bulky lenses gets old fast, especially when travelling, and I really like that the E-M10 fits all the features I'm used to on a small, solidly built body. I especially like the two customisable command dials, which make it significantly easier to simultaneously adjust aperture and shutter speed, as well as secondary settings like ISO and white balance. The only button that's kind of in a weird place is the power switch at the bottom right of the back panel, which sometimes gives me pause when I want to switch the camera on quickly to catch something.
I've also become surprisingly partial to its built-in wifi, which allows me to transfer photos directly to my iPhone and also use said phone as a remote shutter (with live preview!). I'm notoriously slow when it comes to processing and uploading photos — mostly I just hoard them in Aperture, and I will continue to do so even as the app heads to its slow, inevitable death — so this feature allows me to more quickly appease Instagram-conditioned family and friends who need to see results right there and then.
The final sell for me was that compared to other brands' more restrictive systems, Olympus bodies are compatible with both Olympus and Panasonic lenses as well as a few others under the Micro Four Thirds system. (Though do note that Olympus builds image stabilisation into its camera bodies while Panasonic builds it into its lenses; this means a non-image stabilised Olympus lens might fare more poorly when paired with a non-IS Panasonic body.)
My camera kit came with an Olympus M. Zuiko 14–42mm f/3.5–5.6 EZ lens, which is a nifty, super slim lens that makes the E-M10 even more portable. Unfortunately, I can't comment much on using it because I retired it quickly in favour of faster prime lenses, which work better in low light conditions and give shallower depth-of-field. I initially bought the Olympus M. Zuiko 45mm f/1.8 lens because it was cheaper in-store but later got the Olympus M. Zuiko 25mm f/1.8 lens. The performance of both these lenses is comparable, so in the end it's down to which focal length you're more comfortable with: the 45mm (35mm equivalent focal length: 90mm, with a 2.0 crop factor) is great for subject isolation (portraits) and outdoor photography with faraway subjects (concerts, parades), while the 25mm is a standard "normal" lens that most closely mimics what humans naturally see. I chose the latter.
The camera's only drawback is that its autofocus is noticeably slower than that of my old DSLR, which is important to me because I take a lot of photos of squirmy, hyperactive small humans and animals. This is mainly because the E-M10 uses contrast instead of phase detection. I'm considering upgrading to the Olympus OM-D E-M1, however, and overall the gap between the focusing speeds of CSCs and DSLRs is generally closing anyway.
---
This is the slightly updated version of Panasonic's G1, which Aja reviewed above. The next model in the line is not so different. (The latest one is the Panasonic Lumix DMC-G7.) We even mostly use the same lens, the Panasonic Lumix 20mm f/1.7 prime lens. It's not a great camera, but it's a good one. I don't love it, but I really like it. For more than two years, it has done everything I needed it to, and done it wonderfully. I got the G1 right before I moved to Nicaragua on a trade-in for my Olympus PEN E-P1. I'm not a photographer, and I don't really aspire to be one. I take pictures for my work as a non-profit communications manager, and I take a lot of pictures during my travels in Central America. The camera is compact, has a great grip and doesn't scratch easy, which have made it ideal for hauling around on chicken buses and hanging off of rickety wooden barriers with. After two years of rough-and-tumble use, it still looks and operates like it did when I bought it.
My favorite thing about the f/1.7 lens is its easy and beautiful manual focus option. The 14-42 mm kit lens that comes with the camera does a nice job too, but if you want to get really up close and personal with a subject or add rich texture to photos without too much fuss, a prime lens will be your baby.
The camera has pretty intuitive manual settings, but I leave it on auto as often as not. I mostly take photos in outdoor settings with great natural light, but this camera and lens combo also thrives in low and weird light situations.
If you need or want higher quality images than a point and shoot can offer but don't feel confident as a photographer or want a camera that makes it feel easy to learn, I highly recommend Panasonic's Lumix series. As Aja said, a passionate photographer will outgrow this camera quickly. But for day to day and even low-level professional use, it's a great option.
---
Here are a few more cameras you might want to consider:
Do you have other recommendations? Share them in the comments!