all illustrations by Archie Bongiovanni!
Christmas is cumming! That's right — baby J's birthday is no longer about virgin births or cancelled flights or explaining the merits of veganism to your flat eather uncle. It's about hopping in the sack with a partner (or three) and engaging in some virtuous, old fashioned giving and receiving. Try these positions to add some spice (ooh, is that nutmeg?) to your sex life this December. The holigays are queer!
1. The "Elf On the Shelf"
One cutie perches on the edge of a table. Bae kneels below them and services the cutie with their mouth. Cutie tells bae they've been naughty this year (or nice, depending on what they like to hear).
2. The "Fistmas Cheer"
Two audacious queers sit facing each other. They fist each other with their generously-lubricated right hands while simultaneously drinking eggnog (or a dairy-free alternative) with their left hands.
3. The "Gay Apparel"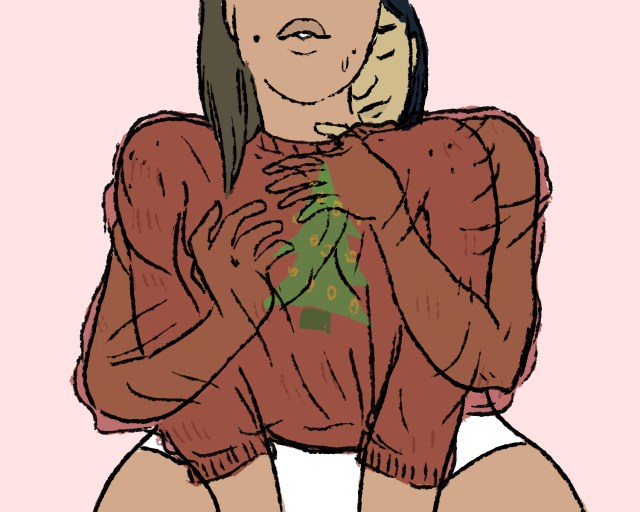 If you live in a cold climate, you understand the challenge of having sex while staying warm. When the weather outside is frightful, you and your sweetie can snuggle into the same sweater and feel each other up.
4. The "Reverse Reindeer"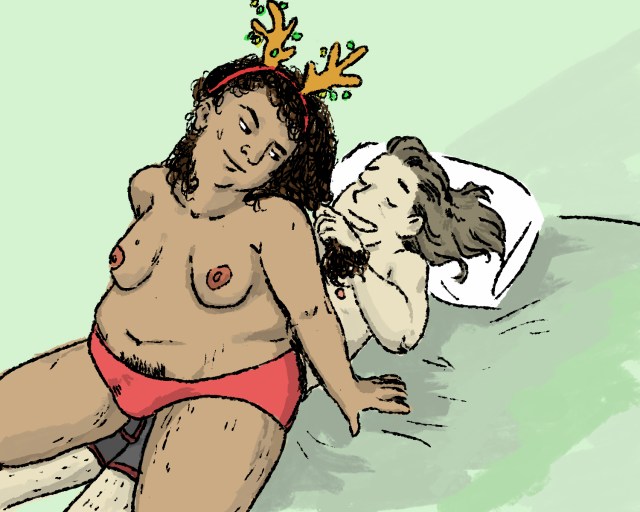 Partner #1 lies flat on their back. Partner #2 faces away from them and straddles their hips. Partner #1 holds partner #2's hair while they bump and grind. Optional: Partner #1 shouts, "Merry Christmas to all and to all a good night!"
5. The "Five Golden G-Strings"
Five or more hotties in skimpy lingerie sit in a line while leaning against each other. They simultaneously reach around to the sexpot in front of them, pull their underpants to the side and perform hand sex of any kind on each other. Every ten minutes, the caboose gets to move to the front so they can have a jolly good time, too.
6. The "Tits the Season"
One well-endowed babe hovers their bosom over an eager cutie's chest. They brush their nipples together until they simultaneously orgasm.
7. "The Christmas Carol"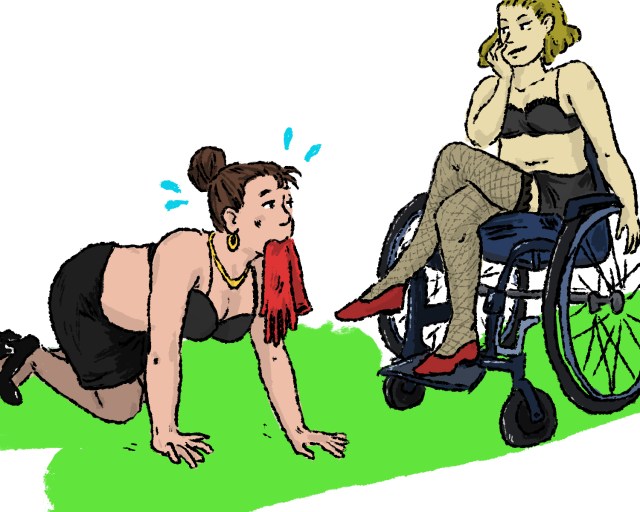 One femme returns another femme's gloves.
8. The "Stocking Stuffer"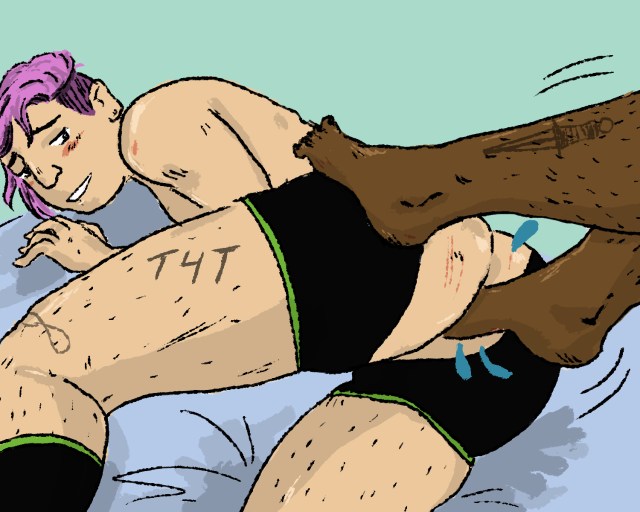 An experienced, lubricated deviant gets on their hands and knees while an experienced dom with adequately-trimmed toenails foots their ass. For an extra merry footing, try Swiss Navy's butt lube, which contains clove oil and smells exactly like a holiday Yankee candle.
9. The "Mall Santa"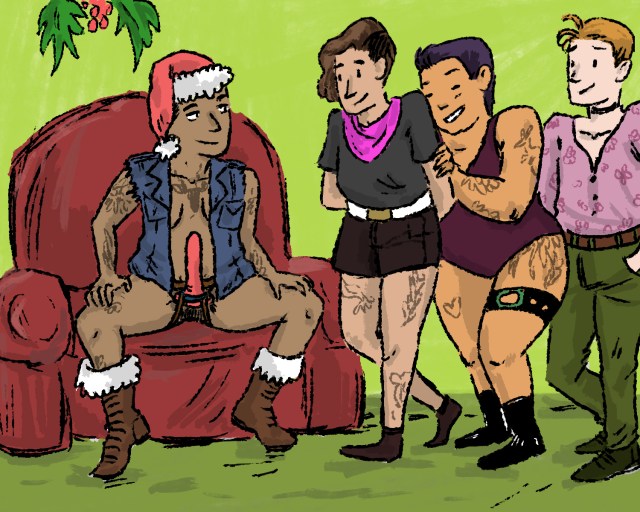 A popular queer straps on a big, red dildo and sits in a sturdy chair. One admirer straddles the dong and takes it for a long, hard sleigh ride while other suitors impatiently wait their turns.
10. The "Fuck the Halls"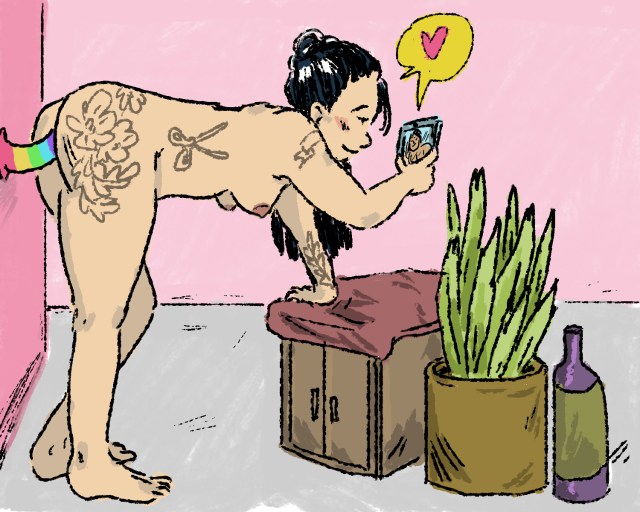 This one goes out to the single folks who want to fa-la-la-la-la themselves into the holiday spirit. Place a suction cup dildo on the wall in a narrow hallway. Brace yourself against the opposite wall while you ram that dildo up your chimney and relish the autonomy of singlehood.
11. The "Figgy Pudding"
Partner #1 sits on partner #2's face and grinds until they squirt into partner #2's hungry mouth and have a happy new year.
12. The "Cum All Ye Faithful"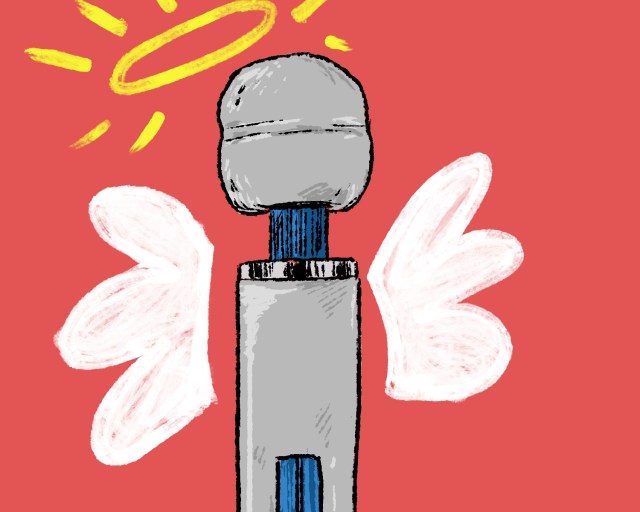 Multiple queers pile their bits onto a Magic Wand on the highest setting.