It's Wellness Vibes Week! We're taking some time at the start of this brand new year to explore wellness culture/wElLnEsS cUlTuRe through a queer lens, specifically the kind of queer lens that you can only find at your local Autostraddle. No celery juice or vagina steaming, just some chill tips for making your spiritual, physical and mental health a little better in 2020.
---
Tarot is a brilliant tool for so many things – from advice to support to encouragement, from solving problems to opening doors, from uncovering motivations to broadening perspectives, these cards offer assistance in a wide variety of ways. But honestly, some days you just need the cards to kick your ass, to rip you apart and help you figure out how to put yourself back together. Whether you're stubbornly ignoring the obvious right decision or have been refusing to leave something bad for you behind, the cards are always willing to give you the brilliant, painful insights that can help you finally take that next step forward.
Not for the faint of heart, the following spreads are for when you need brutally honest advice, a reminder of the shit you already know, or a powerful truth to break you out of that denial.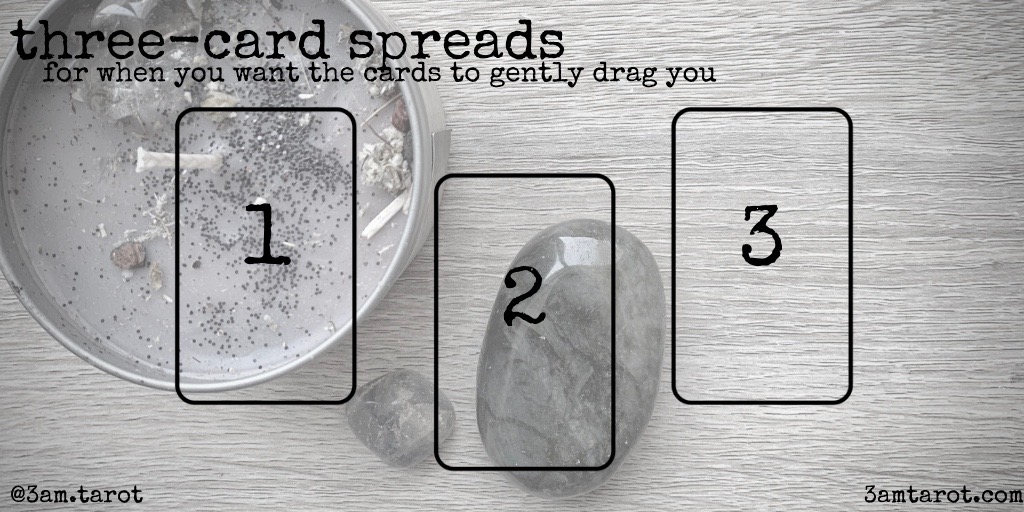 What you're ignoring / How to acknowledge it / What to do next
Tarot is really great for helping you own up to the truths that you already see but haven't been ready to act on. You might know that that fuck buddy is treating you like shit, that the job you thought was a dream is ripping you apart, that a friend is taking advantage of your kindness — but when the cards spell it out so honestly, it becomes harder to look past. Just because you know something is happening doesn't mean you've reckoned with it, and being willing to actually take steps to fix the problem is completely different than simply acknowledging it. Use this spread when you have time for real self-reflection, and be prepared to feel some feelings.
Stop / Start / Continue
It may seem simple, but in my experience this spread cannot wait to tell you what you're screwing up and what you should be doing instead. The cards jump out eagerly, clearly showing you what behaviors are dragging you down and how you can shift to another, more productive path. This spread is especially powerful when asking questions about relationships, career, or general life advice, but be warned – the cards can be brutally honest in this one. Use with caution.
Obvious motivations / Hidden motivations / Something you're overlooking
Sometimes we tell ourselves we're acting in the best interests of everyone around us, but that little devil on our shoulder is actually helping us make a selfish or potentially harmful choice that only benefits us. If you're ready to confront that, this is the spread for you. Pay special attention to the last card, which can reveal another angle in the situation that may be coloring your insights, providing additional pressure, or making you feel like your actions are justified. The things we're ignoring can sometimes shape our actions in huge ways, and confronting those inner shadows can be a game-changer.
What you think you want / What you actually want / What to do about it
Yeah, I know you don't think you want to sleep with that person but consider that you actually, really do. Or perhaps you keep telling yourself you want to quit that job and then finding extremely valid reasons to stay, even taking on more work than you'd planned. If you're being super indecisive about something, struggling against your actions not lining up with what you're telling yourself you're going to do, try this spread out. Brutal truths, paired with concrete advice – it's just the thing to help you get your head on straight.
Listen / Consider / Change
If you're feeling stuck and aren't sure how to get where you want to be, this spread can help you shift your perspective. Like many of these other spreads, this one won't really help unless you're actually willing to listen – but it's also clear as a bell, and doesn't fuck around with a lot of nuance. The cards in this reading can help you see something important about a challenge or situation or struggle that you've been missing, as well as understand how it fits into your perspective and what to do to make progress towards those goals.
Perception / Truth / Accepting it all / Next steps
There are plenty of cards in tarot about false narratives, mental traps, the ways that we twist truth to allow ourselves to be the victims instead of actually owning our role in certain situations. This spread puts everything on the table, calling you out on the version of truth you're clinging to and making sure you understand what's actually happening. Fortunately, it also gives you some breathing room to process these new realizations, and a place to start in terms of making things flow a bit more easily.
Insight into the situation / Your role in the issue / How to fix it / How to move forward
Things are fucked up, and you're absolutely, deeply, completely positive that nothing is your fault – and I hate to say it, but you're probably wrong. If you're dealing with a complicated mess and are trying to ignore those little pangs of guilt that you've been shoving to the side, let this spread ruin your day and tell you how you contributed to the current situation. It'll also help you figure out how to get through it all, but be aware that you may be the one who has to apologize or act first in order to make things right.
Your feelings / Their feelings / What you're missing / What to do next
Maybe they're just not that into you, or maybe your own feelings are so messy and confusing that you've lost sight of which way is up. Crushes, lust, love, and intense friendships can blur together in a wide variety of fucked-up ways, so let this spread give you clear insights into your own emotions and provide some advice on truths you may be missing. I don't typically recommend reading for someone else's emotions or interests if they aren't involved in the reading, as it personally feels a bit icky and invasive for me as a reader – but if you wanna do it anyway, be warned that this spread may tell you things you don't want to hear. If you use this spread, make sure you're ready to listen.