With a strong crew comes a strong leader. I met said leader, Kristen Plumberg, at the Coachella valley oasis that was Mothership Festival in October. The Tegan and Sara Foundation was the sponsored non-profit, and presented an amazing panel featuring the Quin sisters and Mothership founder Laura Wise. When the opportunity came to work alongside Kristen for a night of the Con X Tour I accepted in hot pursuit.
That first hand experience of working a night with said crew of the Tegan and Sara Foundation was incredible. It was the second night of LA shows for Tegan and Sara's earth-shattering, heartbreaking, mind-shifting Con X Tour. This tour is not only special due to the fact it's the Con performed in its entirety, in order live, but because the two have their foundation touring with them!
There's two tables on this tour. One table hosts the solid swag that is Tegan and Sara merch (now you can wear their faces in so many ways!) but also the Tegan and Sara Foundation table with its own personalized products. There's totes, hats and bags with a clean design that's sure to turn heads but doesn't scream Lesbian Philanthropist Agenda.
The Con X Covers profits also go to the foundation! All these collaborations and creations have be executed in under a year; there have been been events and grants underway already. Here's a list of awesome accomplishments pulled from their site.
Helped Zebra Coalition and Orlando LGBTQ Center expand their counseling services for LGBTQ youth in response to spikes in suicide hotlines calls by LGBTQ young people.
Rallied against anti-LGBTQ legislation in North Carolina by supporting Equality North Carolina.
Supported the Audre Lorde Project's community support initiatives for LGBTQ people, including support circles, health and wellness programming, and safe neighborhood initiatives for LGBTQ people of color.
Partnered with DonorsChoose.org to increase LGBTQ-inclusive curriculum in public schools.
Educated concert attendees about healthcare options for LGBTQ women with educational materials.
Hosted LGBTQ youth at performances in cities, including Houston, Los Angeles, New York, Toronto and Orlando.
Activated fans during Tegan and Sara's Stop Desire tour to support local LGBTQ organizations.
After 20 years, eight studio albums and numerous EPs, these two decided to utilize their performance platform for philanthropic purposes. They linked up up with Global Philanthropy Group in 2016 to promote awareness and resources for LGBTQ girls and women, fighting for economic justice, health and representation.
On the Love You To Death tour of 2016, the twins spent time with fans all over North America. It was also titled the "Listening and Learning Tour" — the two were playing shows, reading letters, working with wonderful organizations like GLAAD, the LA LGBT Center, Equality North Carolina, the Audre Lorde Project, the Astraea Foundation, and the Williams Institute. For each show played, there were audiences' voices heard that contributed to a larger conversation at hand about LGBTQ girls and womens' visibility. Even this Oklahoma newspaper had some really rad things to say about that tour!
The Global Philanthropy Group began working in person with the Foundation on this 2016 tour. Briefing and setting up the sisters with different groups was essential to understand what work needed to be done in North America (and beyond, yay world domination!).
This continual eye-opening was enough motivation for the two to create the Tegan and Sara Foundation. Just shy of a year in the works, the foundation is now on tour with them, in support of The Con X. How has it been ten years since that album actually entered my life and forever changed it?
At said table, there's a team of volunteers and workers who get to educate the fans. It truly was a grab bag of really genuine fans that packed the theatre at the ACE Hotel in LA. I've been to two other T&S shows in the past years, but the intimacy of this 1,400 person show was surprisingly strong. There were donation opportunities left and right, with buttons and postcards available for the taking as well. Examples of my favorite two postcards below: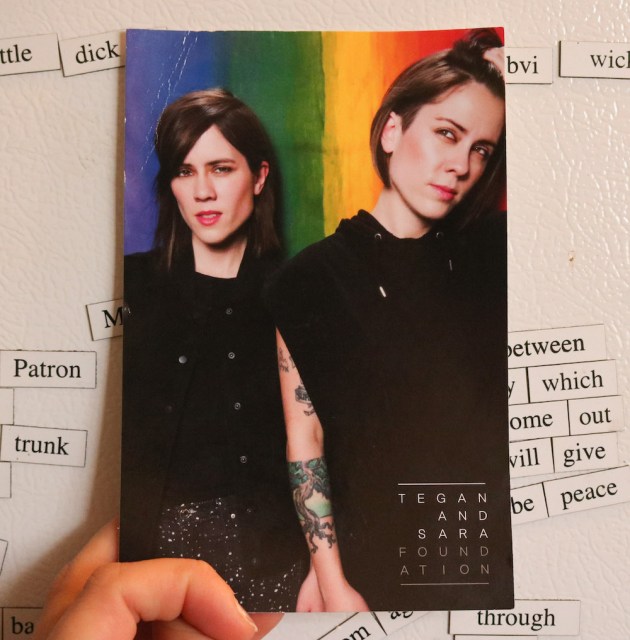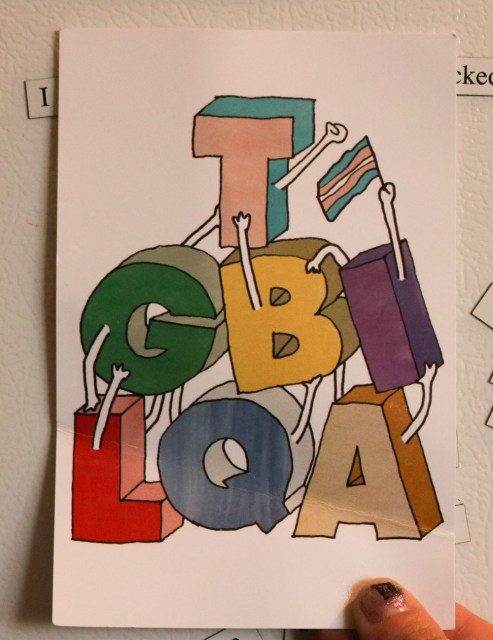 It was empowering working alongside Kristen, two people from the LGBTQ Center in Orange County and the LA assistant of T&S. I chatted with Kristen about her hands on work with the Tegan and Sara Foundation, her past philanthropic work and the crossroads of community and celebrities.
I knew I wanted to be at the intersection of philanthropy and entertainment – Kristen Plumberg
AS: Hi Kristen! You've got a lot of people's' dream job right now: working side by side with the sisters to make the Tegan and Sara Foundation a living, breathing, badass machine.
How did you start working in this field combining fame, fans and fundraising?
KP: I knew I wanted to work in entertainment and for a good cause. I worked within several companies such as William Morris Entertainment and people like Margery Tabankin. From there I worked with entertainment professionals such as Barbra Streisand, J.J. Abrams and Steven Spielberg. From there I went to United Nations Foundation working as their entertainment coordinator — an especially rewarding project working with the Africa Outreach Project and Charlize Theron. Then I was at Human Rights Watch as the event planner for their annual Santa Barbara and Los Angeles Voices for Justice dinners. The world of philanthropy and entertainment is a tight knit, truly strong community, which lead me to my current position at Global Philanthropy Group.
Well it's evident your efforts come from years of experience. Now, how did you get linked up with Tegan and Sara?
This business really benefits from referrals, as all good networking and collaborations do. They were looking to start creating this change in the world, to have a more focused and funded platform and strategy that focuses on those initiatives (the fight for economic justice, health and representation). GPG has represented a lot of great talent such as Madonna and John Legend, so it was an honor to bring on artists that hit home to a different crowd. We were able to really start some work this year with them. They were so keen on having T&S Foundation on the road with them at their shows. A table for people to approach and learn about the foundation.
It was so rewarding to talk to fans about the foundation, how did it feel for you to be on the ground connecting with the people?
You know, so much of making this happen is spent at our desks, behind our computer, on our phones, connecting and creating these plans. Then you have to really strategize how this is going to work. There's twice the amount of funding for gay men's causes than queer women's, the Foundation was born out of a desire to change these statistics and improve lives.
To be real, it was so rewarding to meet the people who are receiving the benefits. It makes the work worthwhile. Always. These personal stories of hope that a social media post made by Tegan and Sara helped a person through anger, frustration and really frightening emotional hardships that their music helped heal. I mean there wasn't a fan with a negative thing to say or do; everyone there was enthusiastic and enlightened by the opportunity to help donate to this cause.
Impactful and important. Their work in 2017 alone has shown such. What's in the pipeline for 2018?
Lots of really amazing in-person events and more. We're using social media to keep everyone up to date with the happenings so stay tuned! More photos of Sara's cat and great narratives are in the works. These two truly work hands-on making this mission happen and it's inspiring to have people care this much. They're on the ground doing the work.
If you can't attend a show, you can certainly still donate! Go to the site and explore the rad shit that's happening. The 2017 trash fire is slowly being put out by strong, queer tears.