Happy Sunday Funday, quilted blankets of my love which drape over the world softly and keep it safe from harm! It's great to see you again. This week was very dark, especially for me. This week was absolute bullshit. This week fucking sucked. And guess what! It's over. Like sands through the hourglass, so are the days of our lives as the end of times approach and we find each other in grief and rise like the phoenix through our compulsion to act.
Dear Friends,
I would like to share this message with you as my response to @realDonaldTrump
love, yoko pic.twitter.com/s1BqfUgfLr

— Yoko Ono (@yokoono) November 11, 2016
I am here today with a spin on the typical "batch of good gay news" thing I've been doing as a professional optimist for like, six years. I am here today to bring you as much joy and levity and as many silver linings as possible to help you cope with a world which, quite frankly, makes no sense and feels incredibly unfair! My dreams are dead, I've been home for a funeral, and I dropped 400 bucks on a fucking locksmith so I dunno about you but I'm definitely in need of a fucking pick-me-up and a goddamn cigarette. So let's roll!
The Good News You Might've Missed During the Coming of the Apocalypse on CNN
+ "Lesbian incumbents had a good election night in Alameda County." Who knew! Now you do!
+ Kamala Harris, California's new African American Senator-Elect, has promised to protect undocumented immigrants in the wake of the end times that are surely upon us.
+ Meet Catherine Cortez Masto, the first-ever Latina elected to the Senate. She's not fucking with that dude who may or may not be our President IDK I blacked it out.
+ Kate Brown made history Tuesday as the first openly LGBT person to ever be elected Governor.
Hey Look, Obama's Dogs Are Still Perfect
Always remember. Never forget. 
Obama will remain as president until today's winner is officially inaugurated in January. Then, Obama and his family — wife Michelle, daughters Malia and Sasha — will vacate the White House for the next First Family. But it will also be moving day for two more beloved American icons; Obama's excellent dogs, Sunny and Bo.

The pair of Portuguese water dogs have been much-loved fixtures of the Obama administration. Just look at them. What fantastic doggos.
Let's Get Together and Feel Alright
It's been a dark week, but people are coming together to show support and spread love.
+ I will not invoke his name, but since some shitty dude won a bunch of electoral votes on Tuesday Planned Parenthood has seen record donations coming in. 
+ Some lawyers are offering up #TransLawHelp for free to help you prepare for the inevitable crumbling of our nation.
+ Get married in Philly before the Inauguration and this photographer will document your everlasting love for free.
+ Singer-songwriter Mitski is offering free guest spots to her shows to LGBT folks in red states. She also wants to help them get to and from the shows safely.
94 Photos of 106 Lesbians Getting Married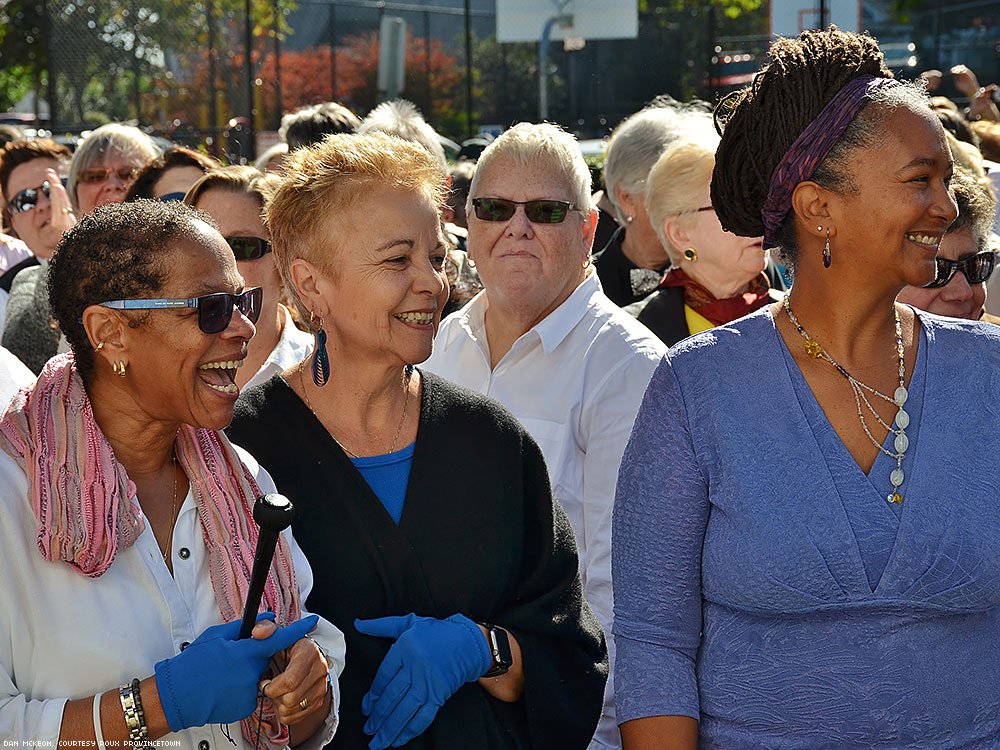 These High Schoolers Are Bigger People Than Millions of Americans
Students at a Nashville school were not pleased with Tuesday's electoral map. So they fought back with love and kindness. Now I'm crying.
For many of us, it was hard to wake up this morning. For the Upper Elementary and Middle School students at Abintra Montessori School in Nashville, Tennessee, scary news turned into immediate action, and it's the kind of inspiration you definitely need to see right now. Students who arrived at school early began making signs that read "Not Afraid," "Stronger Together," and "Love and respect for all. We love you LGBTQ! Women! Immigrants!" They greeted everyone who pulled up in the drop-off line with hugs and cries of love, a beautiful surprise on a historically tragic day. Office and Communications Manager Emily Allen — who also takes photos for the school and leads diversity discussions with older elementary students — had no idea she'd be greeted this way this morning, but with this school's amazing gender and sexuality education programs for kids, it's no surprise these students were so ready to spread love.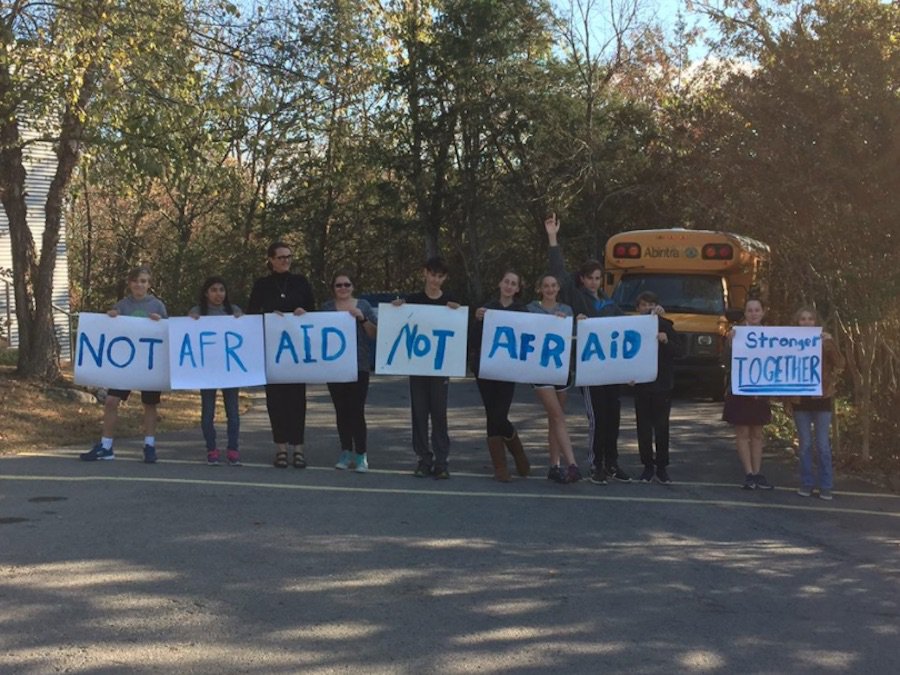 Canada and Denmark Are All Of Us
Just a casual reminder that some nations settle world affairs by marking land with booze bottles.