George Floyd was murdered on May 25, 2020, and we stand in unequivocal support of the protests and uprisings that have swept the US since that day, and against the unconscionable violence of the police and US state. We can't continue with business as usual, which includes celebrating Pride. This week, Autostraddle is suspending our regular schedule to focus on content related to this struggle, the fight against white supremacy and the fight for Black lives and Black futures. Instead, we're publishing and re-highlighting work by and for Black queer and trans folks speaking to their experiences living under white supremacy and the carceral state, and work calling white people to material action.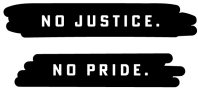 ---
---
This weekend, Carmen compiled a list of 70+ bail funds that you can donate to, and we still encourage that wholeheartedly. However, many major bail funds are asking for support to be redirected elsewhere, and many localized, on-the-ground efforts are in need of funding immediately so they can continue doing the vital work of community care. In any movement, the work of caring for community happens day to day at a hyper local level.
To that end, if you are looking to donate to vetted groups or individuals doing this work contributed by people in those same communities, we encourage you to use this list as a resource. And if you live in these communities and are looking for any variety of care – food, shelter, COVID-19 testing, or other organizing efforts – we hope these options will be a good starting place for you to find what you need. This post will serve as a living document, and will be updated as we receive more information. We hope it will grow to be much more robust, and we are grateful to everyone who helps it grow. If you know of efforts in your community that should be on this list, please fill out the form at the bottom of this post so we can include their information and others can send monetary support.
If you do not see your community on this list, have set up a regular donation to your local bail fund (which you can find either in Carmen's post or by checking out National Bail Fund), and still want to give more money to support protests, the National Lawyers Guild has been protecting peoples' and progressive movements' right to protest and has been working in prison and police abolition for years. They have local chapters and can be found providing support to protesters across the country at this moment.
We'll try our best to keep up with info as it comes in, although our staff and ability are necessarily limited. Please don't share any information that could identify people organizing; we won't be able to post it! If info here is incorrect or you need us to change or remove it, please email rachel@autostraddle.com and cc vanessa@autostraddle.com.
Know of a resource that should be on here and isn't? Tell us about it here.
Navigate mutual aid funds by state:
California
Oakland
Black Earth Farms is a grassroots Black & Indigenous Agroecological farming collective. They've been giving food to protestors in the east Bay Area. Follow them on Instagram @blackearthfarms for frequent updates. Venmo @blackearthfarms or CashApp $blackearth to support their work.
---
Connecticut
New Haven
People's Medics of New Haven (New Haven, CT): collective of healthcare workers and trained volunteers providing medical support (water, facemasks, hand sanitizer, etc.) to protestors. Donate with Venmo.
CTCORE-Organize Now! Mutual Aid Network: CT-wide organizing for reparations and liberation, organizer of COVID-19 mutual aid network.
Semilla Collective (New Haven, CT): New Haven-based mutual aid network focused on supporting undocu+ communities during COVID-19.
Citywide Youth Coalition (New Haven, CT): youth-led organization calling for divestment from police in New Haven public schools and reinvestment in counseling and mental health.
Justice for Jayson (Bridgeport, CT): youth-led abolition organization formed in the wake of the murder of Jayson Negrón by Bridgeport PD in 2017.
Radical Advocates for Cross-Cultural Education (Waterbury, CT): decarceration and antiracism organization focused on police abolition and dismantling the school to prison pipeline. More recently, they've been supporting BLM protests in Waterbury, where police have arrested 28 protestors & 2 legal observers.
Black Lives Matter New Haven (New Haven, CT): Black, significantly QTWOC-led local chapter engaged in decarceration, police abolition and antiracism activism & education. Second donation link here.
Roundup of support for groups leading direct actions across New Haven County
In addition to the CT Bail Fund and BLM New Haven FB accounts linked above, our local paper, the New Haven Independent, has done some decent reporting on local protests.
New Haven Pride Center: case management and food distribution during COVID-19.
---
Washington, DC
Ward 5 Mutual Aid: "DC is split into 8 wards, or giant neighborhoods. I live in Ward 5 and have been working with the Ward 5 Mutual Aid group to provide service navigation, limited cash assistance, groceries and masks to our neighbors. We're a grassroots collective of all volunteers in the neighborhood. Each Ward has its own independent mutual aid "operation" and we work semi-independently of each other — if someone from another ward reaches out to us we will direct them to the appropriate ward for assistance. I don't have info on the other 7 ward's fundraising platform but I can't say enough how amazing this group is. It's been operating since mid-March and completed 900 some grocery requests. The city is so strapped that it sends people to these mutual aid groups when they need food and supplies."
East of the River Mutual Aid Fund: "Black Lives Matter DC is raising funds for our Mutual Aid Network East of the River in Washington, DC. We are collecting and purchasing supplies to make hygiene bags, sack lunches, and provide other material support that we have started distributing. We are working to support as many of our neighbors who are housing and food insecure as well as others that need support East of the River in Wards 7 & 8 as possible."
DC area restaurants supporting Black Lives Matter: A running list of restaurants and bars donating proceeds to Black Lives Matter DC and other racial justice organizations; planning events in support of BLM; or providing protestors with food and supplies.
DC lawyers and legal groups offering free legal help to protesters
Casa Ruby provides social services and programs catering to the most vulnerable in the city and surrounding areas. The organization, which is run and led by transgender women of color, started as an idea almost 30 years ago when Ruby Corado arrived in Washington, D.C., and there were no services to support her needs as a young transgender Latina immigrant.
SMYAL (Supporting and Mentoring Youth Advocates and Leaders) supports and empowers LGBTQ youth in the Washington, DC, metropolitan region. Through youth leadership, SMYAL creates opportunities for LGBTQ youth to build self-confidence, develop critical life skills, and engage their peers and community through service and advocacy. Committed to social change, SMYAL builds, sustains, and advocates for programs, policies, and services that LGBTQ youth need as they grow into adulthood.
Take-Out to Help Out is focused on helping LGBTQ community in Washington, DC. We are purchasing meals from LGBTQ-owned businesses that have been affected by the economic effects of the pandemic, and delivering them to nonprofit organizations that serve LGBTQ+ youth at risk of homelessness. Our first nonprofit partners are SMYAL and Casa Ruby.
Whitman-Walker Health: a non-profit community health center in the Washington, D.C. metropolitan area with a special expertise in HIV/AIDS healthcare and LGBT healthcare.
COVID-19 testing (including free, walk-up)
---
Florida
Miami
Food Not Bombs Miami is currently doing a food and resource share ever Sunday at 5pm in Downtown Miami. If you are able to give out food Sundays feel free to sign up for distribution via the Volunteering Tab in the Main Menu above. You can also volunteer to help cook, drive, and do outreach.
@fempowermia (Instagram) and @miami_dreamdefenders (Instagram) work together to organize events and bail out arrested protesters. They both focus on abolition where fempower the bailing and community building and Dream Defenders focuses on organizing protests and getting involved with the local politics.
Tallahassee
Tallahassee Community Action Committee is leading the protests against the City of Tallahassee leadership and Police Department after the deaths of Tony McDade and Mychael Johnson. They're "a collective of transgender, non-binary, queer, black, brown, cisgender, and white organizers for justice." They also advocated in favor of a city-wide conversion therapy ban earlier this year (which Tallahassee now has) and has condemned our current chief of police since his nomination for the position last fall. They've published a statement today (6/6) on the misgendering of Tony McDade by the City of Tallahassee leadership.
Follow and support TCAC:
Facebook
Instagram
Twitter
Blog
PayPal
Fundraiser info (donate via PayPal)
COVID-19 testing, free until June 15. Free testing is available at FAMU Bragg Stadium (currently) until June 15. The site is open daily, including weekends, from 9 a.m. until 6 p.m. Tests are free, and no physician referral is required. The site is open to anyone who wants to be tested – symptomatic, asymptomatic and those who want to know their status.
---
Georgia
Atlanta
MAMA (Metro Atlanta Mutual Aid Fund) is a mutual aid fund that supports marginalized communities impacted by COVID-19. You can donate here.
"The Metro Atlanta Mutual Aid Fund was created by community members from metro-Atlanta who have witnessed the needs of their neighbors at this time of crisis. While COVID-19 is a health pandemic, it has crippled economies and interrupted markets, causing wide-spread unemployment. Our concern is not with fixing the economy but instead with meeting the needs of people left with uncertainty and disruption.
As social distancing becomes the new normal, community aid is more important than ever for the most vulnerable. These funds are only intended for members of the most vulnerable, displaced and marginalized target-groups who are residing in the prioritized counties of Fulton, Dekalb, Clayton, Douglas, Cobb, Gwinnett, Henry, and Rockdale. Funds are targeted towards Black, Indigenous, and peoples of color. We will give special consideration within these communities to women/femmes, non-binary and queer folks, the poor and working class, people living with disabilities, and undocumented and refugee members."
---
Illinois
Chicago
Brave Space Alliance is the first Black-led, trans-led LGBTQ Center located on the South Side of Chicago, dedicated to creating and providing affirming, culturally competent, for-us by-us resources, programming, and services for LGBTQ individuals on the South and West sides of the city. "We strive to empower, embolden, and educate each other through mutual aid, knowledge-sharing, and the creation of community-sourced resources as we build toward the liberation of all oppressed peoples."
Assata's Daughters is a Black woman-led, young person-directed organization rooted in the Black Radical Tradition. AD organizes young Black people in Chicago by providing them with political education, leadership development, mentorship, and revolutionary services. Through our programs we aim to Deepen, Escalate, and Sustain the Movement for Black Liberation.
BYP100: Founded in 2013, BYP100 (Black Youth Project 100) is a member-based organization of Black youth activists creating justice and freedom for all Black people.
Project NIA works to end the incarceration of children and young adults by promoting restorative and transformative justice practices.
My Block, My Hood, My City – Small Business Relief Fund "Out-of-state looters have taken hammers and batons to our communities, breaking windows of small businesses and spraying graffiti, using this crisis as an opportunity to tear down Black communities. Funds raised will go to support our ongoing operations and efforts to repair small businesses." (Donate or, if you are an impacted small business, request relief.)
---
Massachusetts
FANG Community Bail Fund: The FANG Collective, based in Rhode Island, started its Shut Down ICE campaign in August 2018. Now they say: "Please help us free people who are being held on bail in local jails in Massachusetts and Rhode Island. The conditions and treatment of people in jail is violent and cruel. This is especially true during the current COVID-19 pandemic. With local, state and federal agencies failing our communities and continuing to lock people up, we will resist by bailing people out!"
Boston
Boston Solidarity Supply Distro
Worcester
Mutual Aid Worcester: Mutual Aid Worcester orignated as a Facebook group for people from Worcester, MA and the Worcester area to share resources and support for the community in response to the COVID-19 crisis. This site is a collection of the resources shared within that group and is informational only. Join the (private) Facebook group here.
---
Missouri
St. Louis
Action St. Louis was founded by activists politicized after the killing of Michael Brown and the Ferguson Uprising. We fight to build power for Black people in St. Louis.
There are so many different Transgender support, advocacy, educational, and ally groups here in the metro area, and the Metro Trans Umbrella Group wishes to unite us all. By Trans for Trans – Bringing together the Transgender Community in the St. Louis metro area.
The Close the Workhouse campaign aims to attack mass incarceration, without legitimizing or justifying the continued caging of people as punishment. We call for the closure of the Medium Security Institute, better known in St. Louis as the Workhouse, an end to wealth based pretrial detention, and the reinvestment of the money used to cage poor people and Black people into rebuilding the most impacted neighborhoods in this region.
---
Minnesota
Minneapolis
Living Document on Local Needs for Minneapolis (includes Immediate Need, Organizations and Groups, Individual Funds, Lawyers, Local Business Rebuild, George Floyd Family Fund, Darnella Frazier Healing Fund, and a National List)
Women for Political Change have been organizing frontline support, transportation, supply runs and donation distribution all week; this is their mutual aid fund.
Food and safety needs for residents of Little Earth of United Tribes.
Local resources providing psychological, emotional or spiritual healing for Black folks in need of funds:
A thread of GoFundMe's and donation sites for the local Minneapolis/St. Paul black and brown owned businesses that need help right now (destroyed at the hands of white supremacists)
Fund for businesses in the Northside, historically disadvantaged and currently impacted
---
Nevada
Reno
Washoe County Mutual Aid Solidarity Network is an all-volunteer grassroots network operating in Washoe County, Nevada, connecting with multiple coalition partners throughout the region. They are doing some work themselves but also collaborating with other local groups and orgs.
Washoe Food Not Bombs provides food to our local houseless community (who have been especially recently affected by sweeps and city wide curfew) and is planning to put on an online fundraising concert soon for bail funds and related costs. Find them on Twitter and Instagram (@WashoeFNB on both).
Free COVID testing for Washoe Country residents.
This is a bail fund for all of Nevada! (used to only be Vegas, hence the name)
---
New York
Brooklyn
Equality for Flatbush: Equality for Flatbush (E4F) is a people of color-led, multi-national grassrootsorganization that does anti-police repression, affordable housing and anti-gentrification/anti-displacement organizing in Flatbush, East Flatbush and Brooklyn-wide.Founded in June of 2013, Equality for Flatbush was created as a direct response to the increase in tenant and police harassment due to gentrification.We have only 2 goals: to End NYPD murders and to Stop the displacement of low-to-middle income people from our community.We organize our communities for social change and justice through street outreach, social media campaigns, political advocacy and direct action.Donate here or on PayPal.
Live updates from Equality for Flatbush on Facebook, Twitter, and Instagram.
Contact Brooklyn Shows Love Mutual Aid Project about grocery/supply deliveries, medication pick-up/drops, tenant/rent-strike organizing support, and other forms of material aid. All contact info on website. Donate to the project here: BKShowsLove Emergency Fund to Feed Brooklynites.
Brooklyn Shows Love COVID-19 Resource List
---
North Carolina
Charlotte
To support bail funds/jail support in CLT: $WereStillHere on CashApp, ResistanceIsBeautiful and CommunityJustice on Venmo (first one hit withdrawal limit this week (6/4)).
The organizers are standing outside the jail in Charlotte and gathering folks to wait outside and provide support to people as they leave jail. They provide food, drinks, phone calls, transportation and lend an ear. They are there every day and constantly asking for volunteers to show up. Their twitter explains how to show up and what to prepare for (but basically "just show up.") At times they need supplies but usually the call is put out on Twitter first. There is an address to deliver supplies that they tweeted out recently.
Emotional Response Collective Support Request Form
For reliable live updates and calls for resources: @CLTUprising, @QueenCityNerve – local alt newspaper covering the protests and the police misconduct and violence happening at the protests. Were on the ground when police boxed in protestors and began tear gassing and shooting at them on Tuesday night.
Chapel Hill/Triangle area
The Anti-Racist Activist Fund: Support for activists facing criminal charges in the fight against white supremacy!
Food Not Bombs 919 provides free meals to people in the community who need them. Venmo fnb919.
---
Pennsylvania
Pittsburgh
Bukit is Pittsburgh's bail fund, and is being heavily utilized right now
Local resources supporting trans and queer people right now that need funds:
The Steel Smiling Pittsburgh Black Mental Health Fund: Their 10-year vision is to connect 100% of Black adults in Pittsburgh to 1 mental health engagement that improves their Quality of Life by 2030.
---
Rhode Island
AMOR RI (Alliance to Mobilize Our Resistance, RI) is "an alliance of grassroots organizations, providing community support in Rhode Island and southern New England for victims of hate crimes and state-sponsored violence." Most of the organizations in the alliance are led by POC. Donations go towards legal, psychological, and other services to protect and support community members impacted by violence, particularly state-sponsored violence. Donate here.

AMOR's COVID-19 Response Network (a mutual aid network of over 100 community volunteers)
FANG Community Bail Fund: The FANG Collective, based in Rhode Island, started its Shut Down ICE campaign in August 2018. Now they say: "Please help us free people who are being held on bail in local jails in Massachusetts and Rhode Island. The conditions and treatment of people in jail is violent and cruel. This is especially true during the current COVID-19 pandemic. With local, state and federal agencies failing our communities and continuing to lock people up, we will resist by bailing people out!"
---
Tennessee
Knoxville
Free Black Mamas Bailout Knoxville – venmo @EndMoneyBail-Knoxville
---
Texas
Austin
Dallas
Harvest Project Food Rescue is a community project focused on assisting underserved communities in Dallas County by providing fresh produce to families in need at no cost.
The Afiya Center is a reproductive justice organization founded and directed by Black women, established in response to the "disparities between HIV incidences worldwide and the prevalence of HIV among Black women and girls in Texas."
House of Rebirth is a transitional housing initiative led by Black trans people to assist Black trans women who are adversely affected by intersectional oppression. The House of Rebirth is a community safe space and a place of residence for low income Black trans people in Dallas.
San Antonio
---
Wisconsin
Milwaukee
Milwaukee Freedom Fund: Bail fund and protest support
---
Contribute to this living document of mutual aid and community care
Please help us add to this list and create a living document resource that allows people on the ground to find community care easily, and allows those of us with the ability to offer financial support to give our money to the organizers on the ground who need funds most immediately. If you can tell us about efforts occurring in your community through this form, we would be very grateful.