Hello and welcome to the biggest crossover event IN THE HISTORY OF THE MULTIVERSE.
Just kidding I have no idea if this is the biggest crossover. But four shows crossing over at once FEELS like a brand new thing and it was really nice to have all of our friends hanging out. I do think that they leaned too heavily on Oliver and Barry, which makes me appreciate our female-driven Supergirl and Legends of Tomorrow even more than I already did.
We have a lot to get through, so let's get started. We start in Central City with The Flash.
And what we start with is an alien invasion.
Lyla comes to Star Labs to give everyone the rundown of what this crossover is going to be about: There are aliens on Earth, they've been here before, and they do not come in peace. Knowing they're in over their heads, Barry goes to get reinforcements.
His first stop is scooping up Oliver and Diggle from their dumb fight with their dumb new Villain Vigilante and tellling them about the aliens. Thea had dropped by to get Oliver to sign papers but she's very excited by this news and is willing to come out of retirement to sick Speedy on the bastards.
Felicity is concerned everyone has lost their minds, but Barry says they have more people they can recruit. For example, Stein and the Legends (a nickname Thea called "egotistical but catchy"), who they call from time and space, and Kara Danvers, who Cisco reluctantly goes with him to fetch. (He's still salty about the Flashpoint stuff so he's not speaking to Barry about personal matters at the moment.)
We get to see the scene we saw during Supergirl again, including Kara's very determined Ready to Help face.
They go to a hangar and Barry introduces Kara to Team Arrow, Team Flash, and Team Legends.
Oliver is surprised because she doesn't look like an alien, but Kara is quick to show them what's so super about her by flying up in the air and using heat vision to draw her crest in the ground.
Felicity. Is. PUMPED.
They decide that Barry will be in charge, since it was his idea to get everyone together; he's used to working as a team, but really he's just a mouthpiece for Oliver's idea, which is to use Kara and her powers as training for the fight against the real thing. Sara thinks this puppet show is hilarious and doesn't hesitate to say so.
When they break to get ready for training, Barry proudly brings Kara over to Oliver, so excited for two of his favorite people to meet. Oliver barely looks her in the eye and basically just says, "Don't hold back," and she agrees but she's concerned he doesn't like her, a very rare occurrence for her. Barry assure her that he's just a major grumpface and that he'll warm up to her.
Stein and Jax take this little break in the action to tell Barry and Oliver about the message they got from Future Barry about not trusting anyone when they are called back to help in a war, but Oliver says they can only deal with one totally wackadoodle problem at a time.
Training is really great and actually everything I ever wanted out of this crossover. All of these great warriors who have traveled through space and time, many of them trained by the League of Assassins, some with fancy science suits or metahuman powers…all of them very easily knocked down by Kara, who looks damn delighted.
While picking themselves up from their most recent knock-down, Thea admires the badassery of Supergirl, and Sara admits it's "kinda hot." It's also kinda precious.
Eventually Oliver asks Kara not-a-hair-out-of-place Danvers for a five-minute break. Which must have been very humbling for him and I loved it. While they're on their break, Cisco finds Barry's message and makes Barry 'fess up about Flashpoint. Sara is so pissed. Here she is fighting the temptation to save her sister at every turn and Barry's just mucking up timelines all willly nilly?
Diggle is also upset (though not as upset as Twitter) to learn that John Jr. used to be Baby Sara. But the President (not President Wonder Woman on this Earth) has been kidnapped by the Dominators so they don't really have time to argue about Barry's mistakes. Since everyone is having a hard time trusting Barry right now, and Oliver seems to be on his side, they're both benched, and Supergirl will lead the charge to save the president and she'll take along Sara, Mick, and Firestorm.
When they get to a building, Kara uses her x-ray vision to make sure they're in the right place, inciting some lewd comments from Mick. Sara is SO EMBARRASSED that Mick is being gross in front of a pretty girl.
Side note, Entertainment Weekly posted a list of things that ended up not being filmed for the crossover due to time constraints and one was basically my dream come true: Sara asks Kara if she wants to get a drink after all this is over, and Kara is like, "I think you'd rather meet my sister…" ALAS. WE HAD TO LISTEN TO WALLY CONTINUE TO WHINE EVEN THOUGH HE HAS THE POWERS HE'S BEEN WHINING ABOUT WANTING.
Anyway, they go in to save the President, but it's a trap. The Dominators kill the President and brainwash our friends. As their brains are being taken over, Mick, who had previously said he would never call her Supergirl and would only ever call her "Skirt" and would never want her help, cries out, "Supergirl, do something!"
Mmmhm.
Felicity and Cisco can see Supergirl, Sara, Mick and Firestorm going ham on some innocent people. They send Oliver and Barry to figure out what happened, but Wally knows they can't do it on their own, especially with Supergirl on the wrong side of this, so he goes to help…and immediately gets knocked out.
Barry has an idea: he tells Oliver to lead everyone but Kara into a bunker and challenges Supergirl to a race across the city.
He leads her to where the mind control hub is and tricks her into breaking it, snapping everyone out of their possession and returning them to normal.
Most of our heroes gather to celebrate and decide what comes next (Supergirl is scanning the city for more hubs).
But before they get very far they are abducted. Just beamed right the fuck up. Well, everyone except for Barry.
And then we seamlessly move into Arrow, though at first it doesn't seem that way.
Oliver is running through the woods (like he did for the first five seasons) and runs all the way home. To his fiance. Dinah Laurel Lance.
But of course it's just a hallucination, because they're all in pods on the Dominator spaceship.
Cisco runs to the Arrow Cave to help out, and uses his vibing powers to find out where their missing friends are. Curtis is hella excited because he gets to hack alien tech, though it doesn't go well at first. There is tech they can use, but an evil cyborg doctor has them. (Which…what?! I hope we learn more about her next week??)
Back in the hallucination — we'll call it Arrowpoint, since it's basically Oliver & Company's Flashpoint — Thea gives her big brother a "Hōzen" for an engagement present (which is another throwback).
Then Mama and Papa Queen stroll in, alive as can be, beaming at their beautiful grown children.
Outside, another reunion is happening in the form of the Lance sisters finally being face to face again.
Sara takes note of Laurel's necklace though, and when she says it's a canary, Sara twitches and has a series of choppy flashbacks that she can't quite make sense of.
Later that night in Arrowpoint, Oliver and his father are attacked by a thief on the street and Oliver accidentally channels his inner Arrow but before he can kick ass or be ass kicked, a hooded vigilante saves him.
When he gets back and a worried Laurel greets him, Oliver realizes he's starting to have flashes of memory, too — including how Laurel looked during her final hours in the hospital.
That night is also the rehearsal dinner, where Sara and Laurel are being cutie patooties, making my heart ache for everything we could have had.
Laurel is worried that Oliver won't show, since he's already late and was acting weird. Sara assures her sister that Oliver loves her, and Laurel jokes that at one point she worried that Sara and Oliver would get together. Sara laughs this off and says she prefers girls, then proceeds to flirt with one while Laurel meets Arrowpoint's Ray Palmer.
And I do want to talk about this for a second. Because I saw some people on Twitter worried that this statement meant that Legends was pulling away from Sara being bisexual and making her a lesbian. Which I don't think is the case. I think if that's what they were going for, Sara would have phrased it more along the lines of, "You know I'm not into guys." I think all the stuff with Snart and what has previously been equal opportunity flirting shows that they know she's bi and will stick by that. And I could be giving them too much credit here, but based on what they've been doing in this 'verse with Alex Danvers, I think they're actually portraying something I think is kind of a rare thing. (I mean, rare is an understatement since it's a rare subset of the already rare bisexual representation.) I think they're having Sara be a bisexual women who, as she said, prefers women.
One of the biggest misconceptions about bisexuality (though there are many) is that it's 50/50. You are equally as likely to be attracted to men as women. When, in reality, it's much more nuanced than that. It's a spectrum. I know bi women who consider themselves 70/30 with a preference to women, 90/10 with a preference for men, etc. So I think having Sara be bi but mostly date women is a super cool thing. Assuming that's what they're doing and that they keep having her call herself bisexual like she did in the '50s episode. But we'll see! Either way, I'd love for her to have a real relationship with someone soon. The flirting and calling ladies hot is great and fun — but if they're not careful they could go too far into "slutty bisexual" trope territory. Basically what I'm saying is they need to bring Nyssa back. #brokenrecord
Anyway, when Sara meets Ray, they have a flash of remembering but try to push past the weird feeling and focus on the party.
Elsewhere in Arrowpoint, Oliver finds Arrow HQ purely on instict, scaring the crap out of Felicity, and royally pissing off this reality's Hood/Green Arrow, who is actually Diggle.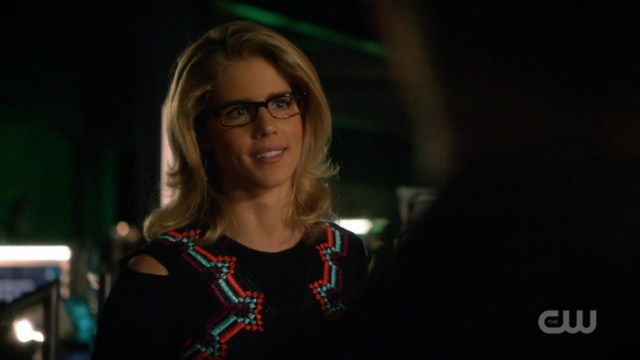 Oliver tries to sort out his jagged shards of memory and tries to help Diggle remember too, and maybe they can tell it's not really Felicity because she has a Stranger Danger mentality that the real Felicity doesn't have.
Eventually he pisses off Diggle, because Diggle is this world's Oliver, and gets kicked out.
In the real world, while on the hunt for Dominators, Wild Dog is openly rude to our precious cinnamon rolls Kara and Barry because they aren't humans and therefore must be evil. They are confused because has he been paying attention?
The next day in Arrowpoint, everyone is getting ready for the big Lauriver wedding. (Olivel? Did people ever even ship them? I dunno.) Thea hugs her mama and in a flash she remembers everything, so she hugs her mama a little tighter.
Oliver walks in on Sara helping Laurel get ready and Sara is PISSED. She tells him that he should be grateful she couldn't kick his ass ten times over (which is funny because she can).
Oliver panic-apologizes to Laurel and starts rambling about wanting to get married right this very second, wedding plans be damned; he's flailing because this reality feels like it's slipping through his fingers and he doesn't understand why. But to further prove his point, Diggle shows up with more memories, and says he saw a building that didn't feel right. Oliver saw it too; it says Smoak Technologies. Because no matter what dimension or simulation we're in, Felicity Smoak is their beacon.
They go outside to figure out what to do when the simulation sends a failsafe in the shape of Deadshot. Sara appears and kills him on instinct, and then is kind of like GUYS I'M A NINJA WHAT IS HAPPENING.
They deduce that they're in a shared hallucination and Sara remembers getting abducted with Ray and Thea. They have to get to Smoak Technologies and they have to go now.
In the real world, Wild Dog tries to fight the cyborg doctor and ends up almost getting himself murdered. But Barry and Kara save his ungrateful butt and look adorable doing it, with dramatic wooshing and hair flips and smiles and even a high five.
Wild Dog "doesn't do apologies" and calls her "sweetheart" but says he's glad that some people who have powers do in fact use them for good. And he thanks them for not murdering him for sassing them. And since they're good people who know they're good people and don't need this jerk in a hockey mask to tell them they're good people, they smile and accept his non-apology.
Sara finds Ray and he's glad someone put words to the weird feelings he's been having, so he's in. Next she goes to talk to Thea but she's like, "Yeah, no shit this is a hallucination." But she wants to stay.
Oliver tries to talk some sense into his sister but she fights him with so much logic: They're just vigilantes, there are people like Flash and Supergirl out there now. And what comes next? They're on an alien spaceship, it's not like they can stroll home. Arrowpoint is real enough for her; she doesn't want to lose her family, not again. So Oliver hugs her tight and says goodbye and wishes her all the happiness this place can offer.
Outside, the simulation throws more failsafes at them, this time it's Deadshot plus Merlyn plus Darhk plus people from HIVE. Everyone fights their demons, including Thea, who reiterates that she can't lose her family, but this time is talking about the people fighting beside her.
Thea gets to kill Merlyn, and Sara gets to kill Darhk, which is very satisfying to watch. But also there's this really cool moment where Thea shoots an arrow to Sara (not unlike she shot one AT Sara once) and Sara catches it and shoves it into Darhk's middle (not unlike he did to Laurel once). It's a revenge like she'll never get in the real world, and I'm glad we got to witness it.
After they're done with the bloodshed, they're faced with their final challenge. Laurel, clad in her wedding dress, comes running outside, crying out for her sister and begging her and Oliver not to leave.
They have to be a different kind of strong this time, but they hug this Laurel close, and Sara says a goodbye she didn't get to say to her sister, and they head to Smoak Technologies. There they find a portal and hop out of Arrowpoint, Oliver pausing a moment to let all of the people from their past saying some of their most inspirational lines of the past 100 episodes.
Once in the spaceship, the gang finds a dropship, and despite Oliver thinking she would be the last one to know how to fly a space pod, Thea is the one who gets it to drop off the mothership. They're eventually intercepted by the Waverider, and realize they were abducted because they were the only non-meta humans there. And even though they're free, they have a bigger problem: The Dominator Mothership is heading right for earth.
Which leads us right into Legends of Tomorrow, because the next step in their plan to stop the alien invasion is to go back to the '50s to steal one and interrogate it.
The teams split up again. Nate, Amaya, Mick, Felicity and Cisco will time travel while Barry goes to talk to the new president, bringing Sara and Ray as backup. Kara, not used to being the last one picked for dodgeball, volunteers to help with backup, which: Kara. The strongest one there by a lot. The only one whose show is named after only her. Offering to be backup. Bless. But Oliver pulls her aside instead.
Oliver wants Kara to stand down. She's an alien, and he feels threatened by that fact. He tries to tell her it's not personal, but she's a Kryptonian on Earth and a woman in a patriarchal society, she's heard this kind of BS before and it's absolutely personal.
But she doesn't argue with his request for space, not that he gave her much of an option.
Team Time Travel heads back to the 50s, and Cisco and Felcity are so thrilled…until they're told they have to stay on the timeship. No newbies allowed. So our three Legends head out, with Nate in his brand new suit, which looks a bit like Megaman cosplay.
They watch Dominators abduct unconscious soldiers, until finally they find a straggler and take him down.
One storyline I'm only going to mention briefly that I do wish they had saved for a non-crossover episode was that Stein has a daughter now. He acts super squireelly around her until Caitlin tells him to snap out of it and he realizes his daughter is actually pretty awesome.
So over the course of the episode, he goes from thinking of her as an aberration to deciding to keep her. (Also I know I said I'd talk about the Killer Frost episode this week but there's too much going on so I'll try to loop it into next week's episode!)
Anyway, in the '50s, the men in black come and tranq the Legends, meaning Felicity and Cisco have to leave the comfort of their computers and come help.
And help they do.
On their way out, our heroes save a Dominator who is being tortured by the men in black who kidnapped them, and keep a transponder as a reward for sending him home.
When Barry and his backup go to meet the president, it's the head of the MIB that meets them instead. He says that Barry broke a truce humans had with the Dominators and so now they're demanding the Flash or else they'll drop a metabomb that will kill metas and humans alike.
See, the Dominators are worried about metahumans, and evil people getting them. Because then those evil powered people might invade their own planet. Cisco is panicking; he thinks maybe freeing that Dominator wasn't the best choice. And then he joins the long, long list of people who come to a realization "on their own" that Felicity tried to get them to come to hours ago.
Barry is 200% ready to turn himself in to save the world, but guess who's not letting him do that. Everyone, that's who.
Even Cisco, who has forgiven him and calls him a friend again.
The metabomb is dropped, so the team splits up again. Cisco and Sara are in the waverider, trying to stop the bomb from falling using the tractor beam.
And everyone else goes to fight the aliens one on one while Barry sticks little pain bombs that Stein somehow mass produced in the past day using all the bedazzling gems he could find.
During said fight, Oliver gets thrown off the roof and would have plummeted to his death but Supergirl, without a moment of hesitation, swoops down to save him. Oliver gives her a nod and she gives him a look full of more understanding than he's earned.
They defeat this particular group of Dominators, but there are more strewn around the city, so Felicity sends SuperFlash to take care of that. Meanwhile Firestorm diffuses the bomb using their powers and sheer force of will.
The megateam all comes together again and watches the diffused bomb sprinkle down harmlessly. Oliver says, "They did it," and Kara lets out an exasperated, "No, Oliver." It's such a good tone. And Barry elaborates: WE did it.
The new President, who is a woman of color, because even with alien invasions this Earth is better than ours, honors everyone for working together and saving the world. A cute moment here is that Mick, who might be evolving after all, leans over to ask Sara's opinion about whether or not the president is hot. Sara checks her out and confirms, and Mick nods like he appreciates her input.
After the ceremony, the gang goes back to the hangar to have a celebration drink. There are some cute moments, like Sara having a flask and Ray saying Kara looks like his cousin. Then Kara goes to talk to Barry and Oliver, just beaming, loving that saved-the-world feeling.
She calls Oliver and Barry this world's "mightiest heroes" and Oliver is a little taken aback to how extraordinarily kind she is, even though he has given her every reason to be cold to him. To his credit, he genuinely apologizes to her. And she doesn't say "it's okay" or "you don't have to apologize." She smiles and accepts his apologies and says that his team looks to him and that their hardships make them stronger.
Oliver Queen could learn a thing or two from Kara Danvers.
Cisco gives Kara a going-away present in the form of an interdimensional transponder that will help explain any other crossovers they want to do in the future, which delights me to no end.
Oh also? Kara's legacy on this Earth will be that she inspired the new president to start a DEO and got the grumpy old guy who heads the MIB relocated to Antarctica. And she BEAMS at him and never has anyone been so adorable when destroying an enemy.
After Kara goes home and most of the rest of the squad is gone, Sara looks to Oliver and says that they're really the reason this whole thing started.
She gives Oliver a hug and heads back to be the captain of her own show.
Diggle calls Barry the best man he knows, which you can see visibly lift a burden off Barry's tender heart. After he leaves, Oliver and Barry decide to try to be normal for a second and go get a drink. Between Flashpoint and Arrowpoint, they realize that their life could have been happy and shiny, but normal is overrated and not nearly as fulfilling, so they toast to their lives, just the way they are.
The end. Phew! That was a lot! When this week started I was like LET'S DO A FOUR-WAY CROSSOVER EVERY WEEK. But now that it's done I realize that you can't live at Disneyworld and I, too, like things the way we have them.
Supergirl is on hiatus until the end of January, but we still have another week of our other SuperFriends. See ya then!