Over at Casa Moretti, Marco's excited because Joe DiMaggio has enlisted with the Americans. This is a big deal because it means Italians are being allowed to fight, and that means Marco will be allowed to fight. If you're like me, you might be wondering why Marco, a great character but still a secondary character, is going to be given one of the main storylines in this film. Fasten your seatbelts, folks, because the fun is just beginning! Also, let's all take a moment to appreciate how completely fabulous Vera looks in this outfit.
In the name of Mario and Luigi, something unexpected happens and that unexpected thing is that Marco's dad is all "Itsa me, Ima home!" out of the blue because they released him from internment camp. Vera gazes upon the happy reunited family and then straight up leaves the house. I assume we were meant to interpret this as "Vera sees them together and realizes they should be together so she's gonna go join the fucking army without saying a word???" but I really thought that characters leaving the scene when struck by a new emotion was something left behind in the days of "Saved By The Bell" style sitcoms.
Everyone grab your tissues because Kate and Betty are finally reunited. It's emotional even though I literally have no fucking idea what anything Kate said meant. Betty assumes Kate is still in love with Ivan and Kate has this knowing look and then says "It's different now" but what the heck does that even mean? As a queerio who is super invested in this couple, obviously I would interpret that as "I'M FUCKING GAY IT'S DIFFERENT BECAUSE I'M FUCKING GAY I AM FINALLY LEARNING TO OVERCOME THE INTERNALIZED HOMOPHOBIA AND YEARS OF ABUSE AND SEXUAL REPRESSION BUT IT'S A SLOW PROCESS BUT OUR TIME APART MADE ME MISS YOU AND MADE ME REALIZE THAT I DO LOVE YOU ACTUALLY AND THAT MY SEXUALITY IS NOT AS I HAD ORIGINALLY THOUGHT IT'S DIFFERENT NOW HI" but then my interpretation is never backed up ever during the rest of the movie. Instead, Kate's behavior gets even more cryptic, the writing of her character gets even more blah and shallow, and she's used as a final scapegoat in a way that's really gross and weird? I. DON'T. KNOW.
Kate says she's kept all of Betty's things. Shut the front door with this cockadoody. Don't make me feel things that are still raw, Bomb Girls, especially if you're not gonna back it up later. As Betty's looking through her old things, all of which Kate kept under her bed, Kate looks at Betty in the mirror, her face a mix of emotions I cannot define because I don't know! For sure, I could interpret everything that's happening through my giant rainbow-hued gay glasses, but I'm not getting cues anywhere else that my suspicions can be confirmed. I could write whole essays on the way these two are interacting and avoiding each other's direct gaze and tiptoeing around certain conflicts but that's not gonna save the farm, you know? I mean, this woman went to jail for this other woman. This other woman went through harrowing circumstances to reclaim herself and her ability to love. Can we learn at some point how either one of them feels about the other one? Aren't we owed at least that?
Lorna confronts Gladys down in the locker room because she found out Gladys was never in the women's corps. Gladys, unsure of how be good spy in this situation, jumps to the next worst lie she can think of, which is that she was pregnant and had a miscarriage?! Did no one drill her on all the possibilities for cover stories available to her? Obviously this is of extreme personal relevance to Lorna, who gets visibly upset and says if Gladys ever needs someone to talk to, she's there. Gladys inner panic attack count: 6.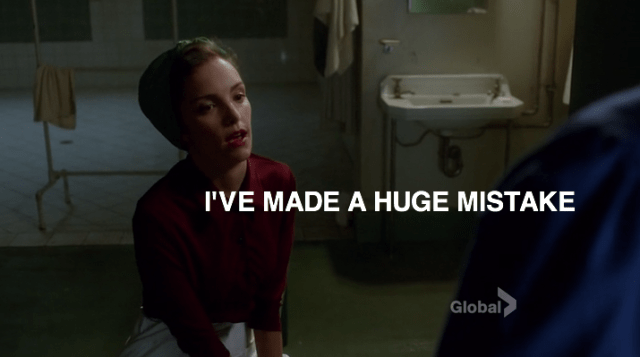 Betty shows up at the factory to lots of judgmental stares. Everyone knows she went to jail, and everyone knows she's gay for ladies. Kate still walks by her side, perfect Disney Princess face shining in defiance.
Was anyone else snorting out loud at Betty's swagger down in the top secret shift? McCrae is back in business, motherfuckers.
Marco's arguing with his father over dinner about wanting to join up when he is interrupted by his girlfriend showing up in uniform. Retroactively I am bawling at this scene, but the first time I saw it I was filled with this strange sense of foreboding and dread. And yet look how cute Vera is in her uniform, y'all. This girl could make a paper bag look like it was made by Dior. Marco is obviously conflicted about this but will support Vera because he's a really good guy.
Gladys is doing some after-school hobby spywork when she sees Jakob taking out one of the sonar thingies and fiddling around with it. Good spy! After this single observation alone, Gladys has come to the conclusion that Jakob is a bad guy and he cannot be trusted. He even was talking to the one girl who is actually German who was doing her job wrong! Gladys will immediately run to Bossman to report all of this without consulting Jakob first. Kind of like that time she falsely accused Marco on very little evidence, right?
Sheila and Ned are preggers and married, which means they will have the most perfectly coiffed babies of all time. Super bummed we only got to see Ned for five seconds or the fact that they're all shacked up in a traditional sense, because he and Sheila having a modern anti-marriage relationship was really kickass. Remember when Sheila didn't give two fucks? That was awesome. Luckily Sheila is still super wanged that Lorna is trying to run her baby shower for her, because old people just don't understand. Lorna feels bummed that her daughter won't let her micromanage, and then she sees Bob being told by Ned that soon he won't need any help anymore! Because he's being healed of an injury that has affected his life negatively for a really long time! That's a good thing, yo! But Lorna pulls a Vera and immediately leaves without warning. I'm just picturing Bob sitting on the curb outside the hospital waiting for Lorna to pick him up, checking his watch and playing with his blue Gameboy.
Gladys is loading her little gun and preparing for spy things when Lorna shows up. Lorna's feeling like she can't help anyone, so she's come to help the one person who might still need it. She's brought some books about recovering from miscarriages and Gladys has yet another inner panic attack. Take a shot or two, kids!
Gladys tracks down secretly German girl Jane and makes her get in the car with her. SPIES! Then she turns Jane in and essentially ruins her life. SPIES!
Vera shows up at the factory in uniform and everyone freaks out. I mean, Vera is the rock. Vera was the first time they realized how dangerous it was to work in this factory — it was her accident and her struggle that made everyone understand the significance of their jobs, even if they ostracized her at the same time. And it was Vera who rose through the ranks to go from the factory floor to the office, to show up snobs like Carol and stand on her own, to live her life the way she chose and be shameless and proud of that life. So yeah, Vera leaving this thing she's worked so hard to own is pretty upsetting.
Ye Olde Shitty Dude who is always saying shitty things gives Betty and Kate a hard time, accusing them of being lesbians and also murderers. Technically, yes, but fuck you for making that sound like a bad thing, dude! Betty sheds her jacket and gets ready to pummel the shit out of this loser, but Kate tells her to stand down. And for those Disney Princess eyes, Betty'll do anything. Betty'll jump off a burning building into a piranha-infested lagoon just to see Kate doing cartwheels on a fuzzy VHS.
In a rare delightful moment, we got a subversion of the traditional "waiting for your soldier" plot where Marco proposes to Vera, leaving for the war, and promises he'll wait for her. I don't even want to screencap this moment of Vera driving away because it makes me incredibly upset, but I'll do it because breaking heart is what this show does.
Downstairs in top secret green shift sonar whatever blah basement place, Jakob tells Gladys she 100% bungled that last mission, that Jane is not the saboteur and tried to hang herself and Gladys is 100% wrong and should feel bad because this NO HOW BE GOOD SPY. Gladys inner panic attack, take a shot.
Betty's gone to see Kate sing. Of course she has. Of course Betty is invested in Kate's success, just like she was in the first season. Of course Kate wants Betty to be there, just like the old days, just like when she sang that first song and pointed at Betty when she'd wished on the moon. When Bossman asks Kate to dinner, Betty asks Kate why she'd want to be there with her when she can be with that dude. And Kate says very clearly that she's chosen to stay there with Betty.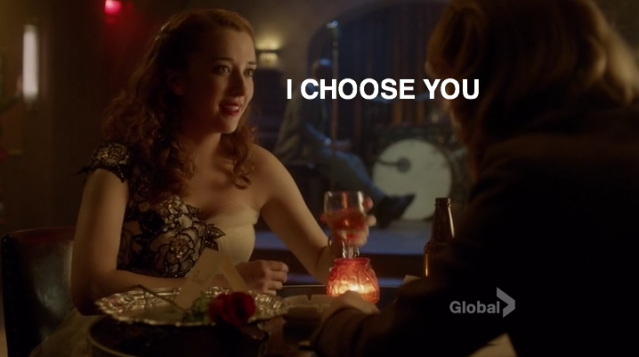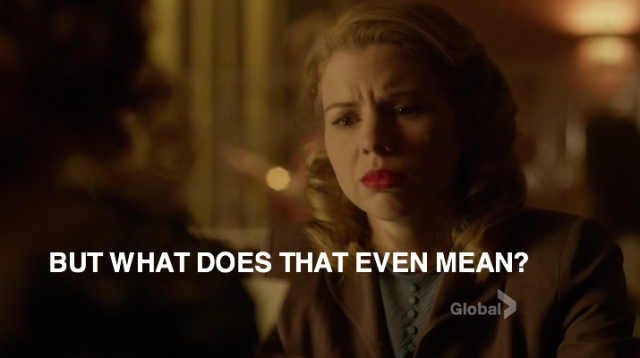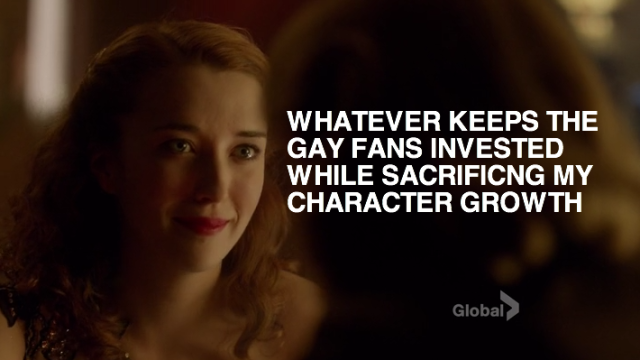 Betty tells Kate about the house she's trying to get, even though the bank won't give her a loan. Kate keeps suggesting that Betty just come live in the lesbian commune with everyone else, but Betty says she needs this house. I read this as Betty needed something she can cling to as an attainable goal after everything that's happened, and Betty knowing she can't return to the boardinghouse because it represents a life she can't have again. At the same time, I have no idea how to read Kate's reaction to Betty's commitment to her plans, or her insistence that Betty can just come back to the boardinghouse. Does this version of Kate want things to go back to the way they were? Is that why she keeps pushing the boardinghouse thing? Is she afraid of losing Betty again? What is going on in that beautiful Disney Princess head of hers?
Pages: 1 2 3See entire article on one page