Summer is my favorite season for a lot of reasons, but the main one is because it's nail polish season. Of course you can paint your nails anytime you want to, but there's just something about summer that makes me crave nail polish. I'm not a huge fan of manicures, because I mess with them too much, but I love a pedicure. Even though I live in a warm climate, there is still a period of time when it's too damn cold to have my toes out. But once the sun is shining and the temperature is consistently higher than 75 degrees, it's "sun's out, toes out!"
I am constantly on the hunt for new nail polishes, even though I have at least a dozen. What can I say, I gotta keep things fresh. If you're looking for some new polish colors for the summer, look no further!
---
Reds & Oranges
People of Color – Rodeo Drive ($12)
This color reminds me of a Cadillac cruising with the top down on the aforementioned street. A true red, this color looks great on your hands or feet.
Nash + Pino – Joan ($16)
Everyone needs a bright orange polish for summer; it's just a matter of fact.
Essie – Handmade with Love ($12.19)
This red-toned coral is the perfect shade for a breezy summer mani or pedi.
Pacifica – Summertime ($10)
This color is literally called Summertime. Need I say more?
---
Purples
OPI Nail Lacquer – Do You Lilac It? ($12.49)
I love this color for this point in the year. It's a great transition from spring to summer.
ORLY – Crash the Party ($10.50)
I love a grapey purple color for summer! This feels like the perfect purple for a pedicure.
China Glaze – That's Shore Bright ($8.50)
I think we often associate pale colors with summer, but a deep purple really pops, especially out in the sunshine.
Pleasing – Live Laugh Lilac Polish ($20)
This lilac is a little more white toned, which means it will pop. Plus it comes with fun nail stickers!
---
Neutrals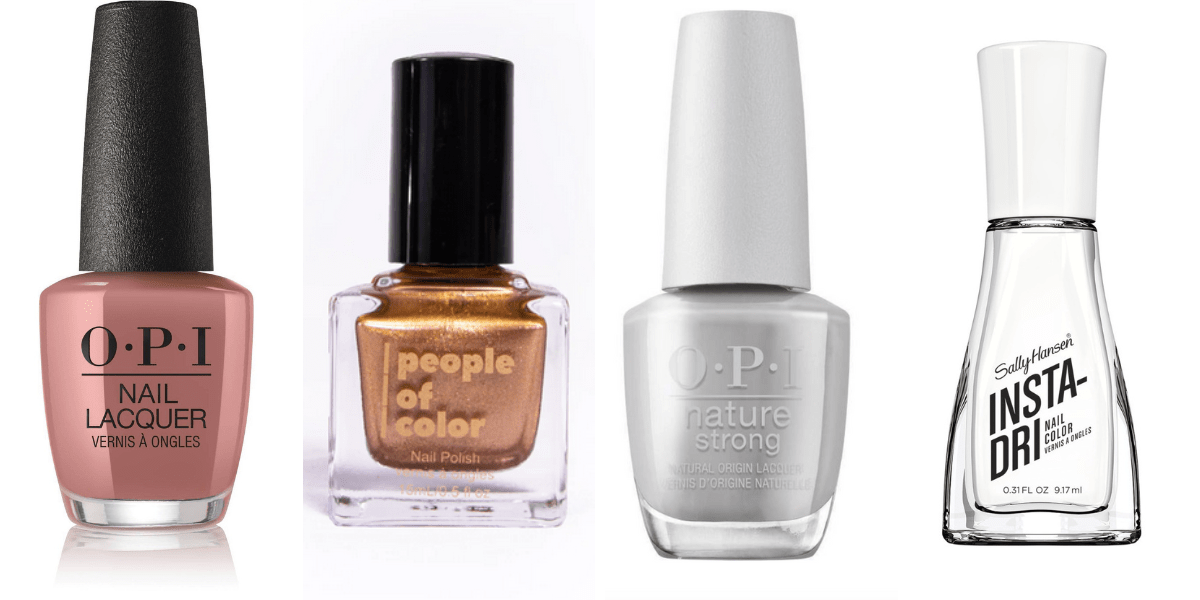 OPI Nail Lacquer – Barefoot in Barcelona ($13.99)
I love this rose-toned beige. It gives you a little bit of color and will work on any skin tone!
People of Color – Bronzed Beauty ($12)
Nothing says summer like a sunkissed bronze. If you don't want it on your skin, you can absolutely have it on your nails. This is perfect for the beach.
OPI Nature Strong Nail Polish – Dawn of a New Grey ($11.59)
June gloom is definitely a thing, and having a pedi to match just feels right!
Sally Hansen Insta-Dri Nail Color – White on Time ($5.79)
You absolutely need a white nail polish to highlight your summer tan.
---
Greens & Yellows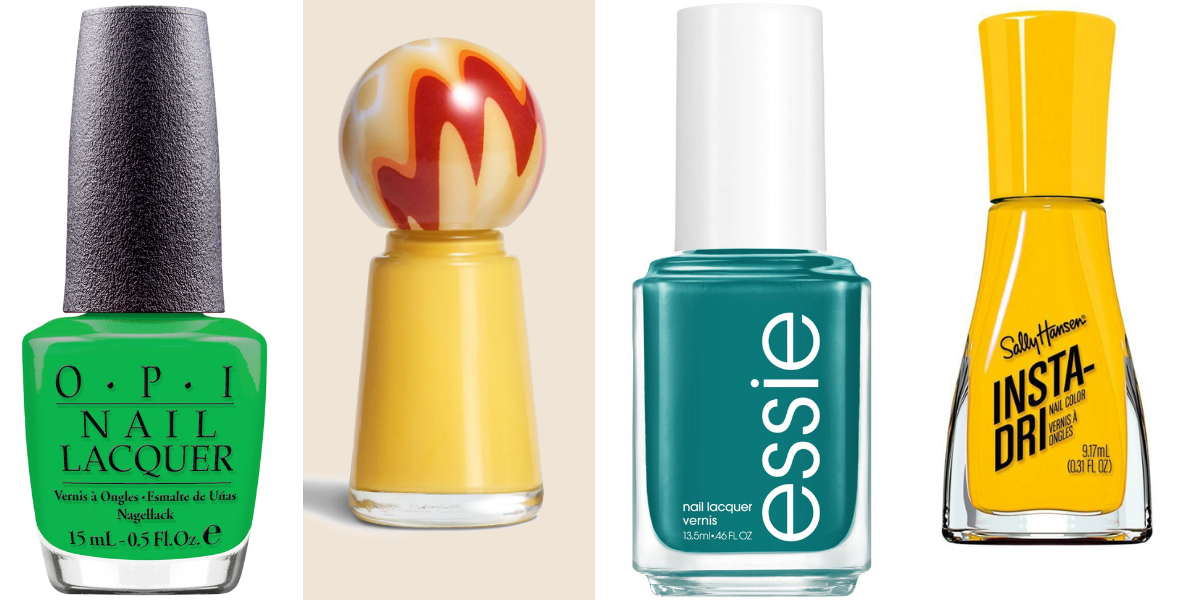 OPI Nail Lacquer – I'm So Swamped ($11.49)
The name of the polish gives me big Shrek vibes, but this vibrant green reminds me more of a four leaf clover.
Pleasing – Nonna's Sorbet Polish ($20)
I love yellow nail polish, especially for summer. This yellow is more vibrant than its namesake sorbet; it's pure sunshine in a bottle.
Essie – Unguilty Pleasures ($12.19)
I have always been obsessed with Essie's teal and turquoise shades, and this one is no exception.
Sally Hansen Insta-Dri Nail Color – My Ca-banana ($5.79)
You absolutely need an obnoxiously bright banana yellow polish for summer!
---
Blues
Nash + Pino – Cool Mom ($16)
The name of this electric blue polish is everything I wish I could be. Maybe I'll just wear this color and dream of the life I could have had.
Essie – You Do You Blue ($10.79)
This blue gives me big mermaid vibes because of the lowkey shimmer it has.
Static Nails Liquid Glass Lacquer – Livin In A Dream ($16)
A sweet sky blue is perfect for days on the beach or at the pool.
ORLY – Gumdrop ($10.50)
Robin's egg blue is another shade that feels perfect for the transition from spring to summer, and for days by the pool.
---
Pinks
Nash + Pino – Whitley ($16)
The website says to wear this color "when feeling bougiewp_postsbut it's hot pink, which means you can wear it all day every day. It's also named after one of my favorite TV characters. (IYKYK)
Essie – Muchi, Muchi ($10.79)
This cotton candy pink reminds me of county fairs and candy floss. Perfect summer vibes!
Static Nails Liquid Glass Lacquer – Malibu ($16)
You need a bubble gum pink this summer, because Barbiecore is EVERYTHING.
ILNP – Strawberry Shake ($10)
Looking at this nail polish just makes me want a strawberry shake.