Hello everyone! Was last week good for you? I actually think this week that just finished was one of the best ever for me personally, mostly because I saw Moonrise Kingdom, and then hit up the Club Paradise Tour to see Drake. I don't know if I will ever have a week as good as the one that just happened. But maybe, just maybe, this one will come close.
HAPPY SUNDAY FUNDAY.
This week, we have the law on our side and another "Call Me Maybe" video to watch — not to mention an adorable twist at the end. It's all right here.
Beth Ditto Wants To Make Clothes You Can Afford
NY Magazine's interview with Beth Ditto is already awesome, namely because Beth Ditto is in it and there is discussion of her Spanx. But it was made perfect when, sandwiched between her beef with Karl Lagerfeld and plans to continue being badass, she divulged her dream to open "the IKEA" of clothes "for fat girls and boys":
You've been more entrepreneurial than a lot of other musicians in your position, specifically in the fashion world. How was your experience working with U.K. retailer Evans on a plus-size line?
I wish there was more control in that line, but there wasn't. It was really fun, but the things that I really wanted couldn't be turned around in time. It was made in India, which caused a lot of conflict for me. I really want to do my own line that's ethically made, and I can do whatever the fuck I want with it. I also want to start an online vintage store, kind of like Re/Dress [Brooklyn's now-closed plus-size haven]. I want to do a "buy the outfit" function, and I want to show how outfits look on all kinds of different body types, even boys and butches. It's high concept, and I don't have time. I'd need to find someone to work with me on it, but I'm also very controlling about this, just like I am with Gossip stuff.
What's your vision of your own line?
It wouldn't be crazy designs — it would be simple. I want to make the IKEA of clothes for fat girls and boys. Cheap, affordable, basic — but ethically made. Basics, you know? Like Spanx — I'm still confused as to why retailers haven't ripped them off yet and done it well. It's because they don't understand the basics behind it. I love Spanx. I'm wearing 'em right now!
The Laws Are Changing
+ A judge in California ruled that prohibiting same-sex marriage on a federal level is unconstitutional because of its impact on health insurance partner benefits, and that the section of the tax code altering rights for domestic partners goes right along with it:
"Congress's restriction on state-maintained long-term care plans lacks any rational relationship to a legitimate government interest, but rather appears to be motivated by antigay animus," [U.S. District Judge Claudia] Wilken wrote in ordering the California Public Employees' Retirement System to allow current and former state employees to enroll their same-sex spouses and partners in the extended care plan.
+ The National Institute for Health and Clinical Excellence's guidelines grants same-sex couples in the UK the same access to government funded IVF as heterosexual couples: 
The health system in the UK normally pays for up to three cycles of IVF for couples who have been trying to get pregnant for at least three years. Previously, women had to be under age 40 to qualify. Many government-funded clinics already treat gay and lesbian couples, but the guidelines now make that explicit, though they are not binding.
The London Telegraph points out that the change follows a relaxation in the law, made under Labour in 2008, to put same-sex parenting on an equal legal footing. Under the the Human Fertilisation and Embryology Act 2008, IVF clinics no longer had to take into account a child's need for a father or a male role model before agreeing to treatment. Same-sex couples or single women now need only show they can provide "supportive parenting".
+ The best headline is one reading "Brazil Close to Outlawing Discrimination Against Gays":
A senate panel that reviews the nation's penal code agreed Friday to make discrimination against gays, lesbians and transgender Brazilians punishable by the courts.  The congress will have a chance to vote on it in the weeks ahead.  No date has been set.
The text of the senate proposal would make it illegal to discriminate against gays, equating it to racial discrimination. In the instance that a public official is charged by a competent court to be discriminatory, that official would lose his job with the state.  The law would also allow for people to sue for gay slurs posted on line in Brazil.  The crime is punishable by up to five years in prison, with as much as a 50% additional sentence if anti-gay crimes were committed against an adolescent.
The "Call Me Maybe" SUPERCUT
I'll never get over this song.
xoJane's "Fatkini" Gallery
This sounds relevant to your interests:
As a size 18, my swimwear posts tend to gain way more traffic than my regular outfit posts. I attribute this to the fact that our culture is so obsessed with having a "beach ready bod," that the mere idea of someone my size in a swimsuit, let alone a bikini, is shocking to most. I know, I know, xoJane has already featured a couple of articles on plus size swimwear, but in my defense, I pitched this to Lesley months ago! Yay procrastination!
Inspired by the xoJane Real Girl Belly Project, I asked Lesley if she'd be into the idea of posting a gallery of fat girls in bikinis (or "fatkinis," as we so lovingly refer to them in our lil' community). I know first-hand how inspiring it can be to see people with bodies that look similar to my own feeling confident and happy on the beach in something other than a Hawaiian-print skirted one piece. 
31 hot babes are a click away. And maybe also check out our curvy femme gallery, too.
Lynn Shelton Knows 'Your Sister's Sister,' Is A "Shy Bisexual"
Lynn Shelton's film Your Sister's Sister looks amazing.
OUT Magazine landed an interview with the sandy-haired Director that is short and ultimately sweet:
Do you like pushing boundaries?
There was a time where I had this fantasy that, if it weren't for society's taboos, anybody could fall in love with anybody. I'm kind of a shy bisexual, so I felt myself crushing on all kinds of people, including gay men.
WTF Campaign Exists
Rainbow Youth Aotearoa, New Zealand's largest queer youth support organization, is fed up with queer bullying and homophobia in schools, as well as violence against trans* and queer youth outside of the classroom as well. They're taking steps to raise awareness and create a more harmonious New Zealand with the WTF Campaign, which literally asks: what the fuck is going on?
More than 30 celebrities are taking part and standing up against discrimination on the basis of sexual orientation and gender identity in the bold viral campaign, a joint initiative spearheaded by Rainbow Youth and OUTLine. According to a media release, organizers "are making no excuses for the hard hitting message."
"Nothing like this has ever been attempted in New Zealand, nor has any one campaign rallied as many of our country's famous faces under its banner," said Sam Shore, an event organizer for WTF. "The support from so many well-known Kiwis has encouraged us to speak up even louder for those being discriminated against. Everyone deserves to be treated with respect, so it's time we ask New Zealand, WTF?"
San Diego Honors Harvey Milk
On Tuesday, Blaine Avenue in San Diego became Harvey Milk Street. It's the first of its kind, and one of the gayest things ever to happen in the world of street signs:
This day has been a long time in the making. For over eight years community leaders have tried to name a street in honor of Harvey Milk. We have had many roadblocks over the years in trying to honor his legacy. When Mr. Milk stood for up equality, he did so for all people, not just the LGBT community, and he did this at a time when the government or family members could have a person committed to a mental hospital just because they were gay or lesbian. Now look how far we have come, when the two Christian churches on this block do not agree with the LGBT lifestyle, yet neither opposed changing the name of the street. For that we should give them a round of applause.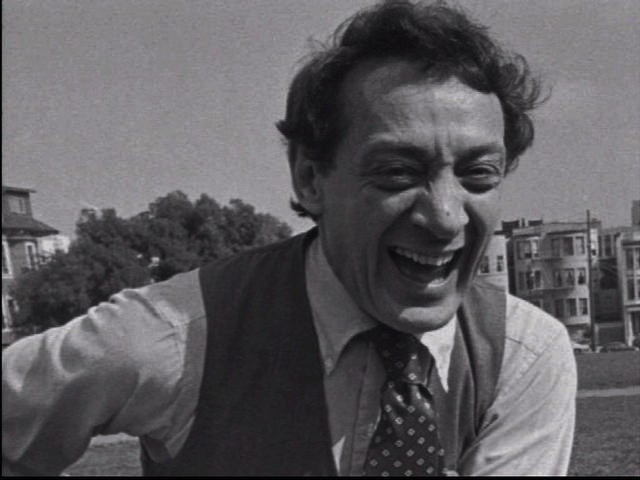 Photographer Transitions, Everyone Loves It
When Stevie Crecelius, a Denver-based photographer, found out during an Emergency Room trip that she had actually been born intersex, her feelings about her own gender seemed "validated" and suddenly made sense. And so, she took the dive to living full-time as a female:
Asked by the Denver Post about her life since the revelation, Crecelius says she's gained confidence, slowly but surely, and hopes to set an example for other transgender individuals.
"All the people that matter are supportive," she says. "And anyone who comes along that is not supportive, I think they will be drowned out by all the support."
This Is A Lamb Video
Jezebel calls this "rough housing." I call it "fuckin' adorable." Can you even imagine how soft this must be?