Happy Sunday Funday, space heaters and electric blankets! I'm hoping to sleep forever today, IDK about you. Here's some good news for you to ruminate on while I watch the day go by from my loft!
"We're Proud, and Proud of Each Other"
Penny Cula-Reid and Mia-Rae Clifford are the first-ever AFL football league couple to come out as gay. That makes them life partners and sports rivals, which honestly sounds like the fanfic one of y'all has been waiting for brought to life.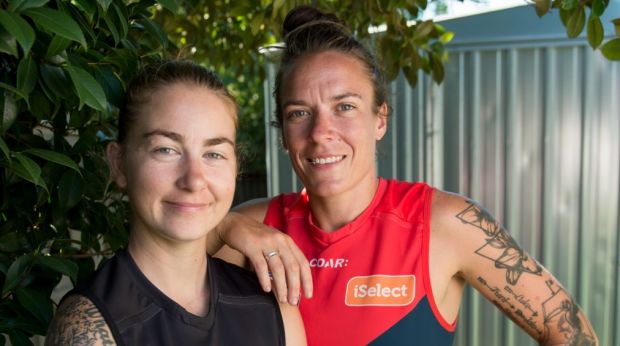 In an exclusive interview with The Age, the two got very sweet.
You're A Doll
No, actually, Jazz Jennings is.
F*ck Republicans
+ Thousands converged in North Carolina for the 11th Annual "Moral March on Raleigh," in particular to protest Trump and fight anti-LGBT legislation.
+ Have you seen this video of Rep. Chaffetz of Utah being heckled by his constituents because he likes Donald Trump? This is what life should be like for everyone who likes Donald Trump.
Not Another Gay Kissathon
Oh, yes. Yet another kissathon. But c'mon, do you ever really get tired of these. This week: Peru!
Hundreds of LGBT people have flocked to the capital of Peru to stage a mass "kissathon".

LGBT couples from across the country reportedly staged the peaceful protest as a protest to demand equal rights for same-sex couples in the country.

People staged the act after a call to action was put out across social media networks.

Couples that attended the protest engaged in a prolonged period of kissing, that is deemed "inappropriatewp_postsby a majority of the staunch catholic and conservative groups in the country.

"The streets of Peru are for all, regardless of sexual orientation. Therefore kisses, whether homosexual or heterosexual, should be seen as a normal behavior and not as inappropriate,wp_postsa group who helped organise the protest said.
Good LGBT Legislation! In Georgia!
Two-thirds of Georgians think LGBT people should be protected from discrimination under the law. New legislation would make that a reality. Yay, basic rights!
"This is legislation that will ensure all Georgians – regardless of their faith, sexual orientation or gender identity – can receive fair and equal treatment under the law in our state,wp_postssaid Jeff Graham, Georgia Equality executive director. "We've always known that respecting one's religious beliefs and acknowledging the importance of treating LGBT people equally under the law were not mutually exclusive. We have more in common that what divides us, and I'm hopeful that we're now starting a new chapter in the conversation about how we can make Georgia a better, stronger place to live and work for everyone."

In introducing the legislation today, Sen. Jackson noted: "All people have a right to live free of discrimination. All people should be able to earn a living, go to school or eat in a restaurant without the fear of retribution based on others' prejudice. All Georgians will be covered and respected under SB 119."