Hello, sea monkeys! I hope you had a week that was wonderful and relatively free of all stressors, much like the week of my dreams that I am convinced is just around the riverbend. But either way, I come bearing good queer news to make your week even better!
Ireland's President Just Signed Same-Sex Marriage Into Law, Motherf*ckers
The 34th Amendment to Ireland's Constitution is totally gay.
Glen, the Gay and Lesbian Equality Network, also welcomed the move. Chairman Kieran Rose said it was a "historic moment for LGBT people and everyone in Ireland."

"After the joyful scenes that followed the resounding Yes vote last May, it is wonderful that President Higgins has signed the act and made the result official."

"We look forward to the Oireachtas passing the necessary enabling legislation to allow the first civil marriages for lesbian and gay people to take place as soon as it returns.

"As a nation, all of us can now look forward to the civil marriages that so many lesbian and gay people, their family members and friends have long awaited."
The Mayor of LA Wants Gender Parity ASAP
Eric Garcetti, Mayor of Los Angeles, has established a Gender Equity Coalition to asset in making women's rights "permeate every level of city operations." I am very psyched about this for a trillion reasons.
Pope Francis Hath Blessed a Dyke
Pope Francis gave his blessing this week to lesbian children's book author Francesca Pardi in a wild turn of events that led to this image.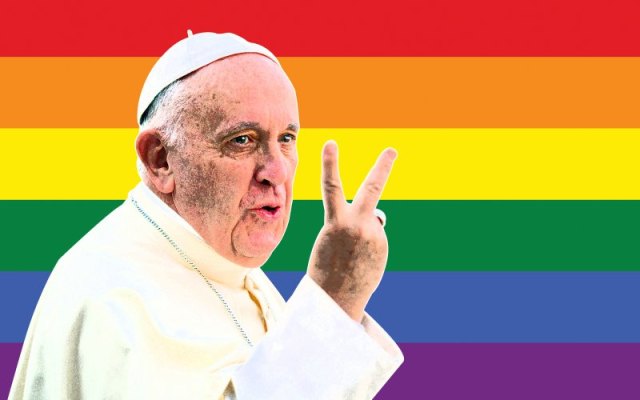 Queers and Their Allies are Taking On Kentucky's Kim Davis
This is what it looks like when over 100 people decide to stand on the right side of history in an incredibly public way in Kentucky. It's the best.
The pro-equality protestors found the doors to the Rowan County Clerk's office locked when they arrived, as clerk Kim Davis had apparently ordered the office shuttered when she learned about the march. Davis reportedly expressed security concerns for her staffers that might encounter the marchers, organized by the Rowan County Rights Coalition, notes the Morehead News.

But that didn't thwart the protestor's plans, as an organizer urged attendees on the event's Facebook page to "please plan on attending and help make our voice heard loud and clear that we will not back down until everyone has their right to marry returned in Rowan County!"
This is Taylor Swift and Lisa Kudrow Singing "Smelly Cat"
Look At This Tiny Dog Being a Farmhand