I can't believe I'm not at A-Camp right now and the only thing that will ever make it better is a bunch of good news.
Canada Rules
+ Justin Trudeau, of course, raised a pride flag on Parliament Hill for the first time ever.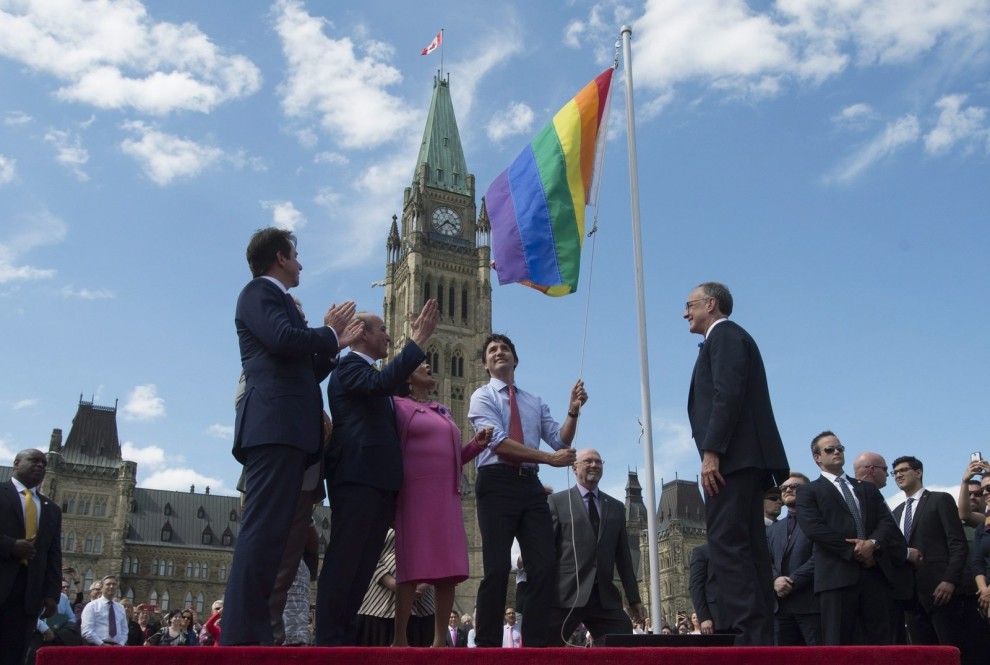 + Canada's national anthem might soon be gender-neutral.
+ Every single Canadian province will soon fund gender-affirming surgery.
Okay, So People Still Hate HB2, Yep
+ Selena Gomez is donating proceeds from her June 7 show in North Carolina to an LGBTQ charity.
Selena Gomez is showing support for her LGBTQ fans in North Carolina by taking a "show must go on" approach.

In a letter to Billboard, Gomez wrote, "I am very fortunate to have grown up in a home where I learned from an early age that everyone should be treated equally." That is exactly why she doesn't plan on canceling her Revival Tour stop in North Carolina on June 7. Instead, Gomez will donate proceeds from the show to a local LGBTQ charity.

"I went back and forth on whether I should cancel my concert in North Carolina," Gomez wrote. "And ultimately, I think what is right for me is to move forward with my show and donate a portion of the proceeds to Equality North Carolina and their effort to defeat this act of discrimination."
+ The Grateful Dead will donate $100,000 to the HRC and Equality NC after a June 10 show as well.
+ Cyndi Lauper met with LGBT youth to discuss North Carolina's bathroom bill.
"The Sims" is Getting On Your Level
"The Sims" is gonna expand its gender customization options very soon.
"The Sims has always been this magical sandbox where you get to create the Sim that you want,wp_postsRachel Franklin, executive producer of The Sims 4, told BuzzFeed News. "We recognize that diversity is beautiful and wonderful in the world — it's our job to reflect that in the game."

Franklin said that the design team, which has been working on the update for the past year, worked alongside LGBT advocacy group GLAAD to ensure the latest update would be sensitive to all players of the game — including transgender players.

"We are always delighted to see how people use the game and how people play the game,wp_postsshe added. "We want them to be able to find a way to express themselves and their creativity and give them all the tools possible to do that — to accurately reflect themselves."
This Dog, Tho