Hello marine biologists and paper shredders! This is the first time I've ever written a Sunday Funday and lemme tell you, the world is not exactly flooding with good news this weekend. But! I think I'm much closer to finding out if Ilene Chaiken illegally wiretapped my phone. Furthermore, yesterday my roommate Erin, using important information gleamed via the Girl Scout Cookie Locator, woke up early and brought back cookies for the whole family. I opened my office door and right there, greeting me, was a gorgeous dog named Cooper and two boxes of cookies. Let that be an inspiration to us all.
---
Pop Goes The Culture
+ Looks like we're getting some media representation from Brawny Paper Towels, as the brand is replacing the Brawny man with strong women in flannel shirts, which we all know is just another way of saying "lesbians." Their "Strength Has No Gender" campaign also includes a $75K donation to Girls Inc. Operation SMART and a series of videos honoring notable women in the STEM world. At least one of the honored women is actually gay — Vernice Armour, the first African-American female combat pilot in the U.S. Armed Forces.
https://youtu.be/3tMofo7zE3o
+ The Feel-Good Hit Of 2017, One Day At A Time, has been renewed for Season Two by Netflix. This feels like an important moment to remind y'all that Yvonne interviewed their lesbian writers and it was real awesome that's right here for ya.
+ Dustin Lance Black feels good about When We Rise: "I'll tell ya, I've never had something so well received by an audience in my career. Watching the response on Twitter, on Facebook, and on social media, the notes that are coming in, the emails that are coming in, it's been so incredibly humbling this past week to hear how people are receiving [it]. But I have to say, almost every single one says, 'I can't wait to watch the rest of it this weekend on my DVR.'"
+ Arnold Schwarzenegger quit The Celebrity Apprentice because he doesn't want to be involved with Trump's brand.
+ Kate McKinnon played Jeff Sessions as Forrest Gump last night on SNL and it was pretty funny
+ Moonlight expands into 1,500 Theaters this weekend.
---
Here, Queer, Working On It
+ The New York City Public Schools will require schools to use transgender students' chosen pronouns! This directive is part of a 10-page memo regarding treatment of transgender kids and was put together after meetings with over 3,000 city educators.
+ Grace Pokela, a 33-year-old gay biology teacher with whom I have mutual friends on Facebook, struck back against a transphobic Facebook meme, explaining how science actually works!
+ In The Netherlands, a new party known as Article 1 has 20 candidates running for office on an "inclusiveness and equality" platform. The best-known candidate is television commentator Sylvana Simons, who has endured years of racist abuse online for the opinion she expresses on-air. Other Article 1 candidates include a "vegan, non-binary transgender, black queer" and a trans man.
---
_______ as Resistance
+ A network of 37 Protestant and Orthodox Christian denominations are mobilizing their congregants to lobby congress to rescind Trump's immigration-related executive orders. This network represents about 30 million Americans! Churches have also been resisting these bigoted political actions by providing sanctuary in their homes and places of worship.
+ Here's a positive look at how our anger and despair has led to real action in one special election in Delaware, a trend echoed nationwide, as Democrats have seen "a significant uptick in turnout" for special elections in Minnesota, Connecticut, Virginia and Iowa as well:
These people were happily, joyfully running to the polls,wp_postsshe said. "I haven't seen that kind of turnout in a long time. It was really a curious thing, going from sadness to anguish to anger and then into determination. From a sociological perspective, it was a great thing to watch that happen."
+ Black lesbian Crystal Cheatham has created the Our Bible App, a devotional app for people on the margins, which will launch June 2017.
+ Turnout to March4Trump rallies was uh, not nearly as impressive as the women's march. But on Friday, around one thousand protesters rallied outside Trump Tower in Chicago in a Trans Liberation March.
+ Rachel Maddow, Samantha Bee and Stephen Colbert are among TV Stars Whose Ratings Have Soared Due to Donald Trump.
+ And finally, here is Hillary Clinton reading the newspaper on an airplane — specifically, reading the story about Mike Pence using his personal email while taking Indiana to hell in a handbasket:
---
Cute Queers In Their Castles
Tom Atwood photographed 350 Queer "Kings & Queens" in their "castles" and made a book of these gorgeous photos (160 are in the book) and it's real lovely. George Takei wrapping Christmas presents! Meredith Baxter moments after having a smoothie! Annise Parker on her porch! Alison Bechdel in her garden! There's regular people too, like these three women living off the grid in a Colorado dyke sanctuary and a Georgetown student / disability activist in her dorm surrounded by posters.
Cute, right?
---
100 Years Of Girl Scouts Selling Cookies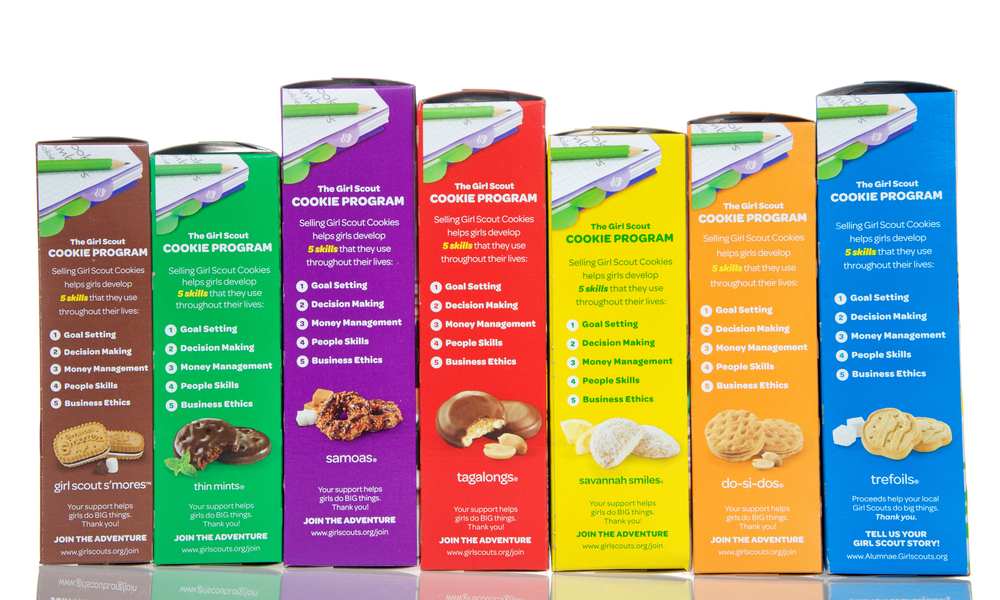 It's Girl Scout Cookie time in America!
+ "The CEO of the Girl Scouts, a former scout herself, said selling cookies changed her life — instilling a young girl from modest means with a sense of self-determination."
+ The Girl Scouts of Orange County partnered with OC Restaurant Week for some cookie-inspired desserts.
+ A national bar franchise known as "The Brass Tap" are offering a girl scout cookie and craft beer pairings at multiple locations.
+ Girl Scout cookies, ranked by nutritional value.
+ Which Girl Scout Cookies are the most popular?