Happy Sunday Funday! Today Hurricane Irene will end and give the East coast the biggest rainbow ever. I promise.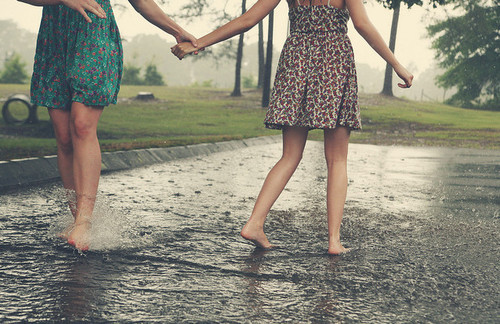 When you're stuck inside, there's nothing to do but kiss girls, right? That's what Rihanna and Rashida Jones are doing, anyway. And plus, when we get sick of the severe weather warnings we might be able to live on a planet made of diamonds.
Methodist Church Might Become Gayer, If All Goes Well
LGBT equality activists from within the United Methodist Church met this weekend to plan a challenge to their church regarding its policy on homosexuality and same-sex marriage. The planning meeting, held in Ohio, was a joint meeting of the Reconciling Ministries Network and the Methodist Federation for Social Action.
They are preparing to lobby the church about ordaining gay clergy, blessing same-sex unions, and discarding the belief that "homosexuality is incompatible with Christian teaching." And they think it looks like they may even have some success:
"We might not get everything we want, but we'll get some of it,wp_poststhe Reverend Troy Plummer of Chicago, an organizer of the Huron conference, told Religion News Service. "I think something dramatic will happen in Tampa. The vote will be close, by just a handful of votes this time. We're about to make it happen."

Gay Journalists Get Unity Invite
The National Lesbian and Gay Journalists Association has been invited to join the Unity: Journalists of Color coalition. They've previously been rejected twice, but an open seat gave them the opportunity to finally join.
Same-Sex (Video Game) Marriage
Gay people can't get married all over the world, but now there's an entirely alternate world where they can. And hey, that's pretty good. If you have an XBox, a PC, or a Playstation 3, you can get gay married this November by playing The Elder Scrolls V. Skyrim, where anyone can marry anyone:
Escapist magazine reports the game's publicist Pete Himes released the information via Twitter. When someone remarked, "The subject seems hush hush," Hines replied, "Not hush hush, just not making a huge deal out of it. You can marry anyone."
The Gay Wedding Expo is Today
As you probably know, gay marriage is legal in New York state. To celebrate, the Rainbow Wedding Network is throwing a Gay Wedding Expo in Rochester today from 1 to 4 in the afternoon. Over 30 gay-friendly professionals will attend to answer questions and help a bunch of lesbos plan their futures together. Plus, there's entertainment and a reception!
Los Angeles Lesbians Still Partying
Lesbian-owned and -operated Muskaqueer's "monthly, rotating 'women's night,' with a focus on live bands," Thrashed in Hollywood, happened for the very first time in July. It was epic.
And it's finally back! Thrashed in Hollywood 2 is happening tonight in West Hollywood. Go put on your bomber jacket and GO.
A Planet Made of Diamonds
4,000 light years is not too far to travel to get to a planet made of diamonds, in my opinion.
Rihanna Kissed a Girl on a Boat
Rihanna kissed a girl on a boat. And there are pics! (I'm freaking out. But no, it wasn't a sailboat.) Judging from the pics, she really kissed this girl, if you know what I mean. The photo was taken whilst she was in Italy with some girlfriends, scuba-diving in a black dress.
Lindsay Lohan Wears Nice Clothes
Lindsay was spotted shopping in Venice Beach and looked absolutely perfect. Seriously.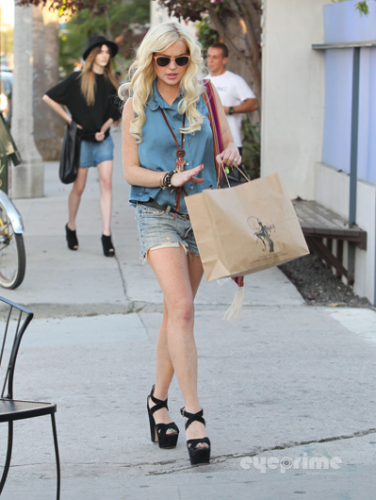 Nina Dobrev is Pretty
Nina Dobrev is Nylon Magazine's September 2011 cover girl. She's pretty and she wears Doc Martens, too.
Lesbians on Film
+ "Our Idiot Brother" has a lesbian plotline, and that can only mean one thing: Rashida Jones and Zooey Deschanel totally making out. And Jones may have even liked it:
"It was totally fun," says Rashida. "I mean, it was slightly awkward, only because Zooey and I have known each other for a long time. It's kind of weird to kiss your friends. But, you know, she's so pretty – she doesn't make it that hard!"
+ "Jamie and Jessie are Not Together" is a lesbian musical feature film – the first of its kind. Tegan and Sara is on the soundtrack, you guys. It will debut on Friday, October 28 at 8 PM at the Gene Siskel Film Center and run for 7 days. Don't miss it!
+ "Joe + Belle" is a new lesbian romantic comedy that involves marijuana, a "sensual" lesbian, and the act of killing a dude. Here's the theme song:
A Cat in a Raincoat
In honor of Hurricane Irene, I have found this archived Cute Overload picture of Maru the cat in a raincoat.