Hey y'all! Since Alaina's enjoying themselves in the hills of Ojai, I'm pinch-hitting for this week's edition of Sunday Funday. Whether you're hanging out at #AutostraddleCamp or just sitting at home with your feet up, I hope that you're finding a way to bring a little light and relaxation into your world. You deserve it.
---
ALL HAIL THE CHIEF!
In case you missed the news when it dropped on Friday, Netflix has selected Jennifer Aniston to serve as our next commander in chief in an upcoming political comedy…and she's a lesbian (!!!)…and she's married to Tig Notaro! Oh, my goodness, this is going to be awesome.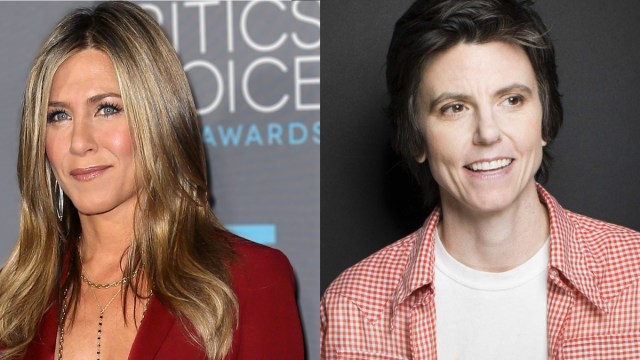 From Deadline:
Netflix has set Jennifer Aniston to play the U.S. president, and Tig Notaro her first lady in First Ladies, a political comedy being written by Notaro and Stephanie Allynne, based on their original pitch. This one's not your usual White House comedy. First Ladies is a political comedy about America's first female President and her wife, The First Lady. When Beverly and Kasey Nicholson move into the White House, they'll prove that behind every great woman… is another great woman.
Lena Waithe, who I'm pretty sure wished this casting into existence with "Thanksgiving", is reportedly waiting on a call from her agent.
Married to Jennifer Aniston and dropping a Netflix special in the same week? Tig Notaro is really living her best life.
---
Go Princess! Black Princess! Black Princess!
I know, I know, there are a ton of reasons not to delight in the pomp and circumstance of yesterday — and, yes, I know that technically, she not a princess — but dammit, I'm going to celebrate anyway. Go Princess! Black Princess!
Meghan Markle's Givenchy wedding gown was beautiful. But the woman wearing it was unforgettable.
The Full Transcript Of Most Reverend Bishop Michael Curry's Royal Wedding Sermon
The subversive spirit of Bishop Michael Curry's royal wedding sermon
Royal Wedding: How Princess Diana Was Part of Harry and Meghan's Nuptials
The real MVP of the Royal Wedding was Bishop Michael Curry, the presiding Bishop of the Episcopal Church, who stood before the British aristocracy and delivered a taste of liberation theology…much to their chagrin, I'd imagine. His professions about the power of love, echoed words he spoke when he opened the doors of North Carolina's Episcopal churches to same-sex marriage and when he defended the Church's decision to embrace marriage equality before the Anglican Communion.
Also? BBC Three, this is Pete Souza-level shade.
just saying ¯_(ツ)_/¯ pic.twitter.com/1zoOGFKeU3

— BBC Three (@bbcthree) May 19, 2018
---
Opening Weekend of the WNBA Season
It's been 47 long days since Notre Dame won the national championship in spectacular fashion and left us with no women's basketball to watch…but, thank goodness, the drought it over! On Friday, the WNBA kicked off their 22nd season of play and today, they've got a full slate of games to quench your women's basketball thirst. A few WNBA headlines to whet your appetite:
WNBA Invites Fans to "Take A Seat, Take A Stand" for Women and Girls During 2018 Season
Why the Sparks and Lynx won't meet in the WNBA Finals for the third year in a row
Just how far can every WNBA team go this season?
WNBA awards and predictions 2018: Brittney Griner, A'ja Wilson, and more take home preseason honors
---
Happiest of Sundays to you, my friend! Alaina will be back to have fun with you next week. Thanks for letting me hang out!