The time has come: it's officially warm(ish) here on the Wet Coast. I've reached that awkward in-between-seasons moment in my wardrobe. Sometimes overcast, sometime wet and dreary and at times weirdly balmy? This haphazard weather makes for a complicated daily dilemma and each morning is a meteorological surprise. Yay.
So what's an Autostraddler to do? As much as I'd love to travel with my own personal Farnsworth Bentley and never bring an umbrella, my life shows no signs of employing a manservant. Not to mention having a manservant would be weird. The solution I've come up with? Layers that simultaneously keep me warm if need be, but allow for coolin' down when the time comes. You've got to have a layer strategy. I've styled a couple outfits that proactively anticipate both torrential downpours and super sunny skies.
This season's bomber jackets are a painless way to add warmth without weight. Part tomboy, part athelete-off-duty, bombers are a light alternative to a varsity or jean jacket. Paired with a pleated skirt reminiscent of a cheerleader's uniform, this outfit is a nod to those days spent in bleachers. The high socks are a reference to one of my P.E. teachers, but they also keep my ankles warm during those early morning rainshowers.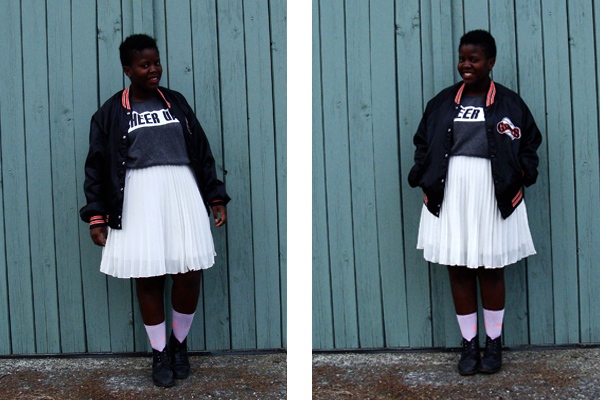 I'm wearing: a vintage Giants bomber jacket, pleated skirt and boots. Zara shirt (from a friend), J. Crew socks.
---
I like to think of Chuck Taylors as the unsung hero of spring footwear: they are just as fly with cuffed jeans as they are with a pleated skirt. Not to mention they are ridiculously comfortable! I've been known to sacrifice my comfort for aesthetic leanings, but my Chucks are my saving grace. I kept the casual vibes going with a motorcycle jacket + relaxed fit jeans, save for the polka dot shirt. I've got a love for collared shirts; they imply the perfect amount of flawless to an otherwise chill look.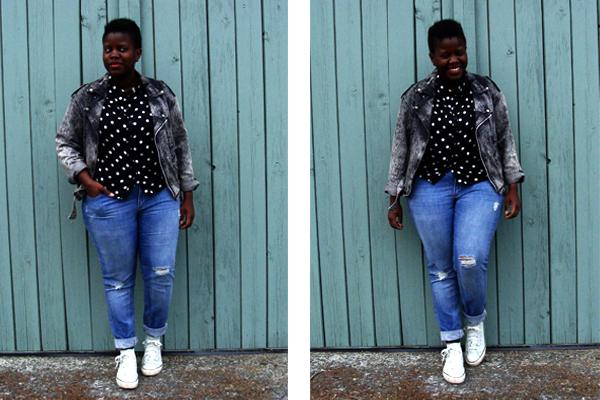 I'm wearing: a vintage Levi's motorcycle jacket, Old Navy jeans, a F21 polka dot button up and thrifted mint Chucks.
---
I suppose my strategy could be subtitled "you can't go wrong with denim" because… denim. In my book as a style institution, it's safe to say I don't think one can live without a jean jacket.
This time around, it's a nod to both the 90's and 50's, with a babydoll dress layered over a patterened polo shirt. I'll layer shirts and dresses around this time of year, since it isn't quite warm enough for simply sundresses. Teddy picker shoes and novelty socks (hoisery is my weakness) make things a teeny bit more teddygirl. This would be my go-to for heading out to a sockhop or even a "Just Dance" party.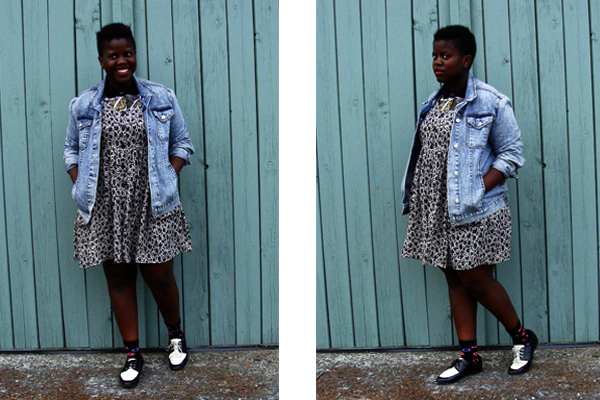 I'm wearing: a Topshop jean jacket, vintage dress and polo, Dolcetta shoes and UO socks.
Are you experiencing awkward hailstorms immediately followed by sunshowers? Or is your climate a little more stable? Let me know how you deal with seasonal transitions. Meanwhile, I'll be wearing sunglasses and bare legs with my rainboots… Until next time, friends!