This past week and a half has been the most hopeless in my entire life. I've proudly called myself an optimist, but after the election, I feel scared, hopeless and defeated. I know I'm not alone in those feelings. I know that there are plenty of adults, plenty of teenagers and plenty of kids who feel the same way. So after watching Thursday night's episode of Steven Universe, "Gem Harvest,wp_postsa very timely Thanksgiving/Post Election themed episode, I was relieved to see that the show had not given up on it's themes of redemption and second chances, love and acceptance, and above all — undying hope. Those are all things that our children need to hold onto in times like this.
The episode starts out with Steven visiting Lapis and Peridot at the barn, where they've turned the entire thing into a functioning farm full of pumpkins, corn, potatoes and other crops, in the hopes that it will be like growing gems and they'll have a little army of vegetables, squashes and grains to talk to. Before we can get too far into the shenanigans, an angry white man lands his plane on the farm and starts yelling at the gems to get off his property. It turns out this angry white man is Andy, Greg's cousin, and therefore Steven Universe's "uncle." The rest of the episode is focused on Steven, Greg and the gems trying to welcome Andy into their life and get him to understand and accept them as the alien, queer, women of color filled, completely non-nuclear family that they are.
Uncle Andy really is a good representation of a Trump voter. He has queer family who he says he loves (he talks glowingly about his Aunt Deb and her partner), but has problems with Greg having a child out of wedlock, with vegetarians, with non-traditional families and with a bunch of other liberal stereotypes. He even goes so far as to call the gems "illegal aliens," which is a straight up racist, offensive and hurtful term. He's not really a nice guy, he keeps on talking about "you people" and he doesn't want to give people who aren't like him a chance. A lot of us and a lot of the children watching Steven Universe have family that is just like him.
True to form, Steven is unrelentingly hopeful. He believes that Uncle Andy can and will come around, and he wants to give him a chance to do so. He doesn't expect the gems to convince him though, instead, he talks to him, human to human, white male to white male, and tells him that they are his family, and that things change, and that they should still love each other. Steven is the hope and optimism that our nation lost on Tuesday night.
Ultimately, this is one of my favorite episodes of Steven Universe. So often this show is exactly what kids, especially kids who are queer, who are girls, who are people of color, need to hear and see. And remember, this is a show for kids, they're the target audience, not us. Steven Universe tells kids that they're loved, that they're special, and that there is nothing wrong with being themselves. It teaches them that it's okay to wear a skirt and makeup and sing and dance on stage. It teaches them that it's okay to show weakness and have confusing feelings about your family and yourself. It teaches them that love between two people of the same gender is beautiful and strong and amazing. This week it taught them that they don't have to give up.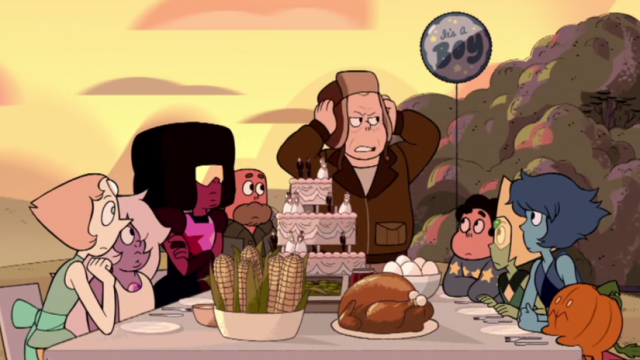 We've consistently seen Steven try to redeem his "enemies." Whether it's Lars, Centipeedle, Peridot and Lapis, Bismuth or even Jasper, Steven refuses to believe that anyone is just a plain "bad person" and has no chance of becoming a friend. It's refreshing. Steven is so full of love that it's contagious and he makes the people around him and the world around him a better place, and honestly, what better message could we ask for from a kid's show? We might be in a losing fight right now, but that fight, or at least the cloud of defeat, shouldn't be the burden of the 6-14 year olds who are the show's target audience. They should be able to stay hopeful and feel like there's a chance their racist uncle or homophobic grandpa or transphobic mom will come around and love them. They should be able to feel like people are good and the world is becoming a better place.
I'm not blind to the fact that children live in the real world. I started being bullied for being girly and gay in preschool and started hearing racist comments about my Mexican-American mother around the same time. I know that Black kids are murdered by police, I know that gay and trans kids are sent to conversion therapy, I know that kids are faced with the same hate as the rest of us. But that makes it even more important that kids have a place where they can remain hopeful and happy, that they have a place where they can escape and feel like the world is an okay place. This week Steven Universe gave kids across a very frightening and hopeless America that place.
As adults, many of us have had to cut people, including family, out of our lives recently. It's been the safest and most healthy move for us. Kids aren't blind, and they're seeing that. With "Gem Harvest," they maybe felt like this election wasn't the end of their chance at having a happy family. Maybe they felt like someday things will get better and they'll be happy again. Maybe they had a positive view of the world for the first time in almost two weeks. Maybe they could once again see a future where they're okay. It's extremely hard to be hopeful and even just believe that little things will work out right now. It's hard to not feel like the world is ending, especially for us marginalized folks. It's hard to be hopeful for our youth and tell them that they'll be okay. Steven Universe made it a little bit easier.