Last Sunday afternoon, a large part of Manhattan was people-logged — not by the usual flood of tourists but because the world's largest democracy was celebrating its 67 years of independence. The India Day Parade organized by the Federation of Indian Associations that took over from 38th Street and Madison Avenue was flanked by numerous floats representing India – from corporate interests and state-owned banks to the Bollywood entertainment TV channels. A probably unexpected participant in the sea of animated celebration was SALGA (South Asian Lesbian and Gay Association), which is one of the oldest organizations of its kind in New York City — currently in its 24th year of existence and happily thriving. With an eight-person team at the Parade, SALGA did well to say the least, and I was fortunate to be one of them.
SALGA's goal was simple: to establish the presence of South Asian queers at the event, and attract attention to the recent recriminalisation of homosexuality by the Indian Supreme Court on the atrocious grounds that Indian queers are too minuscule a minority to warrant any protection of their rights. That SALGA was able to participate at the NYC India Day Parade this year is significant especially given its de facto ban for the past few years.
Queer rights in India currently remain in a limbo. The previous government had filed a curative petition against the Indian Supreme Court on which there has yet not been a verdict. One probably has little reason to be hopeful for in the coming five years of the present government. This is because not only does New Delhi currently have a Hindu right conservative government in power with an absolute majority unprecedented in the history of Indian democracy since 1984 — this obviously makes the government harder to get rid of — but members of this government have explicitly opposed homosexuality as antithetical to good Hindu values.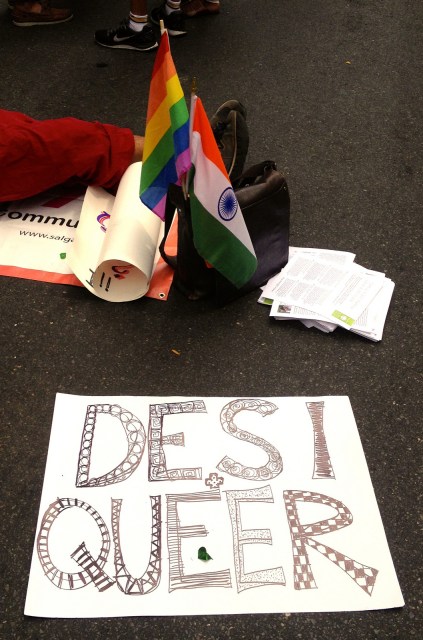 Despite the bleak prospects for queer rights in India, the support that we received last Sunday from the spectators at the NYC India Day Parade touched a chord in our hearts. Several teenage kids and young couples burst out in cheers when they saw the national flag and the rainbow flag fluttering side by side. Some guys even said, "We are so proud of you for doing this!" The brochures and pamphlets that we carried got distributed very quickly, and it seemed that we had fallen short on our "educational stationaries".
It is to be remembered that the India Day Parade was not a Pride March. It was occupying the heteronormative space with one's countrypeople in an almost patriotic and diasporic/expatriate spirit. If I let my imagination loose, it may be comparable to Irish queers marching at St. Patty's Day Parade. Hence, sniggers and confused frozen looks were commonplace. The state-owned bank, which was behind us with their gigantic float first tried to run us down, and then decided to maintain a more than safe distance. A handful of people refused to take our flyers, probably anxious that there might not be enough trashcans in New York City to get rid of them.
Notwithstanding such bouts of frustration, which we had been prepared for, the Parade was fun. We went home feeling at least slightly accomplished, and already planning how to improve SALGA's presence at the Parade in 2015. As for me, it was both my first time at a SALGA event as well as my debut in a publicly queer space in the United States. My other experiences have mostly been in Europe. Moreover, I was lucky to find such a friendly bunch of young folks to hang out with, and do something for a cause close to my heart.