This Changed My Life is an ode to the small, seemingly chill purchases bought by Autostraddle writers and editors this year that made our lives infinitely better. Did these items LITERALLY CHANGE OUR LIFE? No, we're being gay and dramatic. But perhaps a pair of sunglasses really did change your life — who are we to judge?
---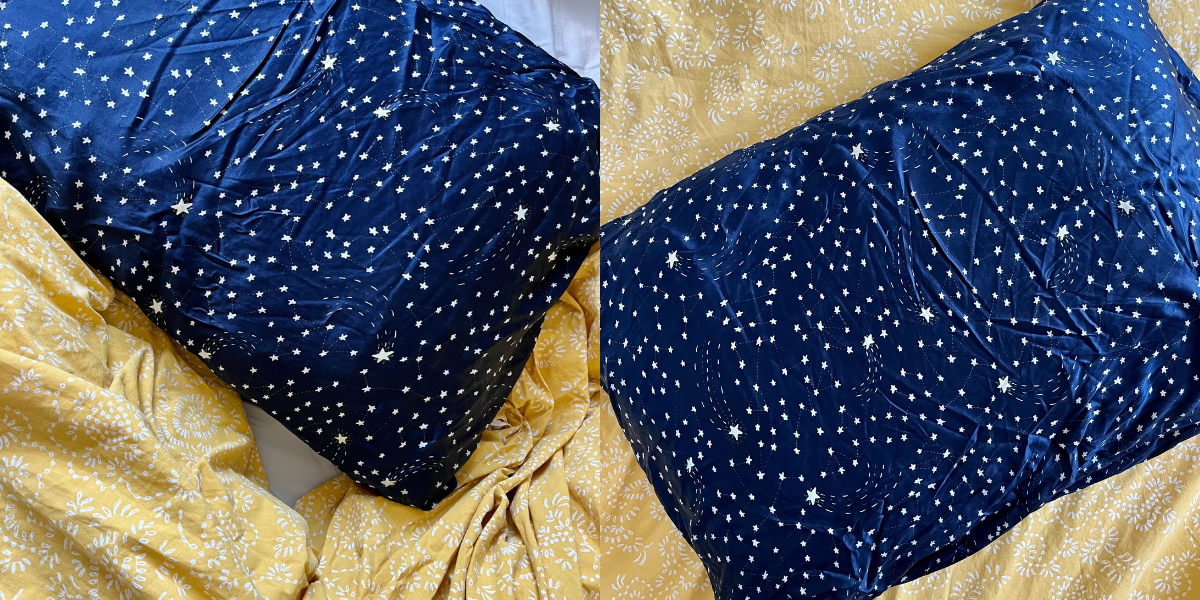 In 2020, I decided it was time for me to adopt the rich mom aesthetic. It's similar to coastal grandmother, but just a little younger and flashier. Think Biologique Recherche shelfies, or maybe APLs (this was pre-Veja). Very Nicole Kidman in Big Little Lies, or really any mom walking down the street in Park Slope, Brooklyn. And sure, technically I don't have kids, but maybe I will someday! I just wanted someone on the street to read me as a MILF (which, I don't know if this counts, but a man at a grocery store once said "Happy Mother's Day" to me so maybe this is already happening?).
Part of this transformation into rich mom included investing in my bedtime routine, because you know rich moms sleep a full eight hours and look well-rested once they're up. I wound up buying an eye cream for the first time (it did not work), some melatonin (it actually worked), and most importantly, new linens. Specifically the Brooklinen Mulberry Silk Pillowcase, which I wound up asking for on my birthday/Christmas/holiday list that year.
I had always wanted a silk pillowcase, but considered it an unnecessary luxury. I didn't see what it would add to my life — I already had several organic cotton pillowcases (all Target, all excellent) that I swapped out regularly. My opinion changed the moment I opened the box that contained the silk pillowcase.
I got my first in the "Celestial" style because I love witchy gay vibes and I thought it'd be fun to sleep on stars. Within the first week of having that pillowcase, I noticed major changes in my skin and hair – so much so that I wound up buying a second one in an emerald shade. It's safe to say that I am now a silk pillowcase believer!
Since I started using a silk pillowcase, I've noticed a dramatic increase in skin hydration; my skin is noticeably plumper when I wake up in the mornings. Silk absorbs less moisture than cotton does, making it a great choice for anyone with dry skin. I've also been experiencing fewer breakouts. I'm not totally sure why this is — there isn't a ton of evidence that silk pillowcases transfer less bacteria onto the skin (as compared to cotton or other fabrics) — but they are less irritating which could be a factor.
My hair is also much smoother after sleeping on silk. I've noticed that when I travel and sleep on pillowcases made of other fabrics, I have more flyaways and my hair feels generally drier. I could just travel with a silk pillowcase, but I'm honestly too scared of leaving it behind and not having it once I get home. I sleep super hot, and before silk pillowcases came into my life, I used to flip my pillow over to try and find the cold side. I haven't done that at all since getting a silk pillowcase. The fabric is cool to the touch and it remains that way all night despite how sweaty I get when I sleep!
For a wider shade range, albeit at a higher price point, you could try Slip — I mean just look at this gorgeous burgundy! Alternatively, you could try Quince. Their silk pillowcase goes for $40, cheaper than both Slip and Brooklinen, and comes with a zip closure to make sure your pillow stays snugly within the pillowcase. Target also sells one ($30)!
The only major downside to the pillowcase has been having to wash it by hand, but honestly, it's not so bad. They air-dry pretty quickly and the benefits outweigh the cost. If you're a vegan, I know that silk might not be an option for you (the silk in this pillowcase is a mulberry silkworm byproduct), but you could still get many of the same benefits from a satin pillowcase! Satin is synthetic and as a bonus, machine-washable, though it does feel slightly less luxe.
If you, too, want MILFy vibes without having to have children, I highly, highly recommend a silk pillowcase!