This post was sponsored by the Pleasure Chest.
---
This highly scientific and precise quiz will determine, using science and precision, what sex toy you'd be if you were a sex toy. Grab a pen and paper and let's get started!
What Sex Toy Are You?
1. What Hogwarts house do you identify with?:
A. Hufflepuff
B. Gryffindor
C. Ravenclaw
D. Slytherin
2. If you wake up next to someone, you:
A. Probably woke up 45 minutes before she did and breakfast is on the table, would they like some?
B. Cross your fingers for morning sex – it's so sleepy and messy and warm.
C. Cross your fingers for no morning sex – it's so sleepy and messy and warm.
D. Actually, neither of you fell asleep. WINK.
3. How do you take your coffee?
A. However you're making it!
B. Organic. And actually it's tea. And I grew it. And I made you a cup.
C. I only drink coffee when I can make it myself.
D. Black, like my heart.
4. When getting dressed in the mornings, you:
A. Throw on whatever seems clean and sort of matches.
B. Throw on whatever seems clean and matches, and receive compliments all morning. Know these compliments are due to your winning personality and not your power clashing, but let them warm your heart.
C. Dress meticulously according to the weather, the day of the week, where you're going now, where you're going later, and instinct. Nail it.
D. Dress in the favorite of the two outfits you laid out the night before, and receive compliments all day.
5. The first thing you do at work is:
A. Check in and see where everyone is and whether anyone needs any help.
B. Organize the day and run a morning meeting.
C. Belay down a sheer rock face while hitting inbox zero.
D. Belay down a sheer rock face while hitting inbox zero++, the secret level beyond inbox zero, in stilettos or a bespoke suit or both.
6. Before going on a date, you always:
A. Text a friend for good luck, change the sheets on your bed and dim the lighting in advance.
B. Mess up your hair just so, sweep the clutter into your closet and decide whether or not to pack.
C. Sort and straighten your lube drawer according to texture, material and potential allergens. Wonder if you should alphabetize it instead until you check the time. Leave, but remain conflicted.
D. Sterilize and polish your toy collection, make sure your favorite is on your nightstand and draw the curtains.
7. You're lost in the woods. What do you do?
A. Ask your best friend for help. If your best friend is unavailable, ask some friendly forest fauna for help. If friendly forest fauna are unavailable, light a carefully contained signal fire, lay out an emergency blanket and sit tight until someone comes.
B. You're not lost. You're never lost. Everything else is just misplaced around you.
C. You're actually not lost. You have an impeccable sense of direction and ability to read maps, which you had laminated. They glow softly in the dark, too, but you're pretty sure you're not responsible for that.
D. Sit and wait for them to find you, and in the meantime locate three fresh-water springs, teach yourself to construct a shelter and learn to navigate by starlight. It won't be long now.
8. When you go to parties, you:
A. Do a lap before picking a location, often near your closest friends.
B. Are the life of them.
C. Observe from the sidelines, occasionally dazzling the crowd with obscure facts.
D. You don't go to parties; parties go to you.
9. You wake up with icy, slippery rocks beneath you. It's raining, and you hear waves crashing all around you in the dark. You feel the back of your head and the bruise from where they knocked you out as you got into the helicopter. You search your pockets and find your waterlogged phone and:
A. A backup charger, a compass with a broken needle and the mysterious coin your best friend gave you on the last day you — or anyone in this century — saw them.
B. A pocket knife, a dead tracking device and soggy cat treats.
C. A book on helicopter maintenance, a book on the fish and fauna of North America and three softly glowing stones.
D. A wristwatch that was ultimately not water resistant to 300m, a map and daily log too smeared to read and the key to your vault disguised as decorative teaspoon.
10. You are locked in a dark dark room in a dark dark house in a dark dark forest. Around you, all is silent, save for a clock that chimes every quarter hour. You do not know how many quarter hours it has been.
A. You are scared, but you know someone is coming to save you, and in the end you will triumph.
B. You are not scared, not even a little, not even at all.
C. You have learned everything there is to learn about the dark dark room and the dark dark house and the dark dark forest, and when the time comes, you will use it.
D. You own the forest. You own the house. You own the room. You are the dark. You… YOU… YOUUUUU…
11. Your favorite type of dessert is:
A. Apple crisp, roasted pears, or anything fruity, vegan and gluten-free.
B. Birthday cake, brownies, cookies – anything easy to share.
C. You can't remember what it's called but molecular gastronomy was involved and you're going to try to make it yourself next weekend.
D. Served cold, like revenge.
12. Before going to sleep, you:
A. Text goodnight to someone special.
B. Post wildly about your day on twitter.
C. Lock the doors, lock the windows, align the three glowing stones, dry now, at the foot of the bed, and rest.
D. Flinch as your wristwatch, revived, strikes the quarter hour.
Results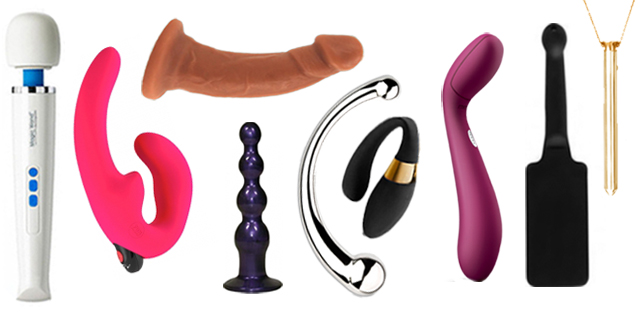 You're a reliable friend, seasoned adventure and adept accomplice. Known as "the Cadillac of vibrators," operating on battery or while plugged in, and with four speeds and patters, you're a sex toy with staying power. You have a squishy head, a hard body and a reputation to match. (The Magic Wand Rechargeable is silicone and hard plastic. It's 13" long with a 2.4" wide head.)
You're an equal opportunist who wants to make sure everything's taken care of for everyone – a sculpted double-ended dildo with a powerful rechargeable and waterproof bullet in the base that lets two partners give and receive simultaneously. You have a shorter end with a g-spot-hitting curve and clit-hitting ridge, and a longer, slimmer shaft for deeper penetration. Your vibrator pops out so you can be fully sterilized. (The ShareVibe is medical-grade silicone with an elastomed bullet. The smaller end is 4.33" long and 1.06" in diameter and the longer end is 5.12" long and 1.5" in diameter.)
You're the life of the party! You're good at making people feel comfortable even when they don't expect to feel comfortable; can be used as a dildo, plug or anal beads; and come in small or large sizes. You're friendly, accessible and great for beginners or experts alike. (The Ripple comes in purple or black platinum silicone. The small is 5" long and 1" at its widest point; the large is 6" long and 1.5" at its widest point. Both feature a wider flared base for safety.)
You're a smooth operator who can get into and out of any situation with charm and aplomb. A classic with a squishy outside and a solid core, you stay in place for penetration but are flexible enough for packing. (The Mustang is premium silicone and comes in three flesh tones. It has 6.25" of insertable length and is 1.5" wide.)
You're a secret agent who can go almost anywhere and do almost anything and do it in style. You look harmless and discreet and are easily disguised as a 24kt-gold-plated necklace, but you're actually a powerful USB-rechargeable vibrator with four settings. (The Crave Vesper is 24kt gold plated stainless steel and comes with a matching 26″ chain. It's 3.8" long and 0.3" wide. It's rechargeable and splashproof.)
You are an actual wizard. Like the Pure Wand, you can pull orgasms out of almost anyone and do it with style. You're heavy, cold unless run under warm water for a few minutes, well-positioned for g-spot pressure and easy to sterilize for sharing between partners. (The Pure Wand is made of medical-grade stainless steel and is 7.75" long. One bulb is 1.5" wide and the other is 1" wide.)
You love being able to control every element of your life and it's no different when it comes to sex. You're totally intuitive and great at hitting g-spots, and your squeezable base lets you determine the intensity of vibration second to second and can even be used to program patterns of up to 10 seconds long. (The Ola comes in purple or pink body-safe silicone and is 8" long and roughly 1.5" wide. It's rechargeable and waterproof.)
As, Bs, Cs and Ds (You Probably Secretly Had More Than One Answer To Each Question): The Tantus Plunge Paddle
You're an adept multi-tasker, just like this paddle with a dildo for a handle. Flexible like the paddle end or firm like the handle, you do what it takes, where it takes to get the job done. (The Plunge Paddle is 3" wide, and its dildo/handle has 6" of insertable length at 1.25" in diameter. It's black and 100% silicone so it's easy to sterilize.)
You're advanced and high-end with a dark side (in the toy's case, only literally) that comes out during sex. You work inside and out, in the moment and from up to 12m away, and you do it with style. You have eight settings, two motors, one 24k gold wrapping and infinite potential. (The Tiani 24K is made of silicone and 24K gold and has 2.8" of insertable length. It's rechargeable and waterproof.)