When shopping for swimwear, it can be tough to find just the right look for your body and gender presentation. Making your own can suit can be intimidating, but it's actually an ideal sewing project for a number of reasons!
1. Suits can be made using a standard machine with a zigzag stitch (no special equipment required).
2. It's easier than ever to find a wide variety of swimwear patterns, and you can even convert most sportswear/underwear patterns to swimwear with the right materials.
3. By making your own suit, you can choose the ideal amount of coverage and level of support/compression that you need.
Here's what you need to know to get started:
Fabrics and Modifications

1. Strawberry Dots Nylon Lycra 2. Divers Nylon Spandex 3. Mini Feather Scales 4. Grey Illusion Nylon Lycra from The Fabric Fairy 5. Glam Oho Nylon Spandex from The Fabric Fairy 6. Snakeskin Nylon Lycra from Imagine Gnats 7. Neon Colorful Stripes 8. Neon Pink Powermesh 9. Nylon Ripstop Purple
Look for lycra or spandex with four-way stretch, often labeled as swimwear or athletic wear fabric, and swimwear or rubber elastic (don't use lingerie or foldover elastic, as it doesn't hold up as well in water). If you need extra support, consider adding a shelf bra to the inside of a top, purchasing pre-made foam cups to add support and coverage, or using a seamed underwire cup pattern for bra-like support. For compression, use a panel of firm powermesh (the slightly stretchy material used to make bra bands and compression undergarments; also called powernet) on top to work as a binder, or on bottom as a gaff or packing pocket. Because you'll be moving around and wearing these garments in water, you'll want a little stretch; their compression might not be as strong as your everyday binders or gaffs, but will be moreso than most off-the-rack suits.
Modern Androgynous Pieces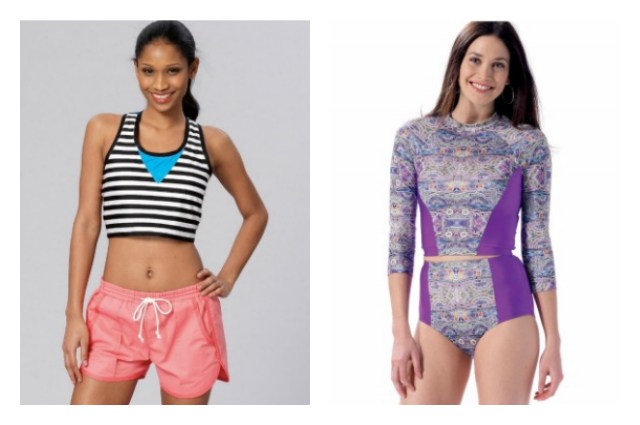 1. Tank Top 2. Rash Guard
Skip bows and ruching and reach for patterns that offer more geometric, minimalist, or sporty lines for an androgynous look. Tank-style tops like Bootstrap Fashion's Tank Top (pattern made to your measurements), KwikSew 4163 (sizes XS-XL), or Savvy Pattern's Grace Tankini (sizes 0-18) all offer wide straps, high necks, and minimal style lines. Racerback tops like Kwiksew 4181 (sizes XS-XL) make a good base for a swim binder, and stomach-baring sports bra styles like Simplicity 8339 (sizes 30A-44G) are easily adaptable to swimwear fabrics. For living out all your Blue Crush fantasies, as well as more sun protection and coverage, try a rash guard like McCall's 7417 (sizes 8-22 plus kid's sizes), Swim Style's Rashie (sizes XL-3X), or Jalie's Valerie (sizes 4-22 plus kid's sizes).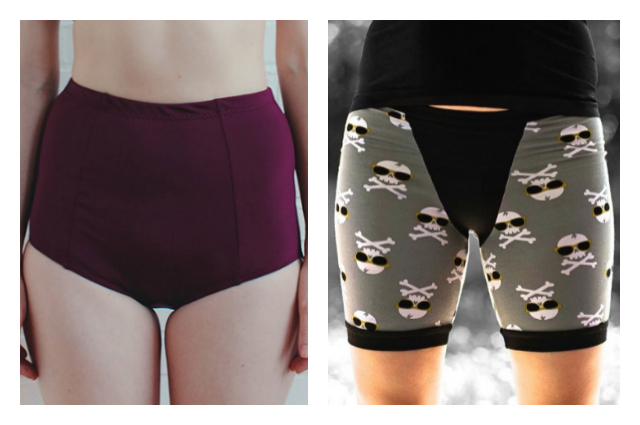 1. Dakota Brief 2. Boxer Briefs
There are dozens of good brief-style bottoms out there; try Bootstrap's Swimwear Bikini (pattern sized to your measurements), Seamwork's Dakota (sizes XS-3XL), or Jalie's One and Two-piece Swimsuits (sizes 6-34 plus kids). Mid-thigh or longer bottoms are hard to find in ready-to-wear, but easily adaptable from patterns for gym shorts, boxer briefs, or cycling shorts! Try Stitch Upon a Time's Boxer Briefs (sizes XXS-XXXL), Kwiksew 4163 (sizes S-XL), Jalie's One and Two-piece Swimsuits (sizes 6-34 plus kids), or Burda Style's Cycling Shorts (sizes 6-16).
Skirted swim bottoms offer additional coverage and can be modified to be either femme or sporty, depending on the cut. Try Savvy Pattern's Grace Tankini (sizes 0-18), Simplicity 8392 (sizes XXS-XXL) or Kwik Sew's 4113 (sizes XS-XL). Leggings patterns abound and can be cut off at your choice of length and given color-blocked panels; try Simplicity 8327 (sizes 1X-5X) or Patterns for Pirates's Peg Legs (XXS-XXL and Plus 1X-3X).

Seamstress Erin Laminaria Suit
Minimalist one-pieces offer a sleek monochrome look or a good base for a bold print. Try Seamstress Erin's Laminaria (sizes 0-24, with cup size options for either A-C or D-F), Opian's Säntis (chest sizes 32-43″), or Bootstrap's basic one-piece (pattern sized to your measurements).
Vintage-Style Suits for Bois and Girls
Bombshell one-pieces and retro bikinis abound across the sewing world! Some good options include Butterick's 6360 (sizes 8-24), Closet Case's Sophie One- or Two-Piece and Bombshell Maillot (both sizes 0-20), Bootstraps One-Piece Underwire Swimsuit, One-Piece with Twisted Bodice, or Custom Two-Piece (all patterns sized to your measurements). As for me, I'm currently thinking about unitard-style one-pieces inspired by both men's and women's looks from the 1930s. Using a base like Jalie's Men's Singlet (sizes XS-XL) or some creative pattern-hacking could make this dream come true!
So, which suit will you create this summer?
For more of Shannon's sewing tips, check out 4 Dapper Plus-Size Sewing Projects for Beginners and Pros.