Recently Laura told us about the documentary Gen Silent  regarding seniors going back into the closet after experiencing intolerance from nursing home employees. The film explains the reason so many LGBTQ seniors live in isolation, age alone and don't seen mainstream nursing homes and senior centers as an option for community. (Has anyone seen it yet?)

Sadly, the New York Times reports many retirement communities catering to the "Stonewall generation" either are facing foreclosure, or never opened. RainbowVision, a gay retirement home in Sante Fe, NM is just one example of many across the country.
Many are growing older without the support of children or extended family members. Gay and lesbian seniors are twice as likely to live alone, according to SAGE. A 2010 report by the group also found that nursing homes often failed to protect gay men and lesbians from hostile treatment by staff or other patients. In a study released in April by the National Senior Citizens Law Center, many older gay men and lesbians and their family members reported instances of mistreatment at long-term care centers. The study also noted that social service providers said it was unsafe for residents to be openly gay at such facilities.
In NYC the organization Services and Advocacy for LGBT Elders (SAGE) has been working on for senior gay rights since 1978. They are looking to open the first LGBT Senior Center in New York City in January. They've also received a ginormous grant from the White House to create the National Resource Center on LGBT Aging aimed at improving services and supports offered to the LGBT community.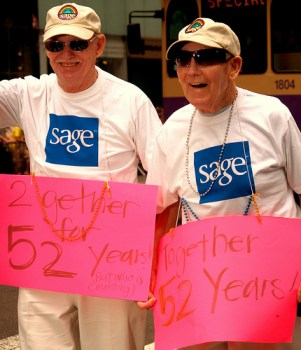 Queerty celebrates some of seniors who have laid the groundwork for a new generation of activists  in "Gray is Good: 6 LGBT Seniors You Should Know" includingthe lovely Shelly Bailes and Ellen Pontac. In case you are unfamiliar, Queerty shares this bio of the two:
The founders of their local Marriage Equality USA chapter and the political group FORGE (FOR Gay Equality), Balies and Pontac also took a stand against the Boy Scouts of America's anti-gay policies, help feed the homeless and volunteer for numerous community causes. New York-born Bailes is a representative for the LGBT community on Davis' Citizens Advisory Board, has co-chaired Davis' Human Relations Commission and was instrumental in the passing of Davis' 1984 Civil Rights Ordinance—one of the first in the country that banned discrimination based on sexual orientation. "Anyone can make a difference,wp_postsBailes says, "and it's important to be who you are.
Other seniors included in the piece are Don Kilhefner, Ph. D of West California who is a founding father of the Radical Faeries, and Vernita Gray of Chicago, Il the founder of Chicago's first lesbian newspaper Lavender Woman. We should all get to know what they've done for us and probably send them thank you letters.
What resources does your community provide for queer seniors?