We love you!!! And here are some things that are true!
You, our community, raised $118,000 for Autostraddle, for independent queer media, for our vision and goals for the future. Right now, as Carmen said in her thank you letter (that is a heavily recommended read) we're collecting ourselves, we're resting, we're getting ready for what's next.
And we want to celebrate YOU!!!
If you gave to this fundraiser or you're an A+ member, I hope you'll comment on this post to tell us how you feel! I hope that you'll cheer like we are! I hope that you'll find a little bit of light in this moment, and read some Autostraddle — WNBA coverage, political analysis, vapid fluff, Saturday Morning Comics, or our series of essays — Future Present — launched in recognition of Autostraddle's investing in a new editorial vision — because YOU funded these things. YOU make it possible for us to do this work. You support us, you believe in us, you encourage us — including with handwritten notes in the MAIL! It's really hard to write this without crying, okay?
As Carmen said:
"This team is built by our queer community. I'm humbled by your strength and your belief in us to be the guardian of your stories. When I say guardian, I don't mean "standard bearer." And I certainly never mean "gatekeeper." I mean loving protector and guide. Thank you for putting your trust in us to keep this delicate flame of our community lit, gently using our hands to push back against the winds that threaten to blow it out. Each of us, together, holding on to keep it warm and maybe if we're lucky, a little less fragile, for the ones who are coming next."
Thank you for choosing to make us the guardians of your stories, all 3,111 of you. This fundraiser saw smaller contributions than the ones before, and HUNDREDS MORE people giving overall than ever before, too. To say we're touched by that is an understatement. We're STILL overwhelmed this Monday after you did this for us. You really did it $1,$5, $10, and $25 at a time. That means more to us than if some wealthy celesbian had swooped in. You got in there, all grassroots and lesbian and bisexual and queer community and YOU chipped in to make a difference as a collective.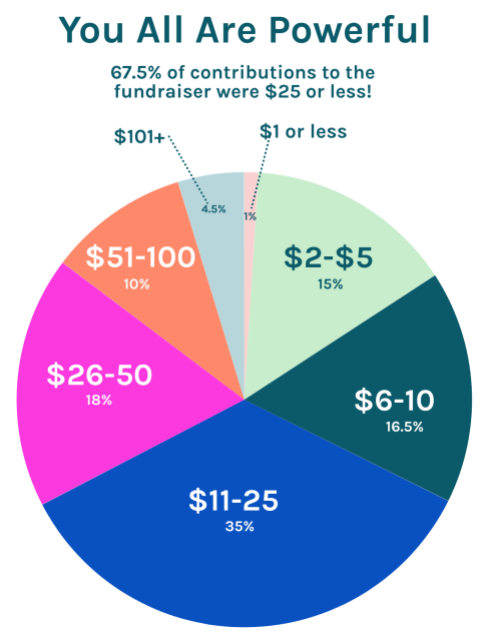 A Note: The fundraiser store's still open through midnight tonight. If you were eyeing one of the gifts in there — a mask, a print or sticker or shirt — your purchase still supports us just as much as it did last week! Go get 'em, tiger.
AND FINALLY: a special treat. The energy on Slack (our digital office on the internet) was something to see last week. Normally, peeks into our Slack conversations (the funny ones, mostly) are reserved for the A+ Insider, but because you all are so amazing, I thought I'd give you a look below: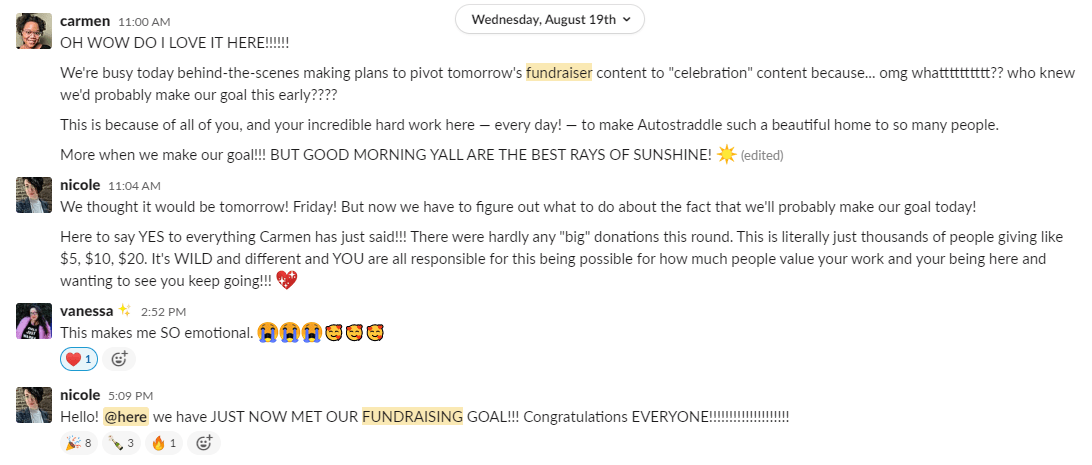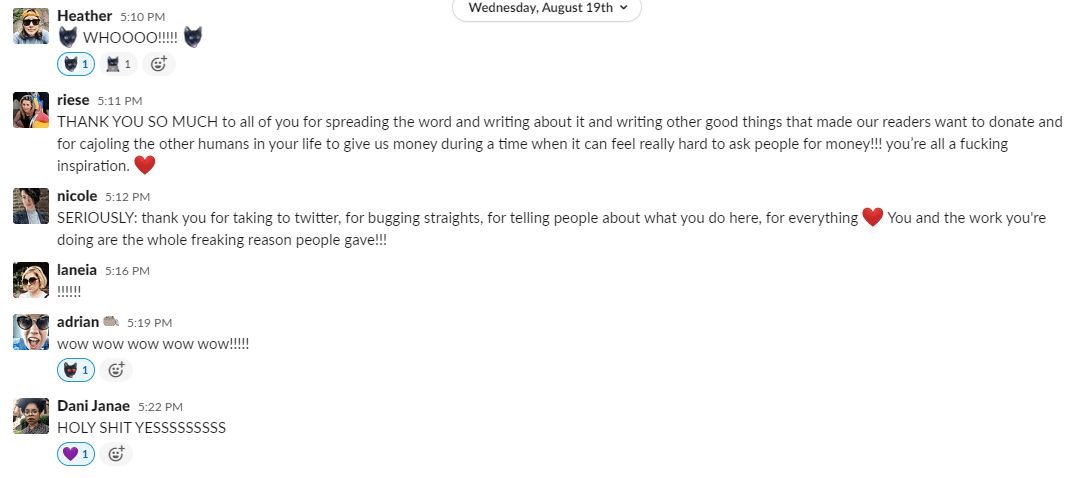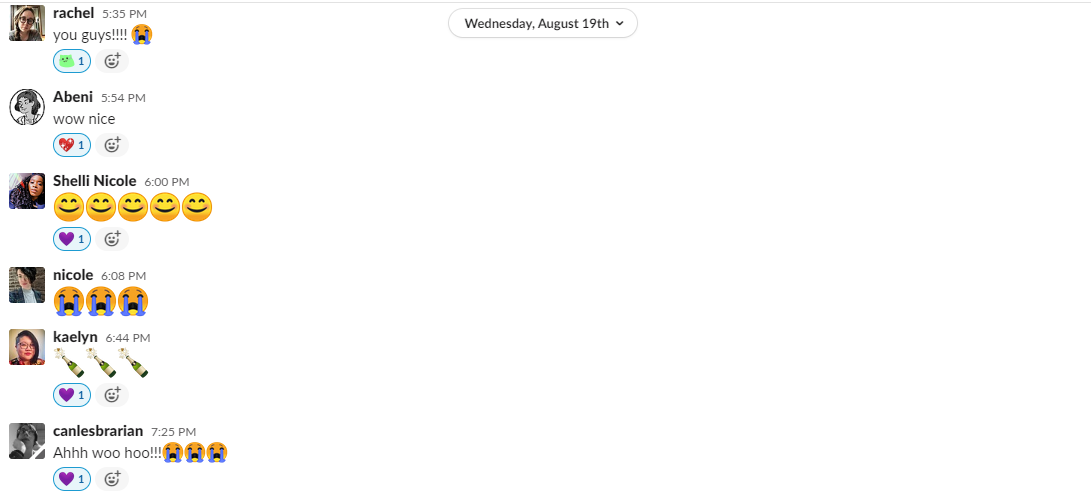 So, THANK YOU for making us scream IRL, for making us smash our keys into keyboards in celebration, for paying our writers and team during a global pandemic, for making the tireless efforts of this entire Autostraddle crew (and the 2 months I worked without a day off) all worth it — and for keeping this space here, for trusting us with the task of continuing to carve out room for our community online now, and, we hope, in better times in the future, too.