Hello, sociology nerds and friends! Remember last time we hung out and talked about the trouble with counting the gays? Well, I'm here to report that Meyer, Rossano, Ellis, and Bradford have come up with a better way to locate queer women. In their study, helpfully titled "A Brief Telephone Interview to Identify Lesbian and Bisexual Women in Random Digit Dialing Sampling," the four researchers found lesbian, bisexual, and otherwise-inclined ladies in the Jamaica Plain neighborhood of Boston and managed to debunk a few stereotypes along the way.
Motivated by the highly biased nature of non-probability samples that are often chosen in LGBT studies, they went looking for a different way to find gay ladies. The problem with studying minority groups, especially invisible minorities, is that finding respondents isn't as easy as stopping people at the grocery. That, in combination with a belief that women are more private about sexuality, means that researchers often look to service or activist groups to recruit participants. As a result, studies of gay women often overrepresent respondents who are white, between 25 and 40, and highly educated. This prompted the Institute of Medicine's Committee on Lesbian Health Research Priorities to look for "more sophisticated methodologies" for finding participants. Without a girly grindr to aid in their search, Meyer et al. started making phone calls to see just how many lesbians they could find.
One of the most impressive parts of their survey tackles a problem that gay-counters have gotten wrong for decades. Rather than rely solely on behavior, attraction, or identity, they asked about all three and created a beautifully simple venn diagram to look closer as the intersections between these three dimensions of sexuality.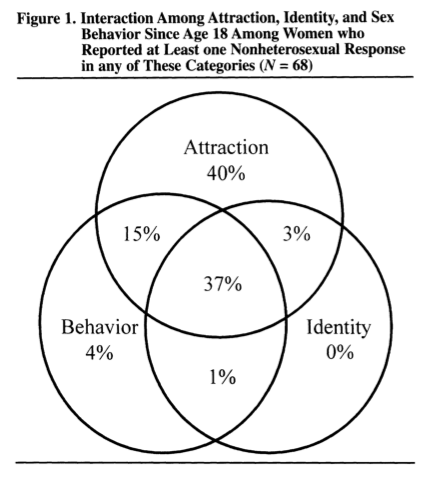 Of the 68 women answered yes to any of the three questions, only 37% answered affirmatively to all of them, which shows just how much data is missing from studies that focus on only one aspect.
The study also asked questions about health status, participation in the LGBT community, internalized homophobia, and attitudes about sex-related issues. Like the traditional studies that tended to include mostly highly-educated gay women, the women who self-identified as lesbian or bisexual in this survey were more educated and younger than their straight counterparts. They were also more likely to be unemployed. Although they don't remark on employment status, the researchers do suggest that this could be because "more educated and younger women are less reluctant to disclose same-sex orientation and non-heterosexual sexuality is structured differently among less educated women."
There was no notable difference in race between straight and LGB respondents. And though physical health was the same between the two groups, LGB women scored lower on mental health scales than straight women. Overall, 33% of the 202 women surveyed reported attraction toward other women, 20% reported sex with women, and 14% identified as lesbian. What this means is a) I'm moving to Jamaica Plain and b) the researchers saved a ton of money by finding 68 queer-ish women in less than 20 hours.
Finally, the study helped prove that women are not the delicate little prudes that were are sometimes believed to be. Only 3% of respondents avoided sexual questions and none called the number provided by the researchers to complain about the questions. While it might be easy write off the results as being indicative of a liberal neighborhood, the questions about sexuality show a clear line between straight and gay women, with straight women answering much more conservatively. Nearly half of the lesbian and bisexual respondents were not completely out to their coworkers and family members, which further points to the conclusion that their area is not necessarily a magical bubble of acceptance. LBG and straight women may not share the same values about sexuality, but we're all pretty willing to tell strangers on the telephone how we feel.
UPDATE: Thanks to the eagle eyes of alfacinha, we now know that this study is 10 years old. So why was it featured on a blog post from yesterday? Well the blog, NCBI ROFL, is a comedy blog that highlights studies with funny topics. Is the idea of calling women and asking if they're lesbians funny? You bet. But it's also relevant! If studies ten years were doing it right, why are researchers still asking all the wrong questions? I've got tiny thoughts about tunnel vision in academia and funding, but I'm all ears to those of you who know more about the world of social sciences past undergrad.